Got big plans for this year?
Set yourself up for success with the power of visuals. A visual note-taker from Ink Factory will walk you through some simple visual goal setting strategies to help you focus your plans and stay inspired.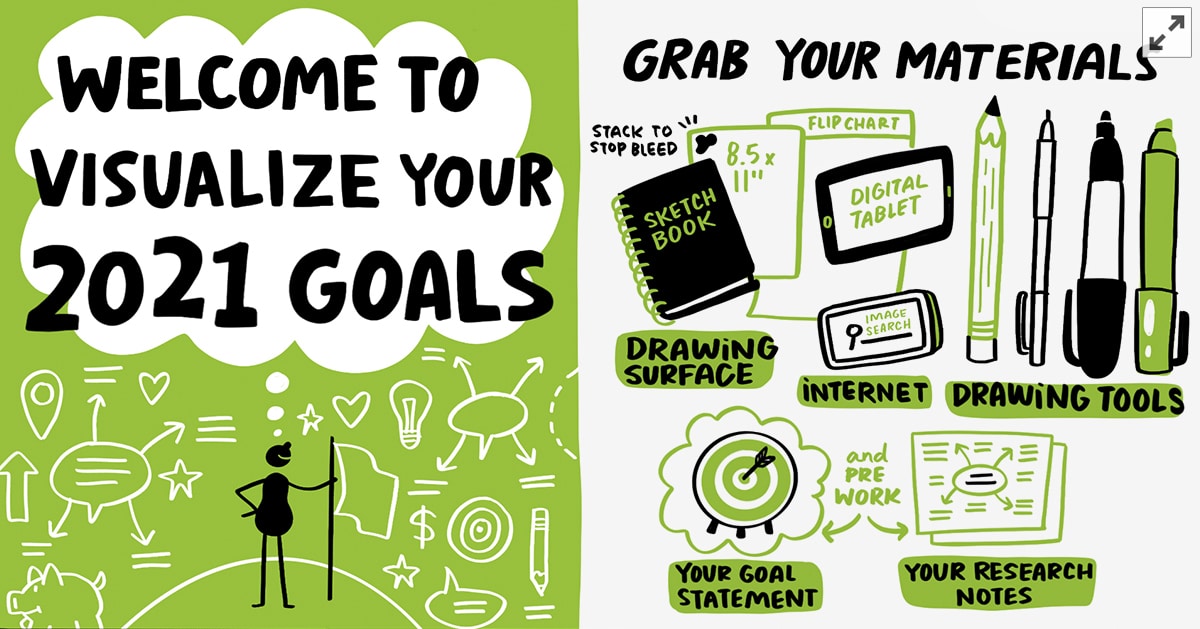 We'll walk through:
Visual brainstorming to think through how you'll achieve your plan

Making a visual plan with two different layouts

The benefits of using visuals as a thinking tool
You don't need to know how to draw or take visual notes to participate in this workshop.
---
Prework
Before playing the recording, you should prepare by doing two exercises:
1. Choose a clear goal statement that you would like to make a visual plan for during the workshop
2. Research around your goal topic
We highly recommend following our blog posts on Defining your problem (or goal) and Visualizing Research. If you come to the workshop having followed the exercises in these two posts you'll get the most out of the workshop.
If you don't have time to develop your goal and research it, you can follow along with our example goal.
---
Materials
We'll be teaching this workshop with accessible materials in mind.
Something to draw on:
Can be a sketchbook, or loose paper, but make sure you have a lot of blank pages to work with.
The bigger, the better, but make sure your page is at least 8.5"x11."
Something to draw with:
A standard pencil and eraser
A smaller, fine tip marker
A larger, chisel tip marker
A larger, bullet tip marker
Optional:
Correction tape
At least one color marker will be very useful for this workshop, but you could use up to 5 colors
Dry-erase boards will work well in place of paper, but make sure you have enough makers with plenty of ink.
If you have experience with and want to use a drawing tablet, you are welcome to, but know that we won't be speaking about how to draw with or use a tablet.
---
Refunds
No refunds are available for recording purchases, but if you are unhappy with your purchase or are experiencing technical difficulties, please email learn@inkfactorystudio.com.
90 min | $59
This is a recording of a live workshop. The recording is streamable for 30 days after purchase. Once played, you have 72 hours to view the recording.
You'll also receive a PDF containing 3 visual strategy formats.
"This was a different kind of workshop–combining some quick visual note-taking skills with thinking about my goals and how to actualize them. I really appreciated the time to reflect in this way."
Visualize Your Goals participant

Other workshop recordings you might be interested in