Demystifying Drawing
For many of us, drawing can be intimidating! But drawing is also the magic behind visual notes – visuals better engage our brains and help us remember more information. Learning how to draw basic visuals can take your notes from boring to clarifying, engaging, and memorable.
At Ink Factory, each artist has a "visual library" in their brains that helps them draw quickly for live visual note-taking. In this 2-hour workshop, join an Ink Factory artist as they take you the steps to draw our staple visuals, as well as how you can start to improvise visuals for your own visual language. You don't need experience with visual note-taking to participate in this workshop.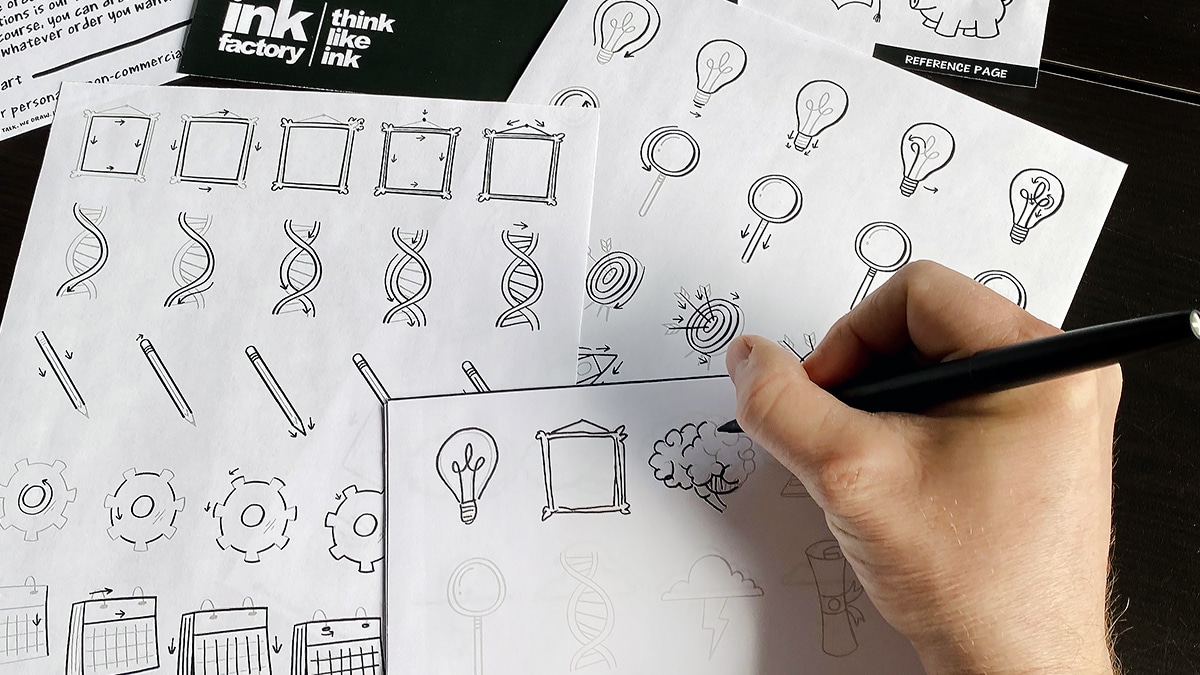 Want more icons? Get our icon pack!
For an additional $3.99, you'll receive a digital download with 30 of our favorite icons for visual note-taking. Learn to draw the icons yourself with a handy step-by-step drawing guide, or use them as an icon set for presentation slides, documents, teaching materials, and more. Non-commercial use only.
---
Workshop Materials
We'll be teaching this workshop with accessible materials in mind.
Something to draw on:
Can be a sketchbook, or loose paper, but make sure you have a lot of blank pages to work with.
The bigger, the better, but make sure your page is at least 8.5"x11."
Something to draw with:
A standard pencil and eraser
A smaller, fine tip marker
A larger, chisel tip marker
A larger, bullet tip marker
Optional:
Dry-erase boards will work well in place of paper, but make sure you have enough makers with plenty of ink.
If you have experience with and want to use a drawing tablet, you are welcome to, but know that we won't be speaking about how to draw with or use a tablet.
---
Refunds
No refunds are available for recording purchases, but if you are unhappy with your purchase or are experiencing technical difficulties, please email learn@inkfactorystudio.com.
2 hours | $59
This is a recording of a live workshop. The recording is streamable for 30 days after purchase. Once played, you have 72 hours to view the recording.
You'll also receive:
A printable handwriting worksheet
A visual icon reference sheet
For an additional $3.99, you'll receive:
A printable PDF for learning how to draw each icon in Icon Pack #1
Pages explaining how to use the icon pack
An at-a-glance reference sheet
A set of 30 transparent PNG icon files
A set of 30 transparent vector PDF icon files
"In all honesty, I was terrified. I chose this workshop specifically because my weakness is drawing, but the workshop was so enjoyable I was over my fears and having fun by the end!"
Drawing for visual notes participant

Other workshops you might be interested in