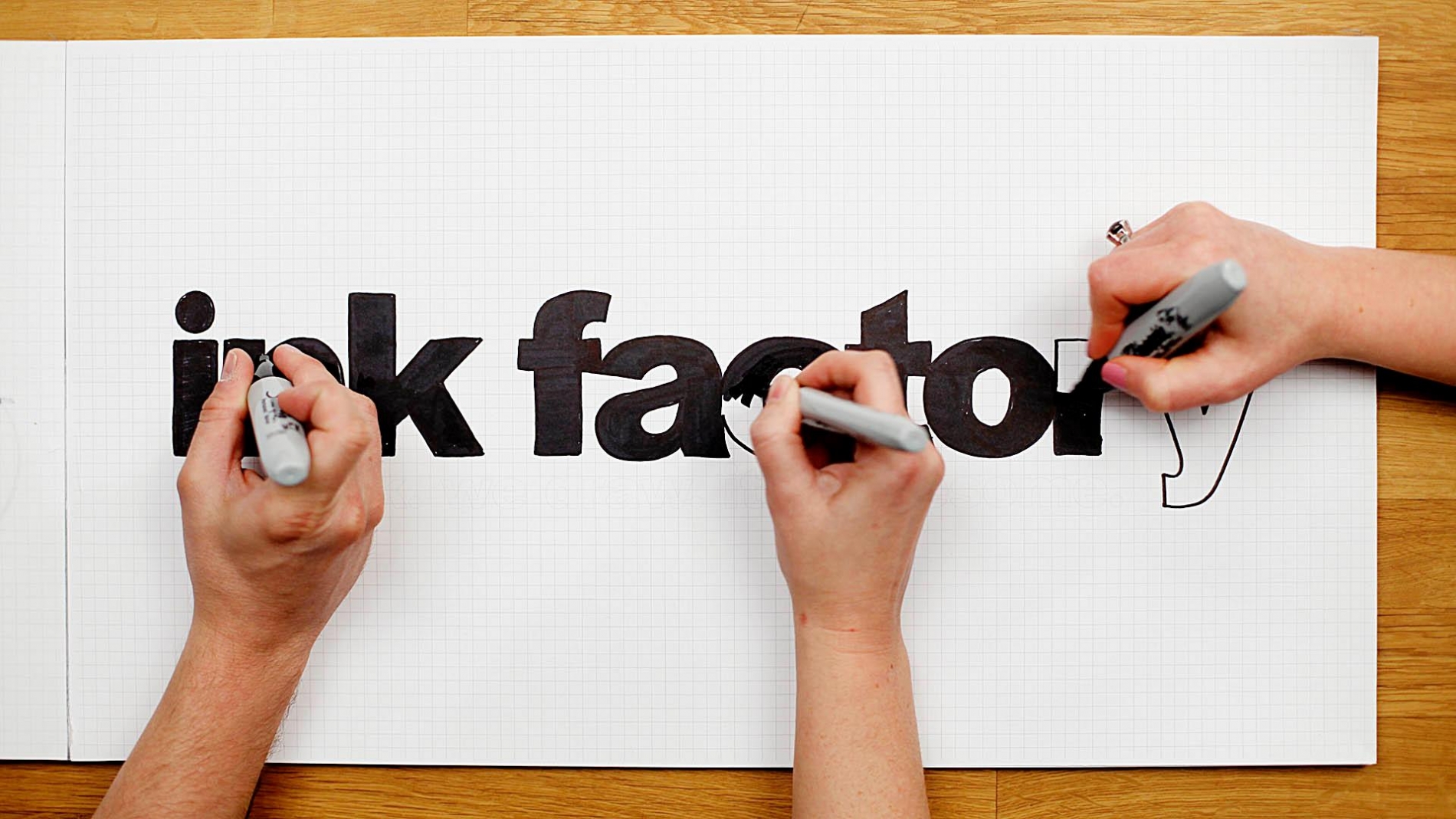 Top 10 Moments Over 10 Years of Ink Factory
Co-founders Dusty, Ryan, and Lindsay are stunned that 10 years have already passed since Ink Factory first opened our doors to the world! We have a warehouse full of stories, experiences, and milestones–too many to list in one blog post. And, we are incredibly thankful for everyone who has been part of the journey so far and cannot wait to share more with you. Here are our top 10 moments from the past 10 years!
1. Taking a chance during a post-recession economy
Lindsay, Dusty, and Ryan meeting and working on the concept of Ink Factory in 2011, which eventually launched October 15th, 2011.

Our co-founders, Dusty, Lindsay, and Ryan all met as Knowledge Workers within the management consulting space. Working globally, they collaborated with some of the best thought leaders, consultants, thinkers, and doers in just about every industry. The post-2008 world looked dim and unpredictable–the simple thought of shifting careers and starting up a new company was almost unheard of. But our three founders knew that visual communication was a world of untapped potential, and worth taking the risk to explore.
While working internationally (creating real-time visual notes) the three met in person, brainstormed on what is possible, and agreed to come back to the States ready to put pen to paper, literally. From the business model, company name, logo, brand & identity, to signing a quick "contract" on a blank sheet of newsprint – Ink Factory was born.
On October 15th, 2011 – the website was launched and it was officially announced at the IFVP Conference in Hawaii. Special thanks to Diego at Yummy Colours for finessing our logo and helping to create our first online presence!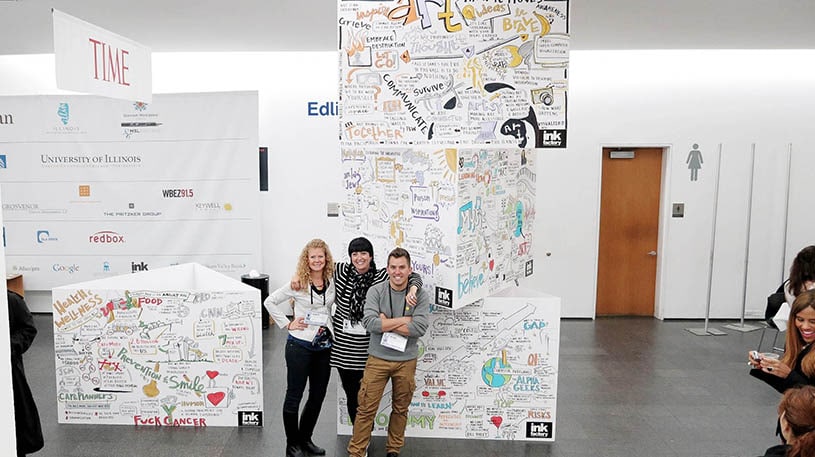 2. Our first conference: Chicago Ideas Week
Step one of launching a company and opening your doors… find clients you LOVE! Pure happenstance landed Chicago Ideas in our inbox. This was the inaugural year for Chicago Ideas hosting dozens of talks, events, and activations around the city of Chicago. We wanted to visualize as much as possible: this was our chance to stretch our creative and business muscles and get the word out there that Ink Factory, and the world of visual notes, are going to rock their world!
Little did we know that this annual week-long event would pave the way for working with like-minded companies and individuals to this day.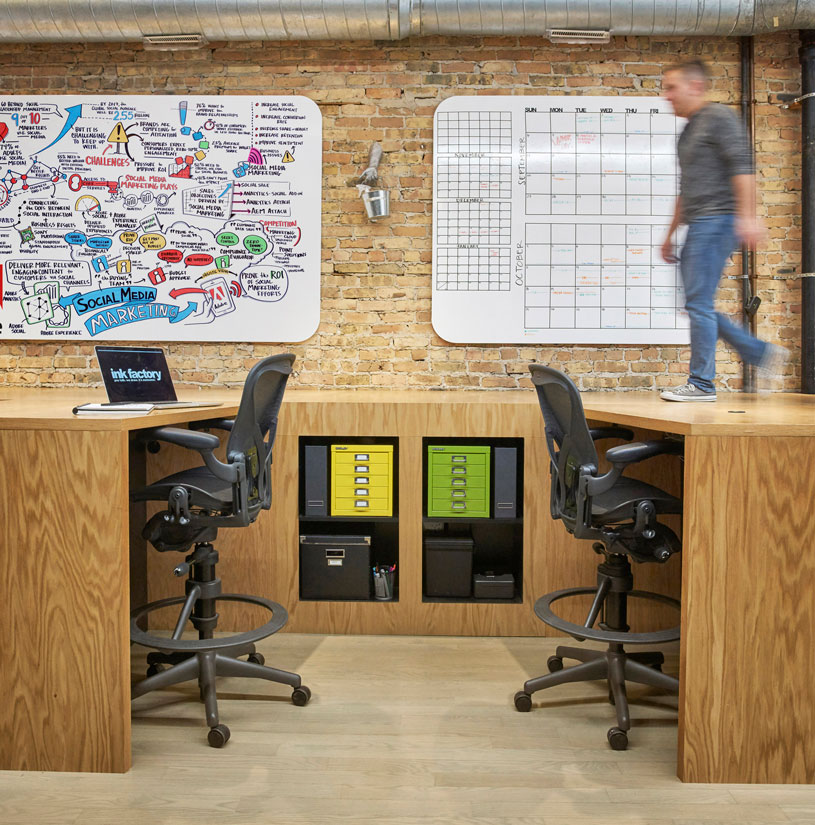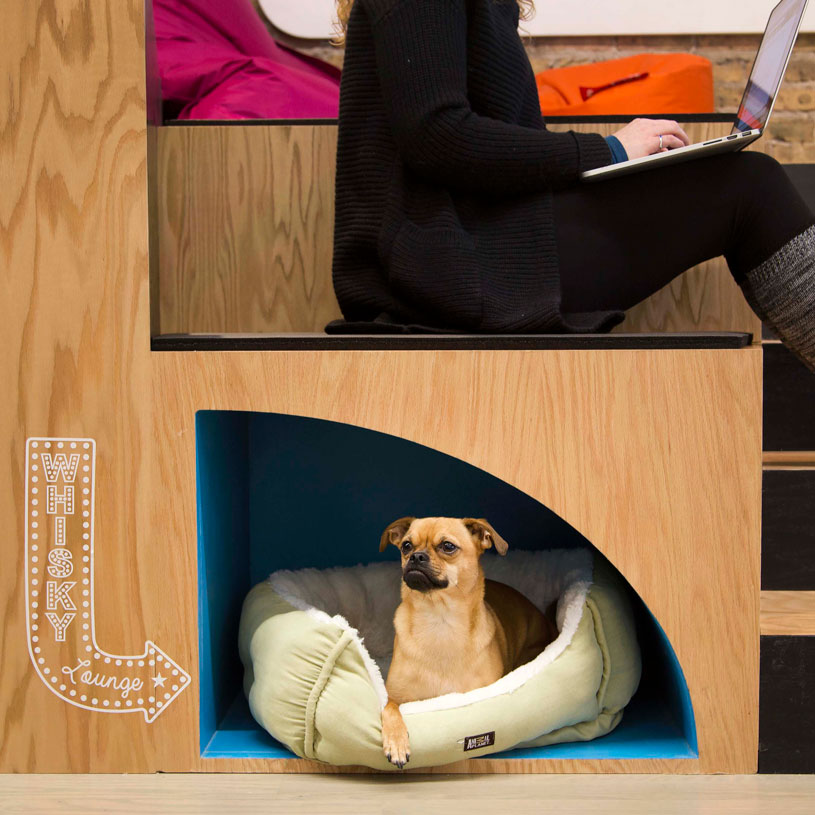 3. HQ 2.0
Ink Factory was founded in the Fulton Market neighborhood of Chicago. Just as we were starting to grow, so did the neighborhood (and working out of Ryan's loft got a bit too tight). We found the perfect fit for our growing team in the Bucktown neighborhood. HQ2 was a wonderful building built in 1894. We pushed the limits of this space and worked with amazing architects to redesign it so that it worked with our evolving services and growing team. We even were voted by Crain's Chicago Business as one of the "Coolest Offices in Chicago for 2016!"
In this space, our team grew from the three co-founders and an incredible intern (Alison!) to a team of 10 people and a dog. We hosted workshops, client meetings and brainstorm sessions, 3 pm dance parties, and continued to improve the ways we best support our clients and each other.
4. Expanding our team to 13
Our first addition to the team, Alison, started as an intern at The School of the Art Institute of Chicago. And our first full-time employee was Teresa – who is our rockstar Director of Operations today. Alison soon followed as our next full-time employee followed by artist and visual note-taker, Ariana. Since then, we've added an incredible mix of talents and personalities to our team – growing to 13 as of recent! Our extended network of artists, musicians, actors, writers, and mentors has helped us pave the way for the constant evolution of Ink Factory.
We also established an Advisory Board that helps us make decisions that impact not only the business but also each and every team member. They were critical as we established our path to grow, making sure we didn't do it too fast or too slow–and guided us at every mistake and success.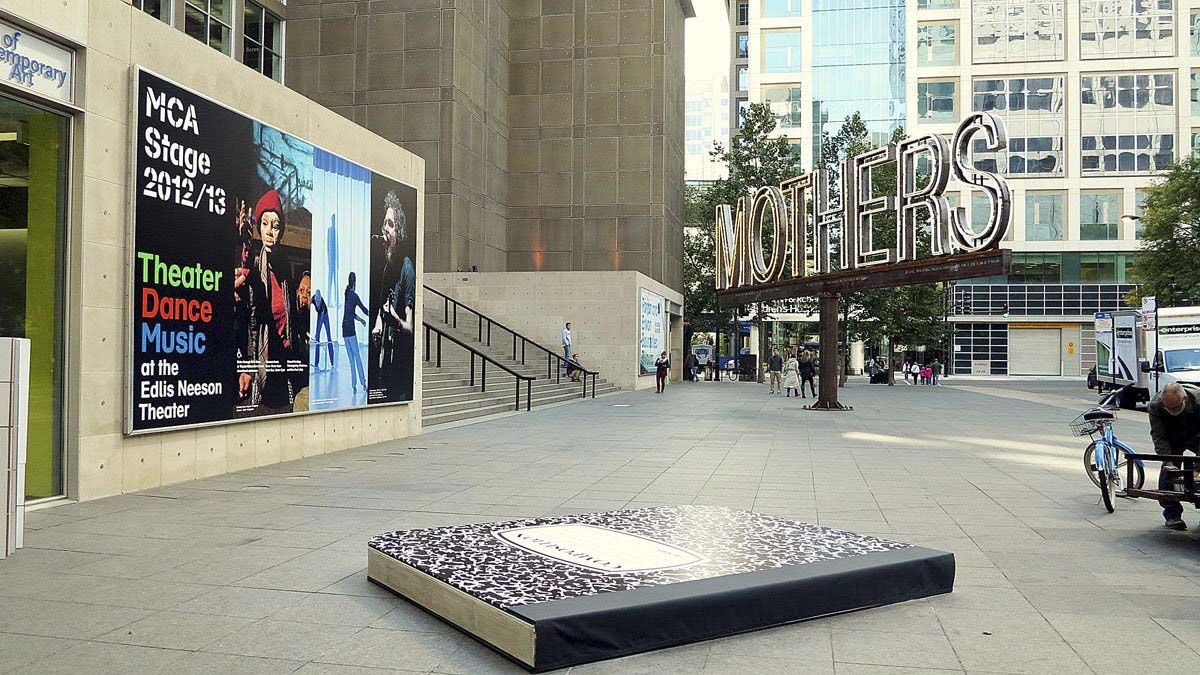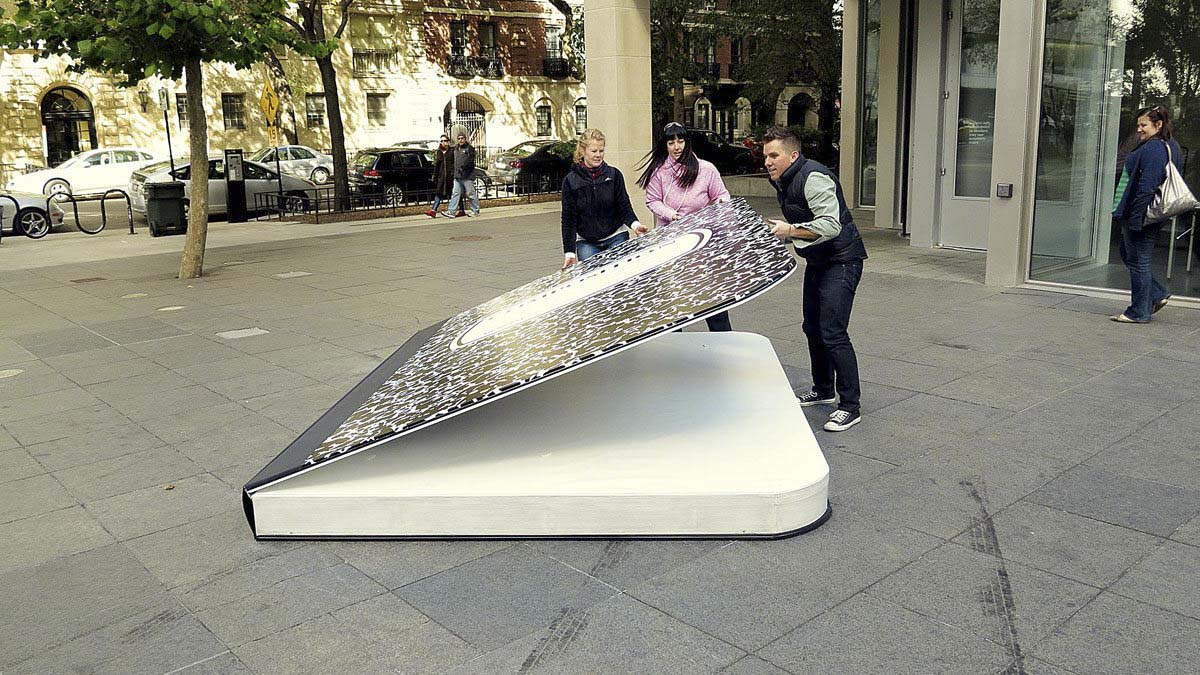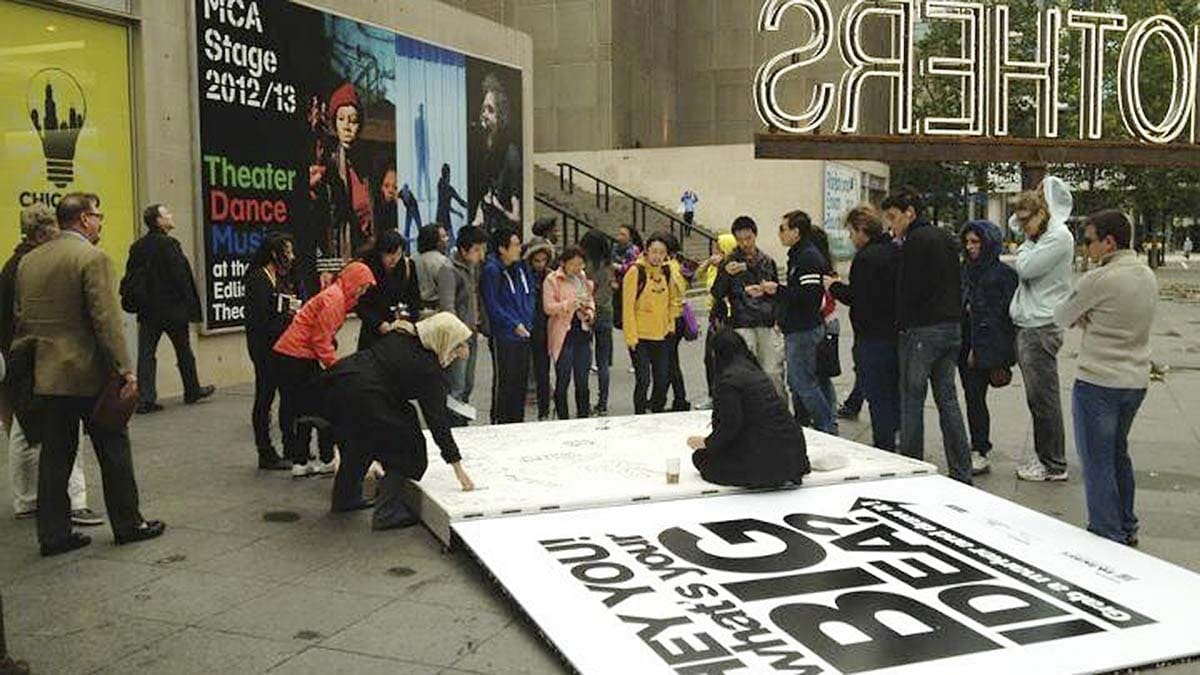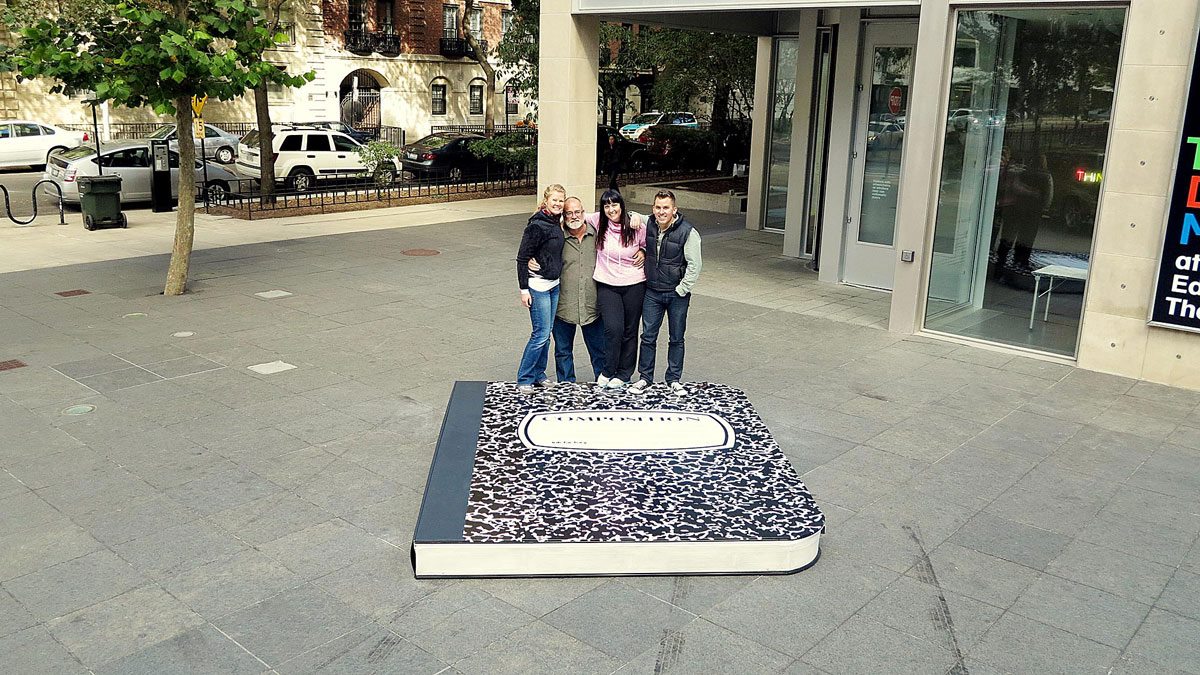 5. The journey is the destination
Ink Factory was just an idea at the foot of the Charles River Bridge in Prague and the Sydney Harbor Bridge in Sydney. Working internationally has always been a perk of working in our industry. Visuals have the power to connect languages and people more effectively and creatively than anything else. As we grew our client list, the places our markers went also grew. We have had the incredible fortune to share our skills with our clients in countries like Austria, Bahamas, United Arab Emirates, Estonia, Ghana, Greece, and South Africa (and many more!)
As our mission states, we create visual experiences that inspire and engage. Our visual notes have been created on rooftops of skyscrapers, the United Nations, The SHEDD Aquarium, Central Park in NYC, as storefront murals, and even as a GIANT sketchbook outside of the Museum of Contemporary Art.

6. Developing our Mission, Vision, and Core Values
Everyone has an important role at Ink Factory. When we started to really identify our mission & vision, every employee was involved. We use these as guideposts for how we grow and evolve both the company and ourselves.
Our mission is to create visual experiences that inspire and engage, and our vision is a world where visuals are the universal language.
The entire team also collaborated to create our core values. This was a critical moment for our team and the future of Ink Factory. Our Values help us make decisions internally, as individuals, as client-facing team members, and as an entire company.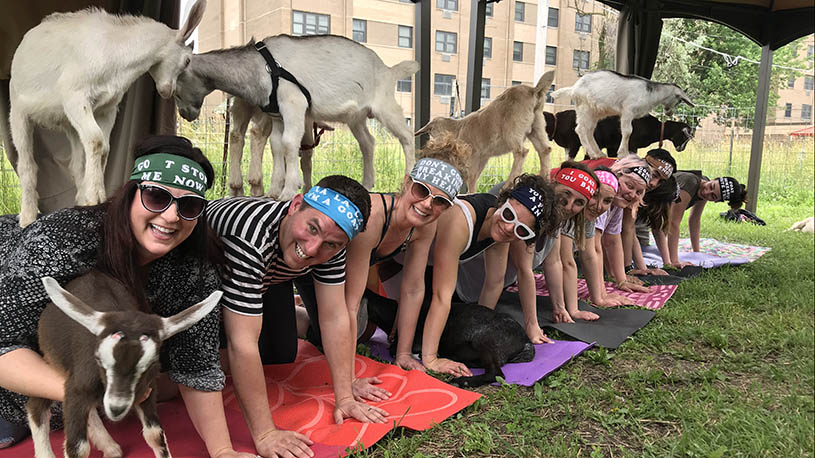 7. Outings (and Innings)
How can we wrap up everything you need to know about our culture at Ink Factory? We have incredible respect for each other at Ink Factory and that is rooted in our work/life balance that we maintain weekly. That balance is fueled by some fantastic team outings (or innings during the pandemic months) that gather us together for shared meals, movie nights, bowling, and more. Some of our favorite moments include experiencing Andrew Bird's infamous live performance at the Fourth Presbyterian Church and doing YOGA WITH GOATS!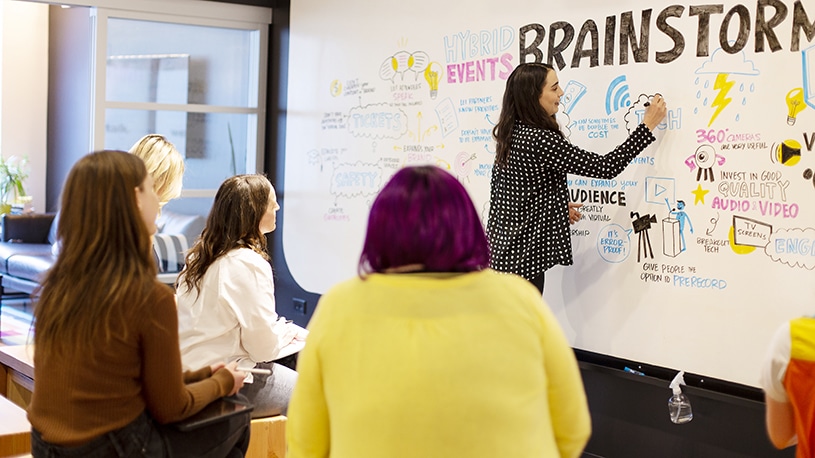 8. We talk. You draw. It's awesome.®
Want to learn how to take visual notes? Now you can with our Think Like Ink workshops! Since opening our doors, we've realized the power of visual notes goes beyond our client's meetings and conferences. This way of learning stretches into every single human being. It complements traditional ways of learning for young students, elevates alternative ways of thinking and sharing information, and teaches us all to be better listeners, hand writers, and data organizers.
We've developed a solid curriculum that can bend and flex with each workshop's audience.
We've got workshops ranging from the basics to learning how to implement visual communication into your life and at work. Working professionals, educators, students, and all visual thinkers will find it easy to communicate with our visual language. Stay tuned for even better educational products from our Think Like Ink team soon!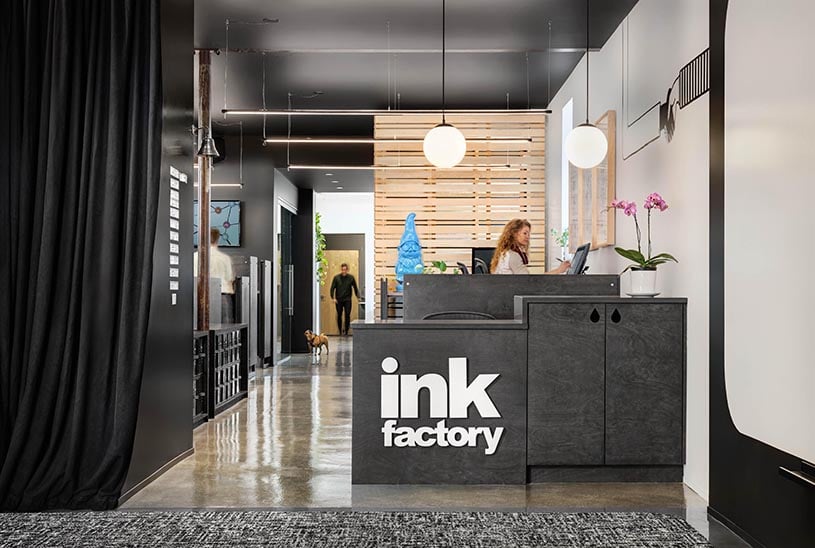 9. Acquiring and Designing HQ v3.0
At our previous storefront studio in Bucktown, we eventually hit our threshold for shifting the space into being usable for more people. It was time to put our big pants on and find our permanent home.
In 2019, with the guidance of our Advisory Board, we set our minds on finding a building of our own. After combing the surrounding neighborhoods, getting input from our team, and working with a fantastic realtor, we found our future home in the Avondale neighborhood of Chicago.
We collaborated with Blender Architects and Integrus Construction to rethink our future home inside of the 1906 building we purchased. Our entire team was part of the brainstorming process – identifying certain needs and wants as it relates to working in a flexible, creative, and moving space. The studio includes various ways to work, relax, eat, and host workshops & meetings. We also have space for 18 full-time staff, 4000 square feet of outdoor space, and a forward-thinking plan to expand this studio when the time comes. If you build it, they will come!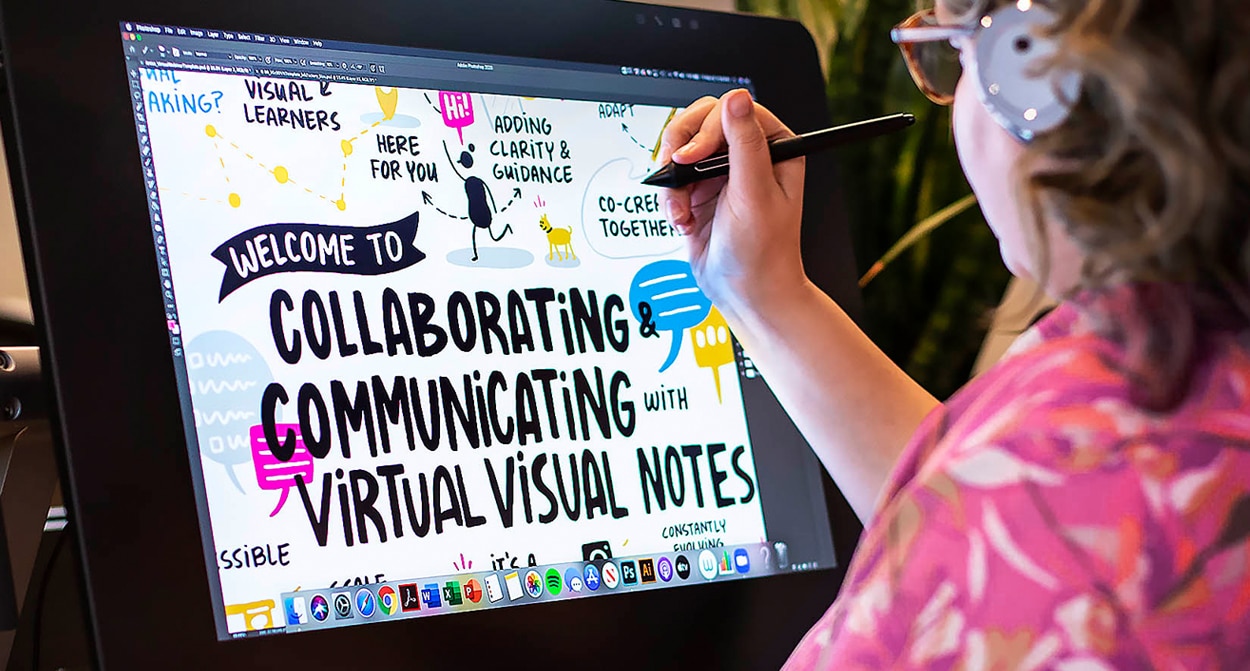 10. Visual Notes are Pandemic Proof!
Three weeks into unpacking boxes of books, marker kits, and computers into our brand new studio – we had to immediately shift priorities to working from home and triaging the dozens of postponed or canceled events. Nothing could prepare us for what the next month, quarter, year, or year(s) would look like. We were all anxious and scared. As was the entire world.
Quickly, the dust settled and our entire team rose to a challenge we've never experienced before. The whole team rallied, evaluated our current offerings and how we can shift everything to virtual, communicated to our clients that we can support whatever they need to ensure their meetings still work, and evaluate what tools, processes, and software we needed to not skip a beat. The team also immediately went diving deep into our operating costs and ways to bring down our monthly spending. It was literally all hands on deck and it made the entire team stronger and more aware of how each person was an important part of our collective success.
After over 250 events and more than 18 months of virtual and work-from-home challenges and successes, we know we have something extraordinary and precious. The strength of our team goes beyond the fun outings (and innings), the brainstorming of our new studio, the experiences we've all had supporting clients around the world, and even charging through the pandemic.
If the journey thus far has been the destination, we can't wait to keep navigating our way together.
Thank you to everyone who has been a part of our journey for the past 10 years. We are honored to know you and will appreciate you, always.