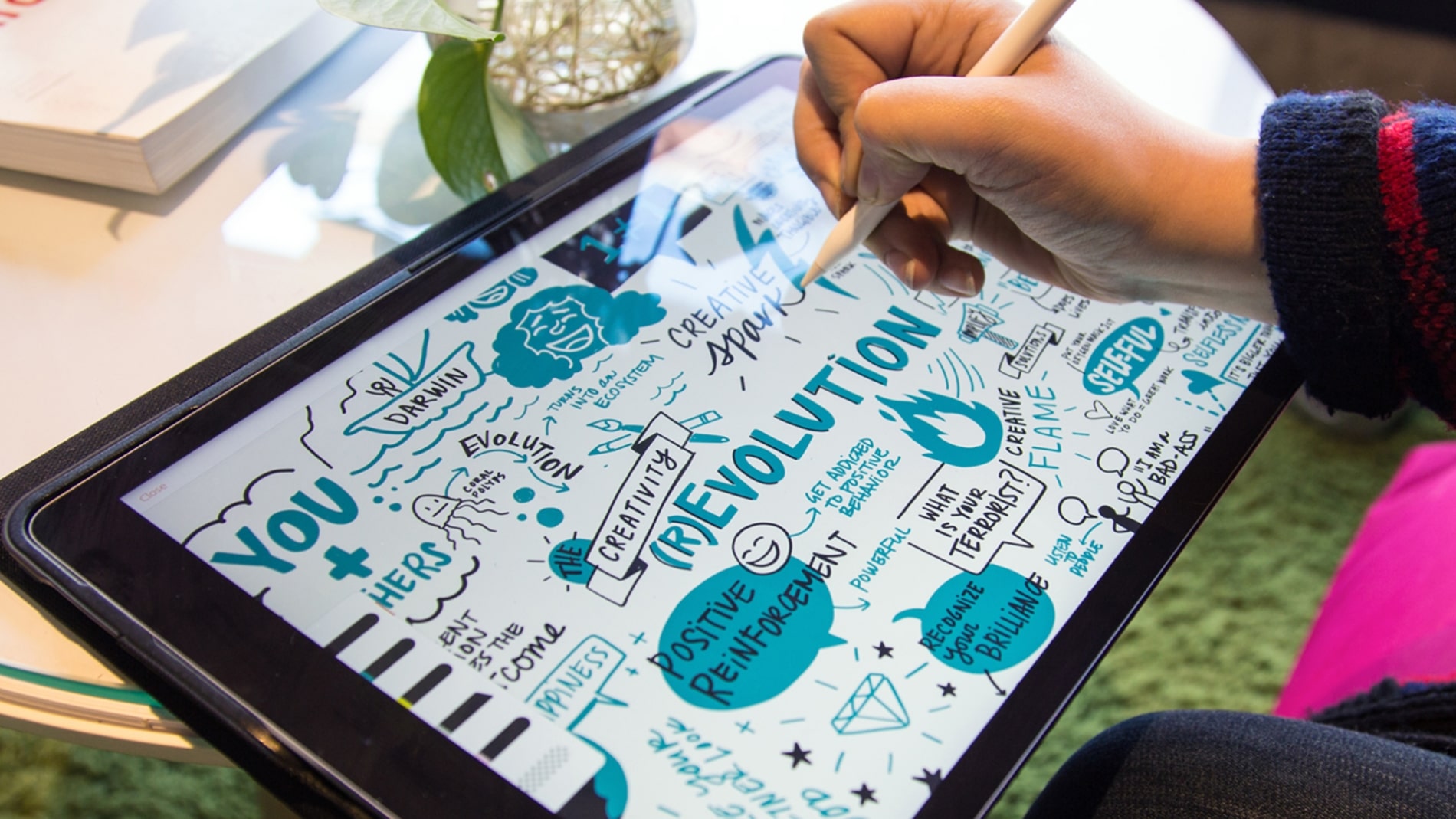 7 Tools for Awesome Digital Visual Note-Taking
At Ink Factory, we offer something called digital visual note-taking. All of our listening and drawing skills that we usually apply to marker and paper are instead manifested in digital programs like Adobe Photoshop. When we draw digitally, images can be projected huge above an audience as the image progresses or shared into remote webinar streams. Our clients have used our digital visual notes to support keynotes, webinars, panel discussions, capture audience feedback, and much more!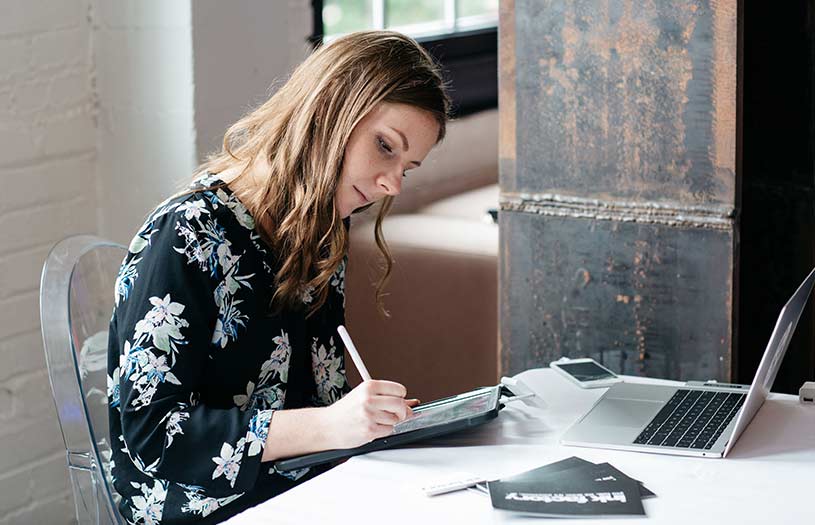 iPad Pro + Apple Pencil
One of the newest ways we've been experimenting with digital visual note-taking is our iPad Pro with the Apple Pencil. The Apple Pencil provides excellent pressure sensitivity, so creating detailed drawings is no issue. This is one of the most convenient setups we've ever used for visual note-taking! It's also great for taking personal notes, like a digital sketchbook, or sharing your notes on the screen during a virtual meeting.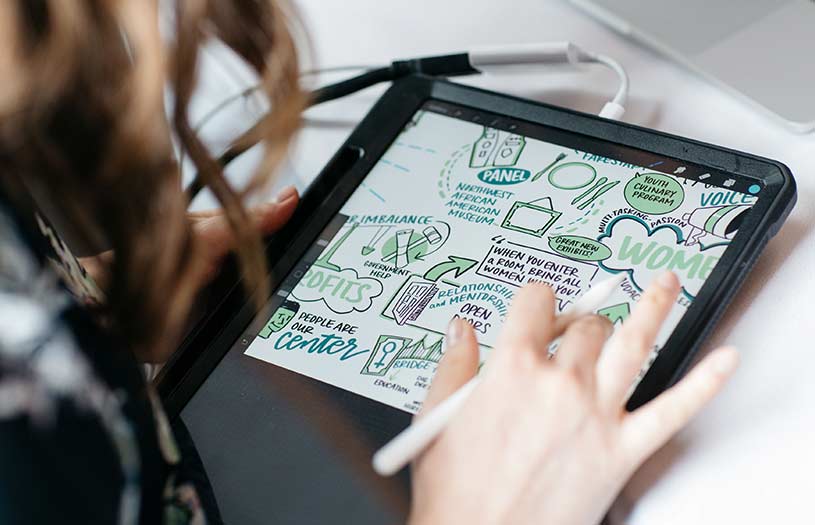 Procreate
Our preferred app when using the Apple Pencil and iPad Pro is Procreate.
It's a slick and simple, and affordable drawing tool that secretly has a lot of power. You can also customize brushes to mimick real visual note-taking markers! Turning the "project canvas" feature on under settings allows for a clean audience view of your notes without showing tools or zooming in. Apple airplay and Zoom integrate perfectly with this feature!
Surface Pro 4
If you prefer Windows to Apple, the Surface Pro is a laptop and tablet in one and is great for creating polished drawings. You can prop the Surface Pro into many angles so you feel comfortable drawing. The Surface Pro 4 has one mini-DisplayPort, so make sure you have the right equipment to connect to any projection software you're using. Like the iPad Pro, the Surface Pro 4 is a great option for creating personal visual notes.
Microsoft's Surface Studio
Our minds were blown when we first saw the Surface Studio in action. It's truly a new kind of way to create anything you can think of. It's like a giant tablet you can draw on. This device's special dial allows you to travel through pen, ink, and color options quickly and seamlessly. The Surface Studio isn't particularly mobile, however, so it would be a tool best used for remote digital scribing – where we tune into an audio stream of your event, and our drawings are streamed on a projection live.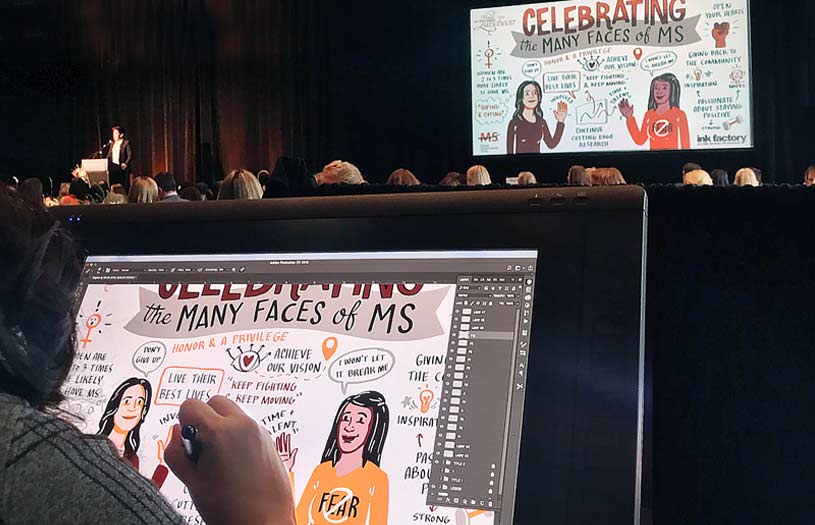 Drawing Tablets
Drawing tablets like the Wacom Cintiq provide a more traditional way to create digital artwork, and it's a process we're very familiar with. When used with a Mac, a HDMI output is needed to connect to another monitor. This setup requires a bit more space (room for a large drawing tablet and a laptop), but it allows a great amount of flexibility when creating an image, as you can use any program on your laptop. Our preferred program for this setup is Adobe Photoshop – a staple of many creative industries.
Smartboards
It looks like a whiteboard, but Smartboards are huge digital drawing areas where we can create stunning visual notes. These incredible educational tools are installed in many offices and workspaces and we can use them to their full potential! Participants can even sign up to view Smartboard drawings remotely on their devices.
Tilt Brush by Google
Can you imagine visual notes in virtual reality? With Tilt Brush, now that's possible. The entire room of a conference can turn into a canvas for visual notes and participants can literally walk through your content to experience it.

Digital visual notes provide a quick and easy way to share content with your audience. We save the image as soon as it's finished and upload to sharing platforms such as Dropbox or Google Drive. Then you can tweet, 'gram, or email your audience with digital copies of your visual notes, reminding them of the powerful ideas they just experienced!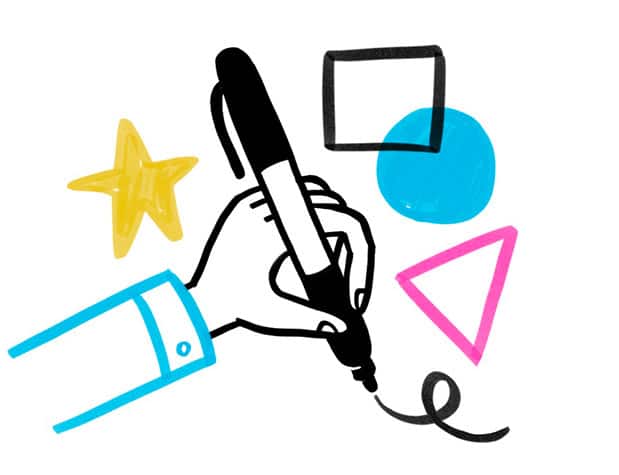 Visual Notes for (Virtual) Meetings
This 3-hour workshop will cover composition, handwriting, listening, and basic visuals for visual note-taking, and how you should apply that to taking notes in meetings.