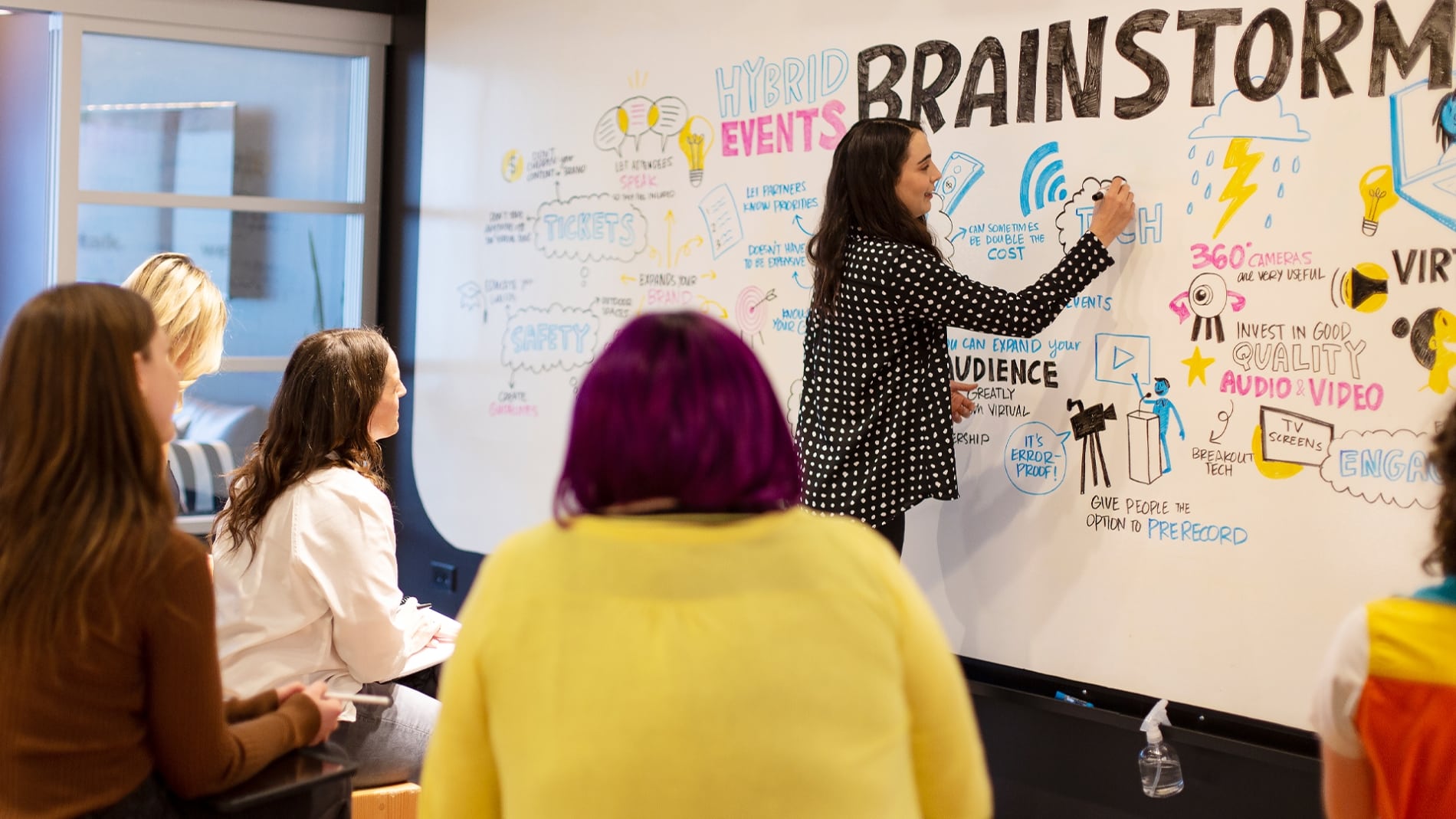 Brainstorming Ideas: 4 Visual Techniques to Help Organize Your Thoughts
At Ink Factory, we love a good brainstorm. That moment when fresh thinking and white space come together to create magic. But without a way to effectively capture, organize and build on ideas, brainstorming ideas can quickly fall flat. That's why we've designed techniques that deliver big while flexing to fit different needs and audiences.
Read on to learn how you can lead organized, productive meetings (templates included!) to capture all your best brainstorming ideas. Want to hand the reigns over to an Ink Factory artist? That's cool too (we love helping clients bring big ideas to life) so you'll also find tips for making the most of artist-led brainstorms.
Brainstorming Ideas: Self-Guided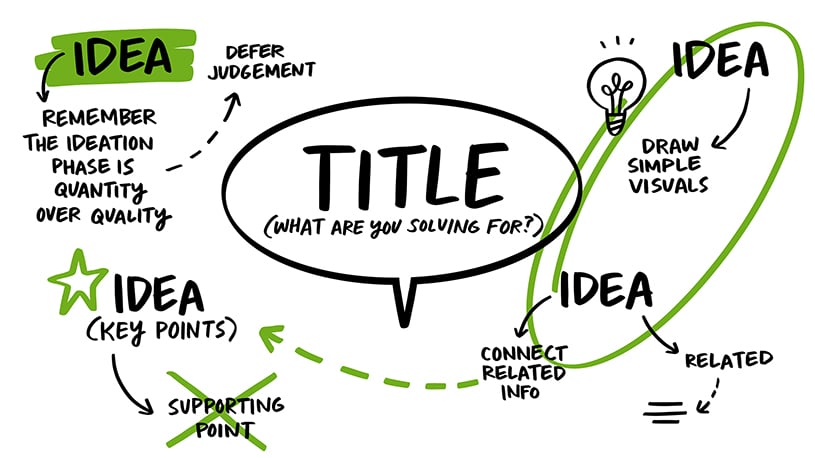 1. DIY Brainstorming Ideas Template
We use this template all the time at Ink Factory. As a pre-established visual guide, it allows us to think organically and move anywhere on the page that makes sense at the moment. Drawing visuals can be helpful, but aren't necessary when you're using this template.
What you need: Template, three writing tools with varying tip sizes (1 small, 1 medium, 1 large)
When to use: When the problem you are solving is clearly defined; works great on your own or with a group
How to use:
Title: With your large tool, write what you want to solve in the middle of your paper.
Ideate: With your medium tool, write as many ideas as you can think of while jumping around the page like popcorn.
Connect: With your small tool, revisit each idea and write down any connected thoughts.
Evaluate: Review all of your ideas and highlight in color the ones that stand out–these are the ideas you want to explore further.
Organize: Create a summary of your visual notes. This can be another visual, but more organized and thoughtful. Or, you can translate to a text document. Whatever you prefer!

2. Groupthink for Brainstorming Ideas
While the first template is great to use on your own or with a group, this one requires a team. We use this technique when the problem or issue is a little fuzzy–it helps us get clarity before we start ideating.
What you need: Template, three writing tools with varying tip sizes (1 small, 1 medium, 1 large)
When to use: When the problem you are solving is ambiguous or vague; requires a group
How to use:
Title: Provide everyone with a copy of the template. Using a large tool, each person should write or draw what they think the issue is in the center of the page. Keep it as simple as possible–a couple of words or a simple drawing.
Ideate: Everyone passes their paper to someone else in the group. Using a medium tool, each person expands on the issue, writing or drawing their ideas on how to address it.
Connect: Papers are again passed to someone else in the group. Using a small tool, each person expands further on the ideas. You can start connecting and grouping ideas or adding conceptual visuals.
Evaluate: Papers are passed back to the original creators. Everyone highlights the ideas that stand out or are most interesting. Then, using medium and small tools, add any additional ideas.
Organize: Everyone gets a new piece of paper to create a clean summary of their visual notes.
Download the Brainstorming and Groupthink templates
Our favorite brainstorming exercises below are made easy with our downloadable templates. Enter your information to sign up for our newsletter and access the templates.
Brainstorming Ideas: Artist-Led
If you've got an important brainstorming session approaching or a company-wide session with hundreds of people, an artist from Ink Factory can help make it a success.

1. Engagement Board Session
An engagement board session is a great way to gather group input on a single question or topic. Our artists often recommend this technique to clients who are conducting vision-setting sessions, focus groups, and small-group brainstorms. (We also love it as a tool for capturing attendee feedback at large events!)
How it works: Ink Factory designs and installs a whiteboard or wall at your meeting site.
The engagement board features one or a series of questions you'd like attendees to answer. An artist team of visual note-takers manages the engagement board, inviting attendees to share their answers. The artists then illustrate these responses.
Attendees can share answers verbally, or write them down. When the session wraps, the illustration can be digitized and shared.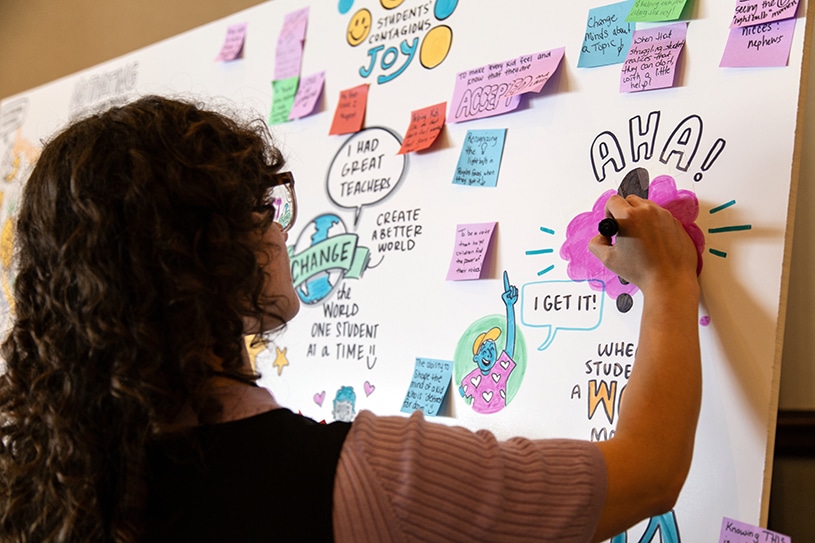 2. Visual Notes
No surprise here–we believe visual notes enhance any brainstorming session! When you capture the conversation in real-time using hand-drawn images and text, everyone wins. Your group will be more engaged and you'll have a cool visual summary to share with everyone after the session.\
How it works: It's quick and easy to add visual notes to your brainstorm. Simply reach out with your meeting date and time and we'll pair you with an Ink Factory artist. We'll schedule a call to review your agenda and discuss logistics–like whether the artist will attend virtually or in person.
Artists are happy to review any materials you want to share in advance, but it's not necessary. They're skilled at quickly synthesizing what they hear and drawing the most important points in real-time, so even the fastest-moving brainstorms are a fit for visual notes.
Ready to take your brainstorms to the next level? Check out our Intro to Visual Note-Taking class on Skillshare. We'll walk you through the process so you're ready for your next brainstorm. Or, tap our artist team to help. Drop us a message here to schedule a call. We can't wait to create something awesome together!
Wait, there's more!
Drop your email address below to join our community of 4,000+ visual enthusiasts. You'll be the first to know when Ink Factory launches new content on visual thinking and communication