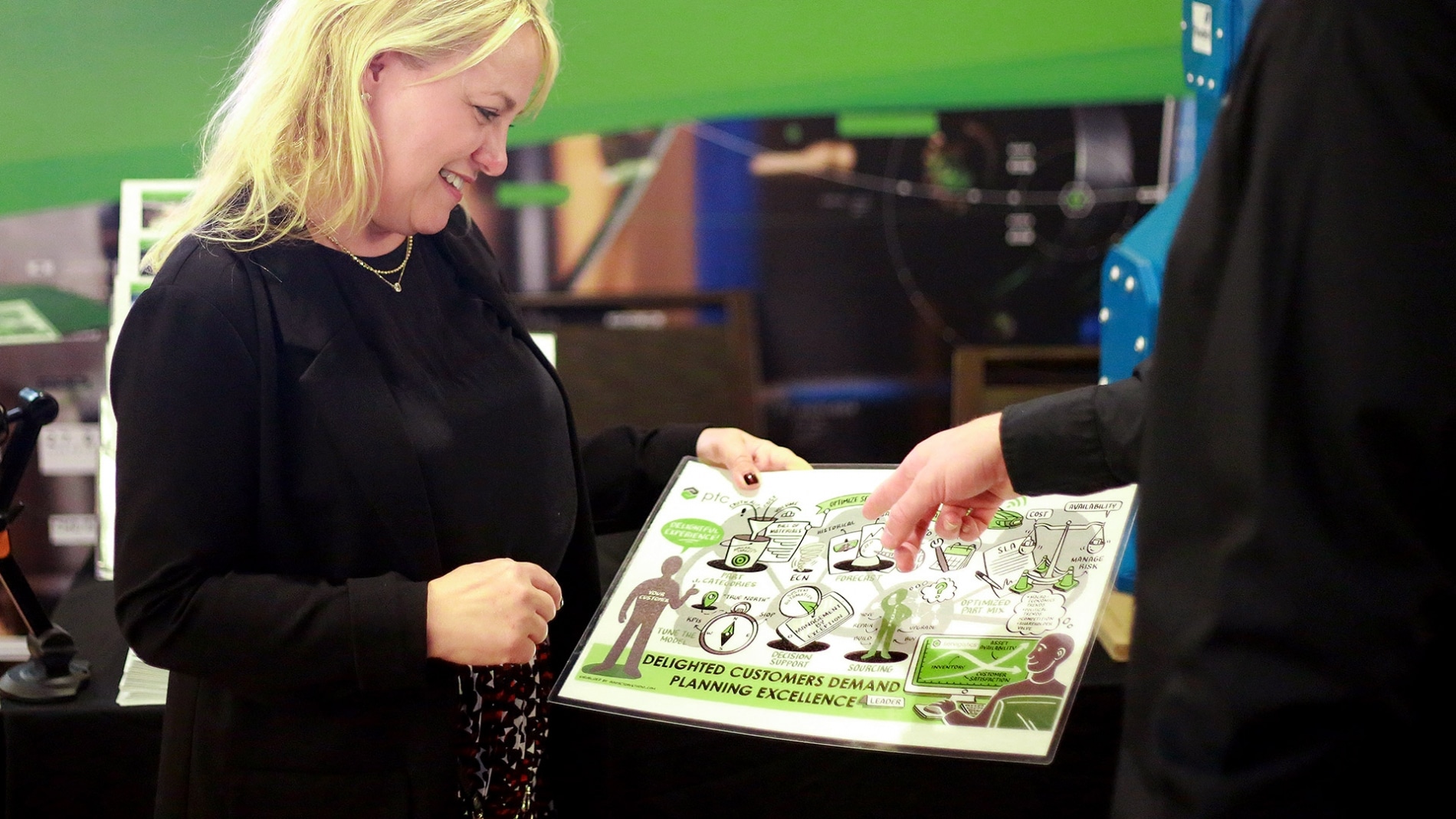 How to Get The Most Out of Your Business Illustration
Have you been tasked with communicating a message? A business illustration can help you achieve your goals: updating your company mission or vision, rolling out a new communications strategy during COVID-19, or even sending company-wide change updates. We've created hundreds of illustrations over the years, and we've found that there are three key steps clients can take to ensure that they get the most out of their investment.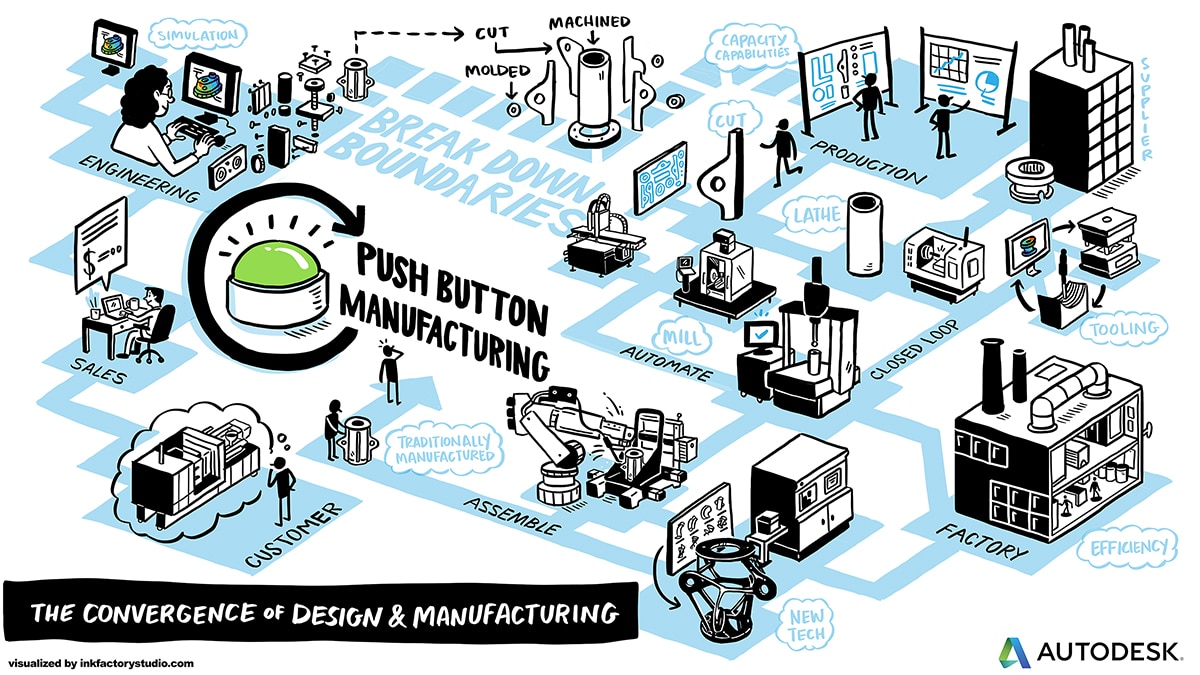 Solidify your message
Solidifying the primary goal of your illustration with a clear message paves the way for how we craft your visual story. Providing us with a refined and final copy of your content and key messages will allow the illustration process to progress quickly and efficiently. Here are some things to think about when developing your message: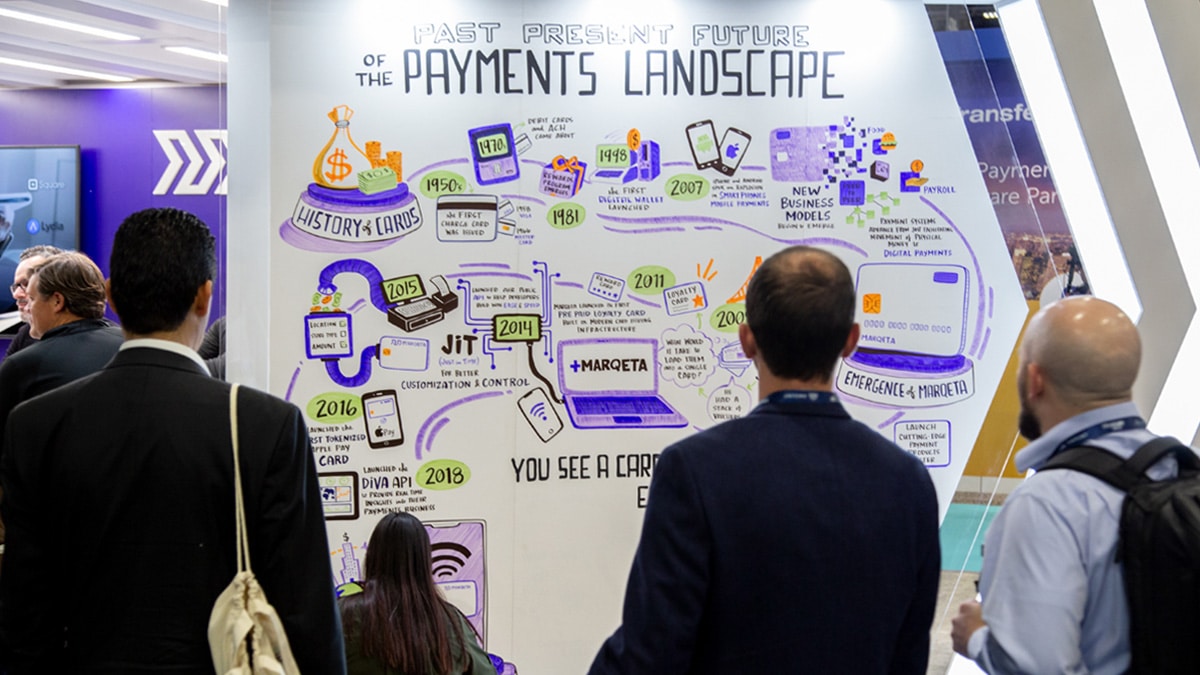 Marqueta knew their illustration was for the general public at a technology trade show, so all the copy had to make sense to the average person, and give them context around their company.
"They bring new ideas to the table and challenge us to think about how we communicate our message, which we value greatly."
STEVEN HOOPER, AUTODESK
Know your audience
Knowing your message and target audience is foundational to communicating–especially with an illustration. Is your audience part of your industry who will understand the language and ideas of your organization? Or is this a public-facing piece that requires more explanation? By keeping your audience in mind when crafting your copy, you will help us better understand and visualize your story.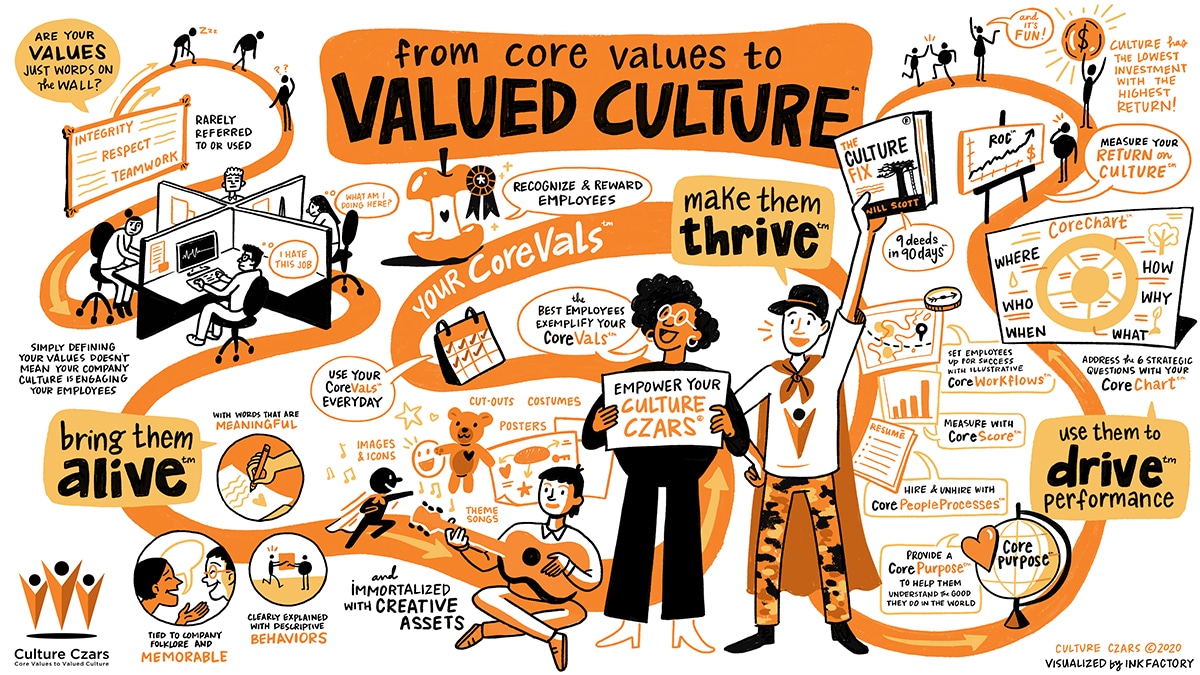 The bold black text in this Culture Czars illustration shows the key concepts, while the smaller text supports each section.
Establish a hierarchy of information
We create a more compelling and easy to read illustration when we understand the levels of importance within the information you provide. Highlighting your most important pieces of content will signal the artist to know what should be emphasized throughout the illustration. Additionally, a carefully crafted hierarchy of information will help clarify how complex ideas connect to each other as well as the key ideas that should stand alone.
Through our collaborative process, the first content and style conversation will walk through your content and filter the intricacies of your key messages in order to fully understand your ideas and goals for the illustration.
"The illustration is a fantastic visual framework to simplify complex technologies and business strategies"
BRADLEY RHOTON, PTC
Should you include background information?
Sure! It's great to have more context and backstory around what we're illustrating, especially in more technical areas like healthcare or technology. When providing context, it's important to clarify which content is background information and which content is essential to your illustrated message.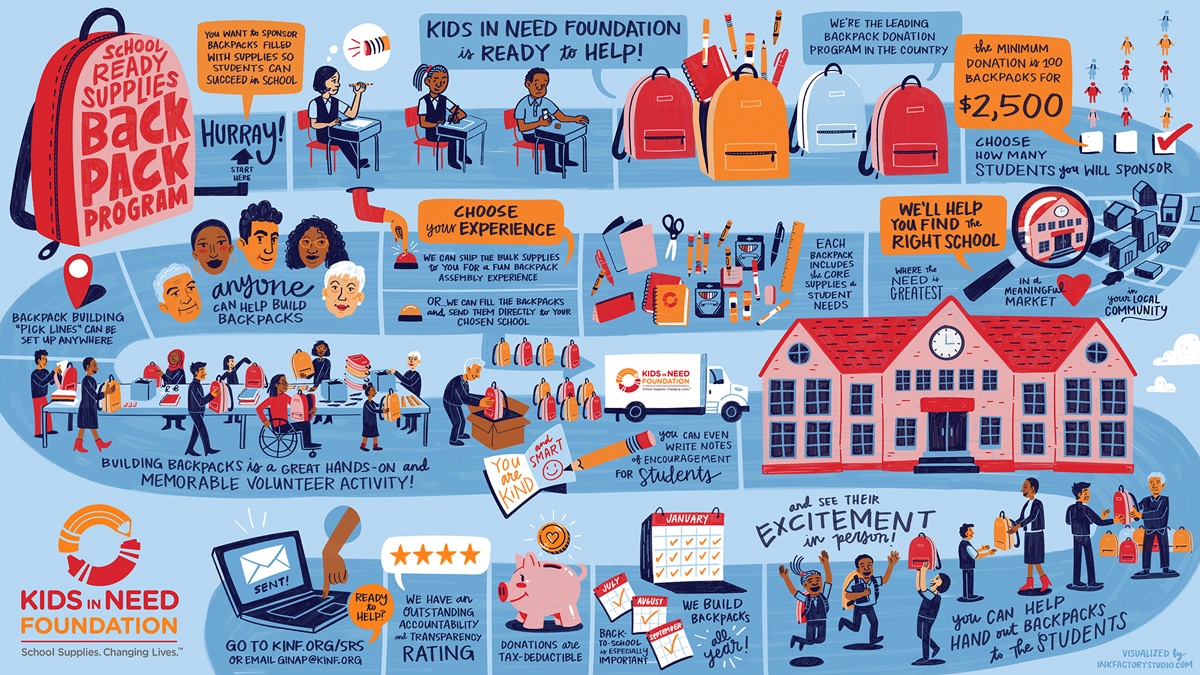 Kids in Need wanted to clarify the process for their Backpack program and encourage people to get involved with their illustration.
Know your call to action
If your message encourages your audiences to take action, we design the entire illustration around that goal. Think about the importance of this action and why it matters to you and your audience. This will create a clear and informative call to action for your audience to take the next step and produce actionable results.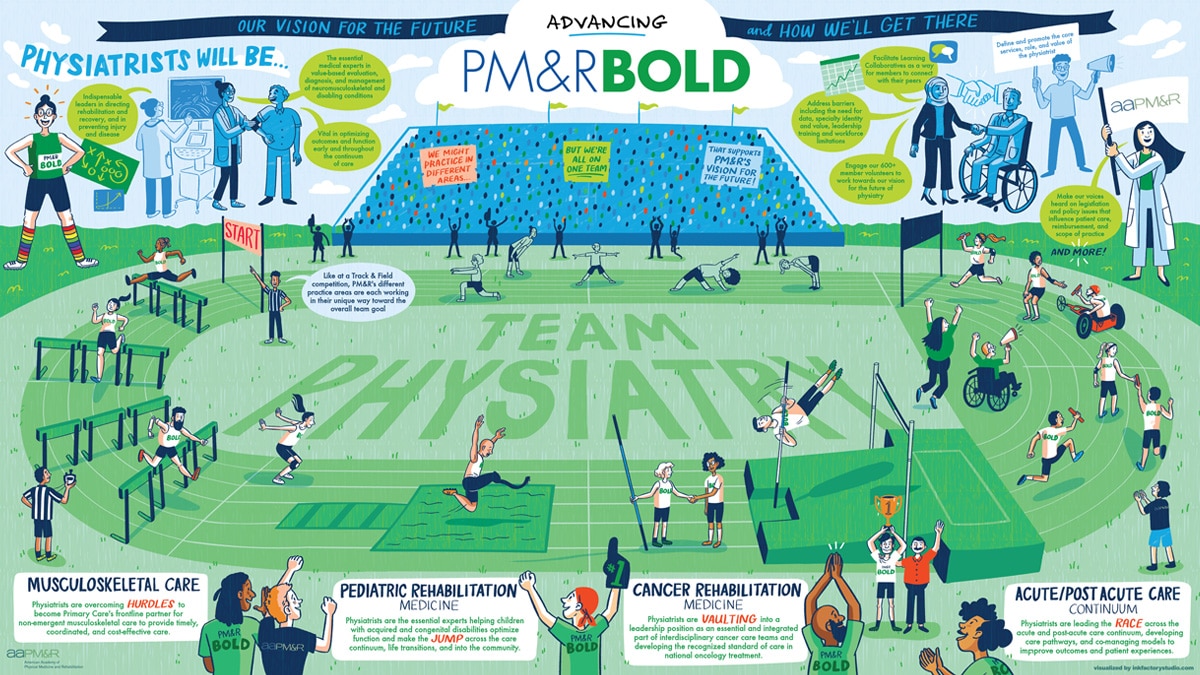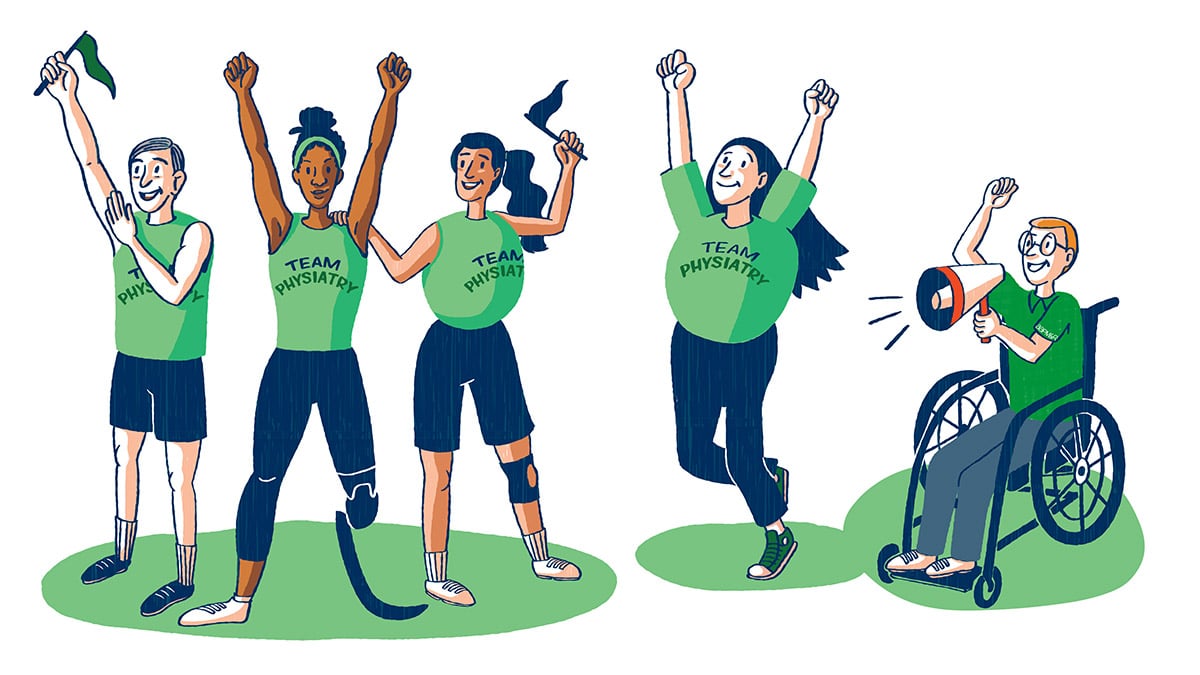 The team from AAPM&R used our illustration as an interactive webpage, as well as spot artwork for marketing campaigns.
Have a plan for your final product
Many clients maximize the value of their illustrations in multiple ways: integrating into PowerPoint presentations, printing large posters and wall coverings, using them as website graphics, and so on. And we love giving clients something with the most reach possible! Think about how you might use the final illustration beyond your initial idea.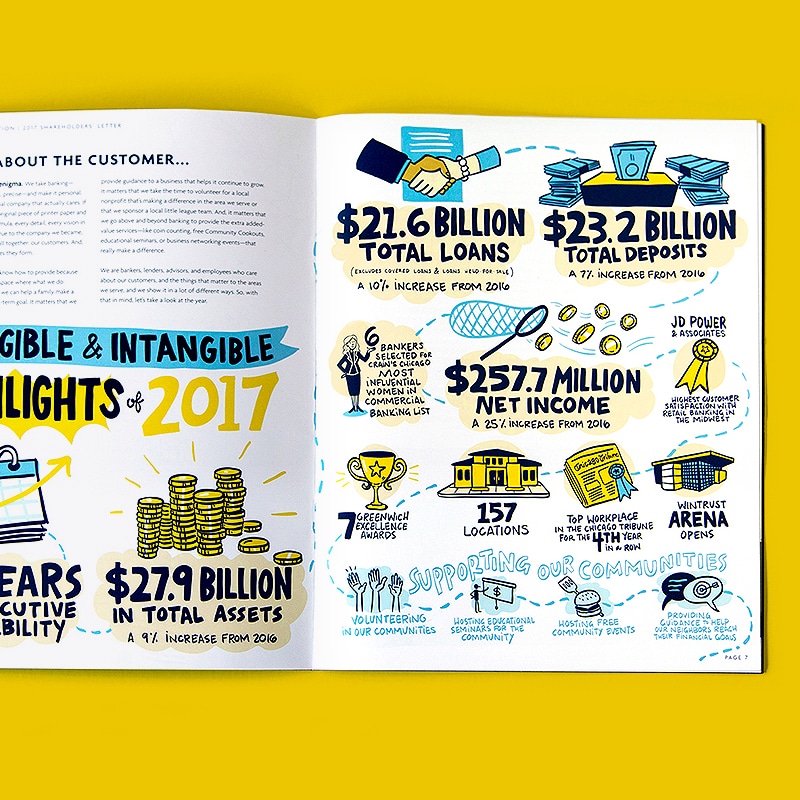 This illustration for Wintrust was printed in a book with accompanying text.
When brainstorming other ways to maximize the value of the illustration, consider including other verticals in your organization. This will set the stage for a successful deliverable that can fit a multitude of possibilities. Knowing how you will use your illustration before we start will help us identify the formats and sizes you will need. And, it's key to a professional and polished final product.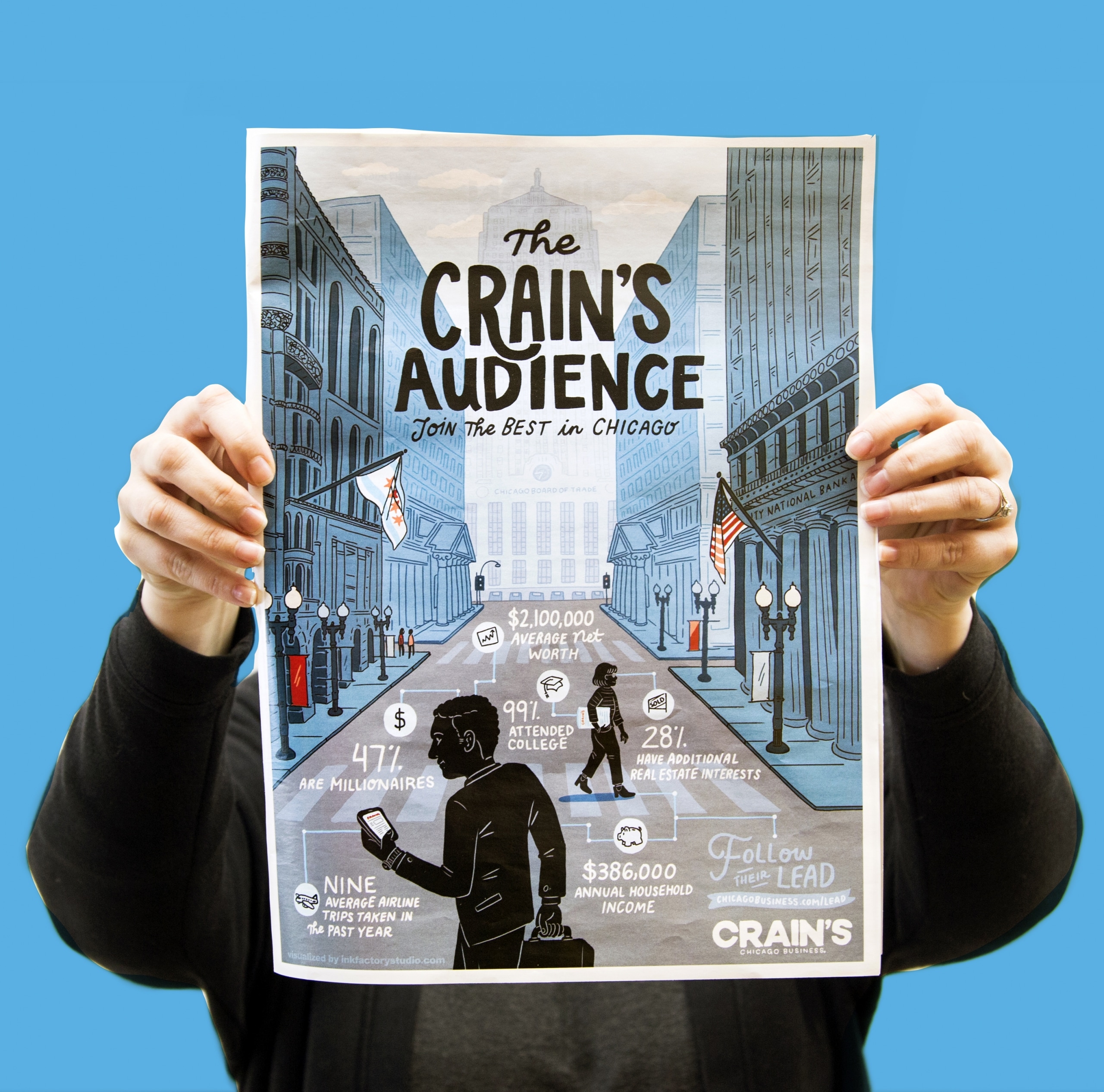 Here are some great ways illustrations can be implemented:
Printed as framed artwork, a poster, or postcard
Printed onto swag, like t-shirts, mugs, and more
Building visuals or spot illustrations for presentations
Social media content
Book or magazine illustrations
Murals for your office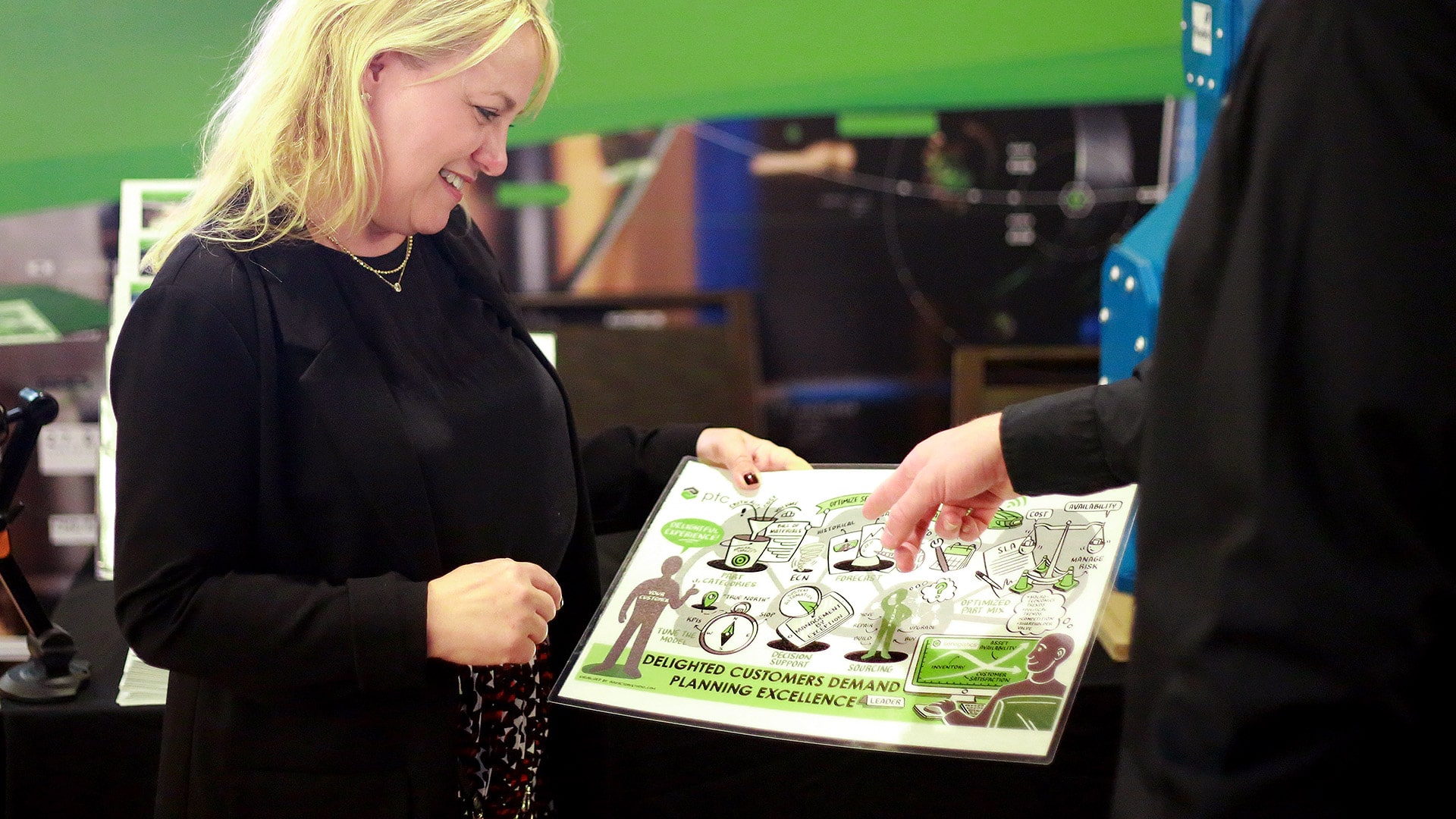 PTC had their illustration printed for sales teams to spark conversations at trade shows. Photo courtesy of PTC.
Make the most out of sharing
Illustrations need to be seen to make an impact. For public-facing work, share the illustration on all your channels in the best format for each channel. On Instagram, that might mean creating a carousel gallery post with close-up sections of the illustration so it's legible. Websites look best when the illustration is embedded at a size where the text is legible.
View this post on Instagram
If you can connect us with your graphics or branding team before the final delivery of the illustration, we can work with them to provide the exact files they'll need to share your illustration in the highest quality way it was meant to be experienced.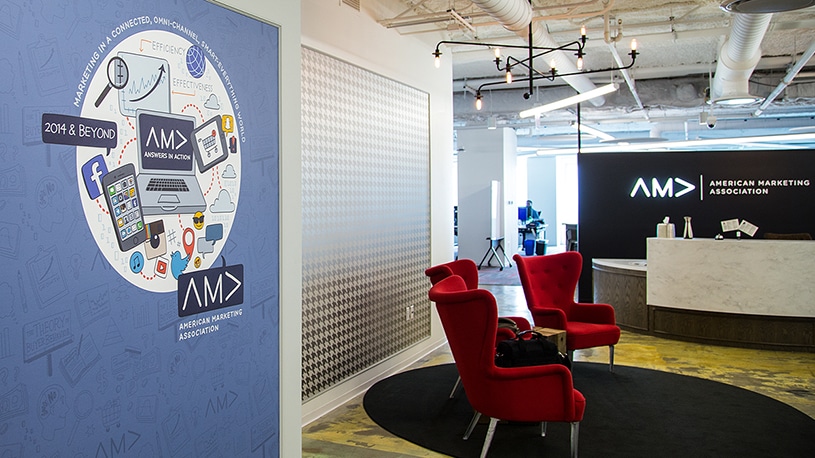 For internally shared illustrations, email newsletters are a fantastic way to announce the creation of a new initiative or company message alongside an illustration. Images are quite small when embedded in emails, so linking to a larger version to view full size is recommended. Printing and displaying the illustration in your team's space is a powerful way to keep your initiative top of mind – regardless of who may be working from home or at the office. A printed illustration can be a great reminder of your goals and tactics.
Whatever your business goals are, an illustration can help your team achieve them. Stay aligned, spark inspiration, and illuminate the path to success with the power of visuals.