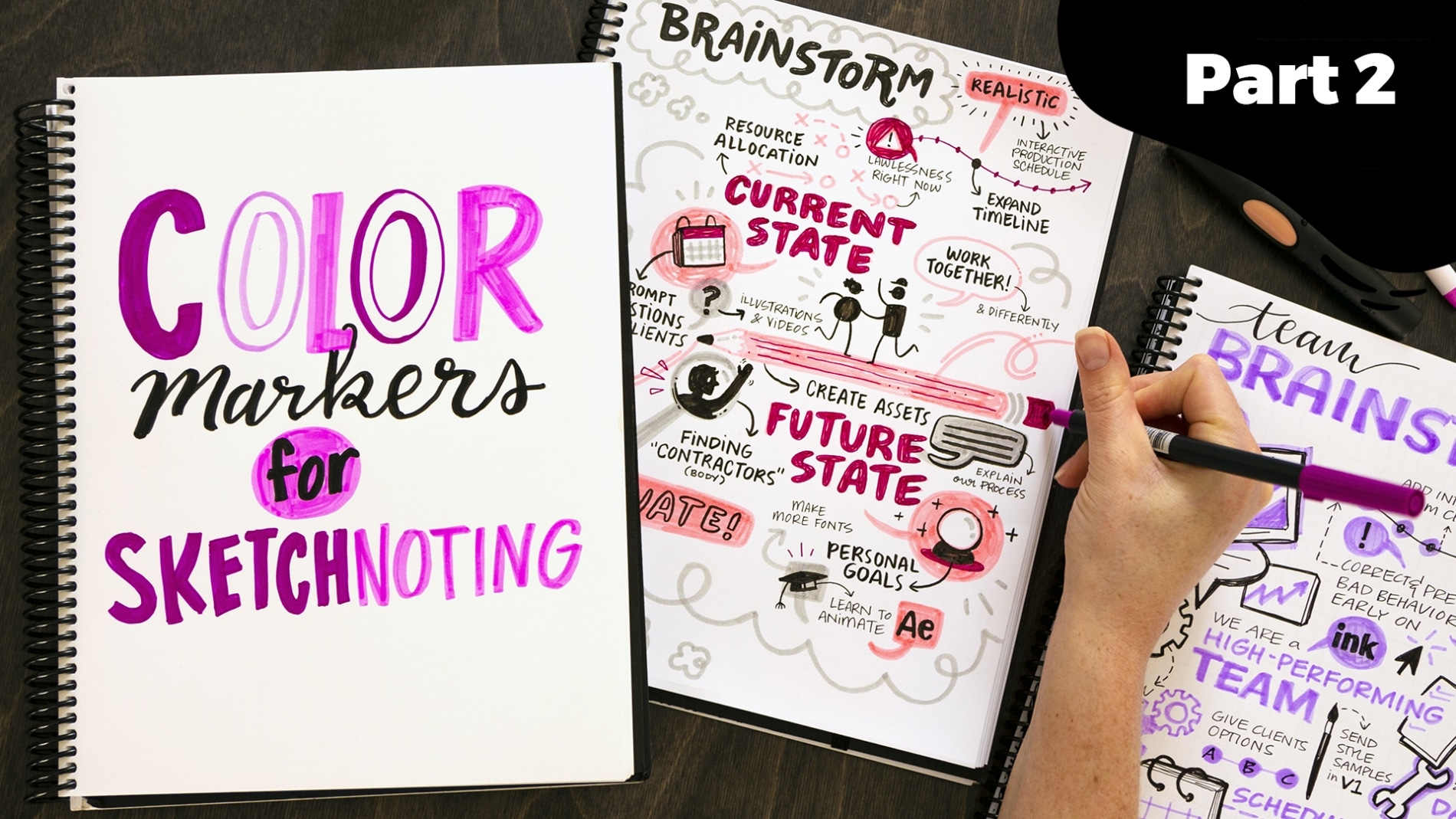 The Ultimate Guide Part 2: Color Markers for Sketchnoting
New to sketchnoting? In part one of this guide, we reviewed the top black markers for small format visual note-taking, the foundation of any sketchnoting journey. Here's a link to part 1 if you missed it. In part 2, we'll be discussing color markers for sketchnoting.
None of the brands mentioned or links provided in this article are associated with or sponsors of Ink Factory, and no links provided are affiliate sales links.
Color is a hugely important part of visual note-taking, and not something we're willing to skimp on when it comes to a smaller format! Luckily, there are a lot more options available for water-based color markers, since we don't need them to be water-resistant like their black ink counterparts.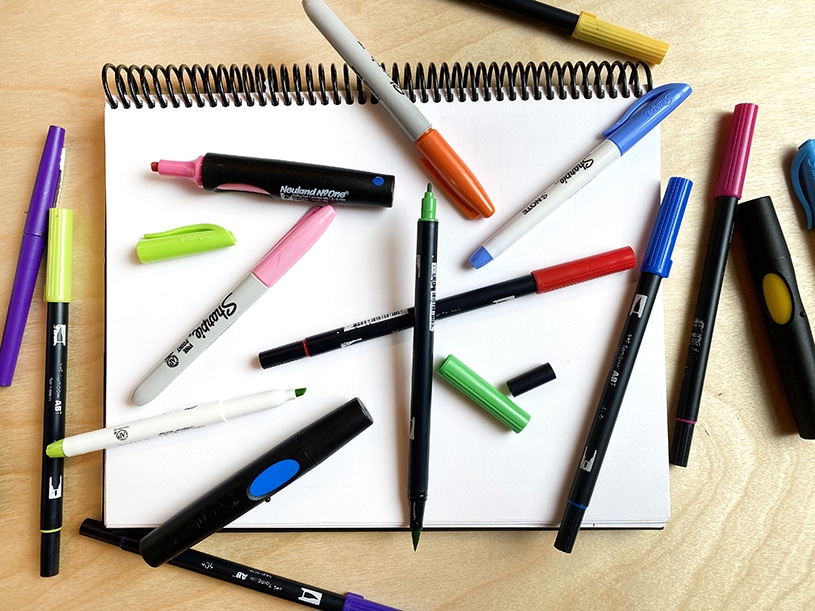 There's no way we could test all the options that exist for sketchnoting, but here are a few of our favorites (old and new), and some qualities you should look out for when selecting color markers for sketchnoting. We looked for markers that would enable us to create small-format notes that look as similar as possible to our large format visual notes.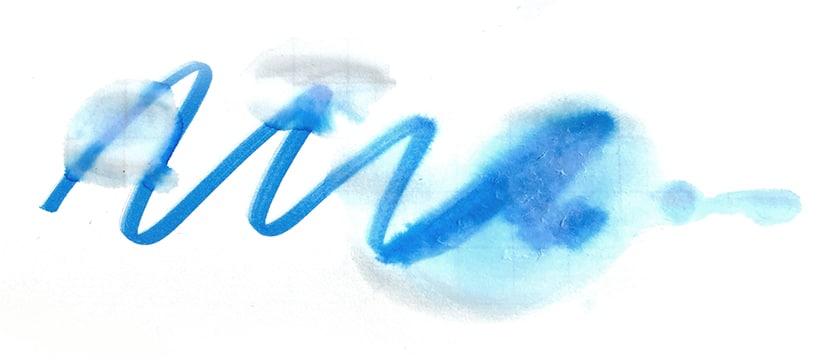 Water-Based Ink
Water-based ink is our favorite for sketchnoting because it tends to not bleed through to the other side of your page the way that alcohol inks do. That means you can utilize the front and back of every page in your sketchbook! Water-based ink also doesn't have any strong odors that some people might be sensitive to. Look for higher quality water-based inks that are marketed towards artists and illustrators rather than children's sets.

Look for Double Duty
We always recommend people use at least one small and one large marker to help establish a clearly organized page with a clear visual hierarchy. Double-ended markers, or markers with chisel tips, allow you to create two line widths in one tool–cutting the number of markers you need to buy in half. Plus, the more compact your toolkit is, the more likely you are to bring it with you to class, work, and to actually use it. The other benefit to a double-duty marker is speed–you'll save time while sketchnoting since you don't have to rummage around for the small or large version of the tool you need.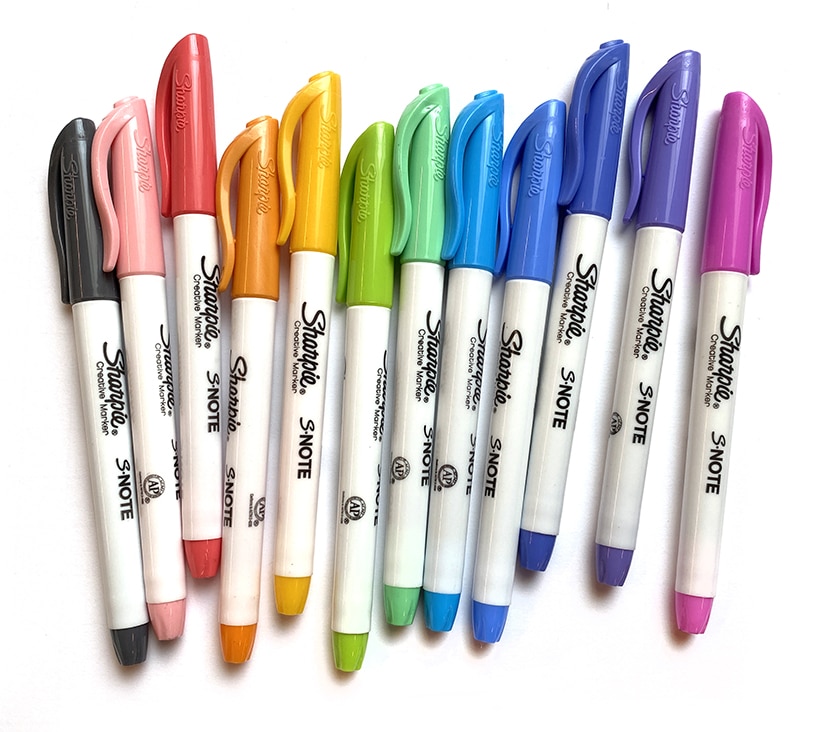 A Wide Range of Colors
You might find the perfect marker, but if it only comes in three colors, your sketchnotes might start to feel a bit limited. Having a wide range of colors will allow your notes to fully reflect the mood, tone, and content of whatever you're sketchnoting. We've got a suggested list of colors to start at the end of this article, but adding lighter and darker colors in those shades is always a good idea.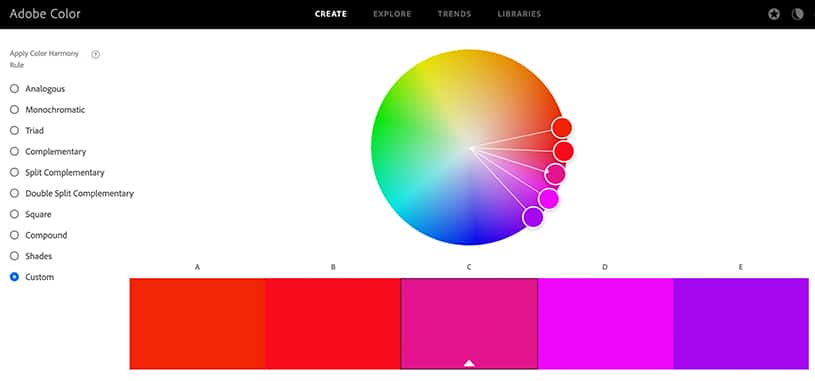 Check out this great color palette generator from Adobe to help you decide what colors go well together for sketchnoting.
Our Favorite Color Markers for Sketchnoting
We tested 4 very different water-based color markers by drawing the same sketchnote to see if there were any clear differences in how they handle and look.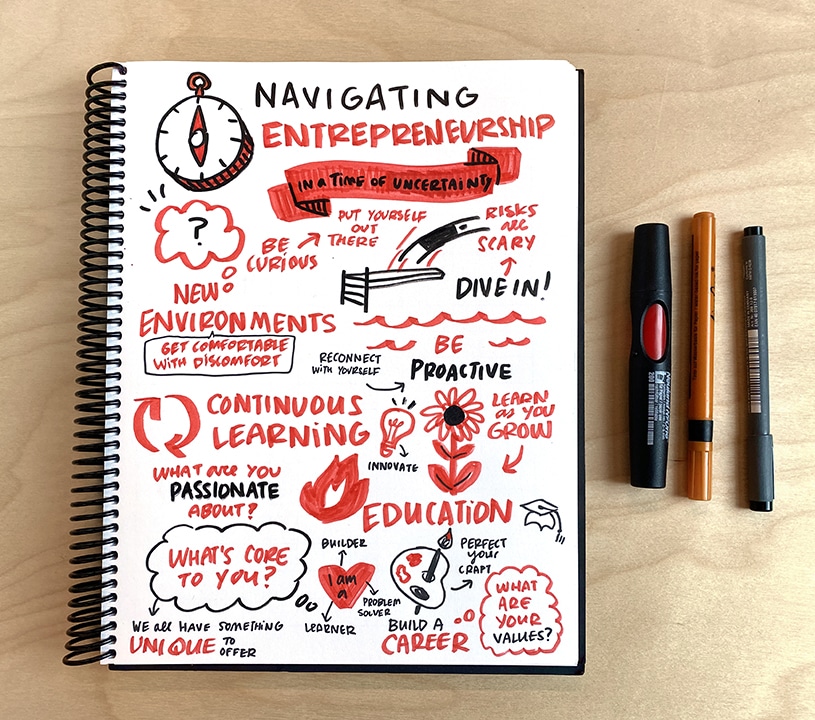 Most Eco-Friendly: Neuland No. One
Black inks: Neuland's FineOne Outliner and Staedtler's 1.2mm Pigment Liner
The go-to brand for professional visual note-takers, Neuland's water-based markers come in a great range of colors and are refillable. We use the No. One for large text and coloring in big areas of sketchnotes, which would pair perfectly with their FineOne for large and small sizes in your kit. You can buy both No. One and FineOne as either a chisel tip or bullet tip, depending on your preference. (We didn't have any red .8mm FineOnes to test in the above example, so we used the Staedtler Pigment Liner in 1.2mm as our smallest text).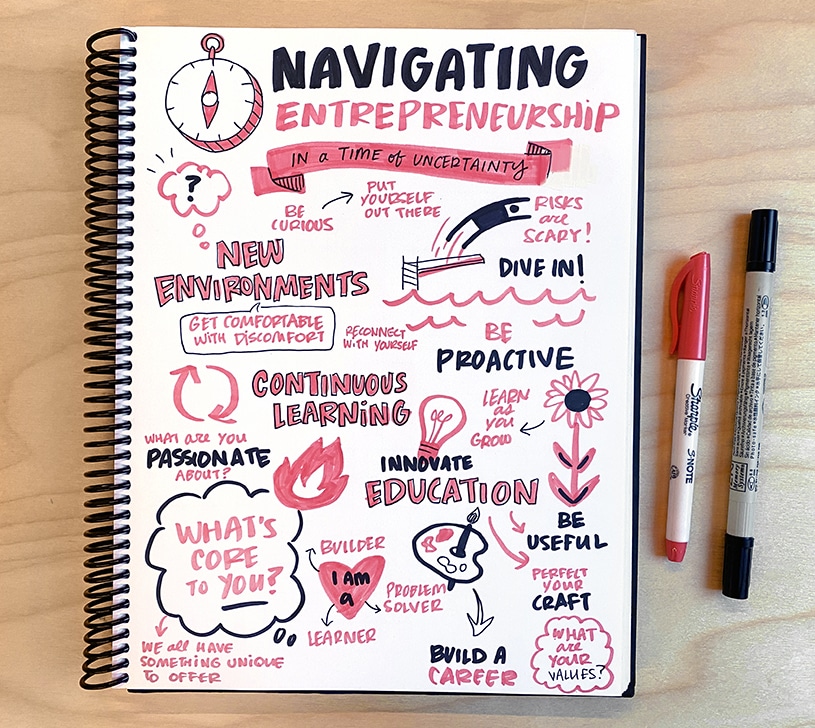 Streamlined Set: Sharpie SNote
Black inks: Kuretake's ZIG Writer
These "creative markers" allow for 2 stroke widths in one marker, since they have a chisel tip. You can only buy these as a set of 12 or 24, but the range of colors is well suited for sketchnoting. Their color range runs a bit more pastel since these are intended to double as highlighters. Because of that lighter ink, we decided that the key points needed a black outline so they stood out more clearly. At an affordable price and widely available, they would be a great kit for beginners. The only downside we found to these markers was that they don't last a long time. After one day of intense use, they started to show signs of drying out.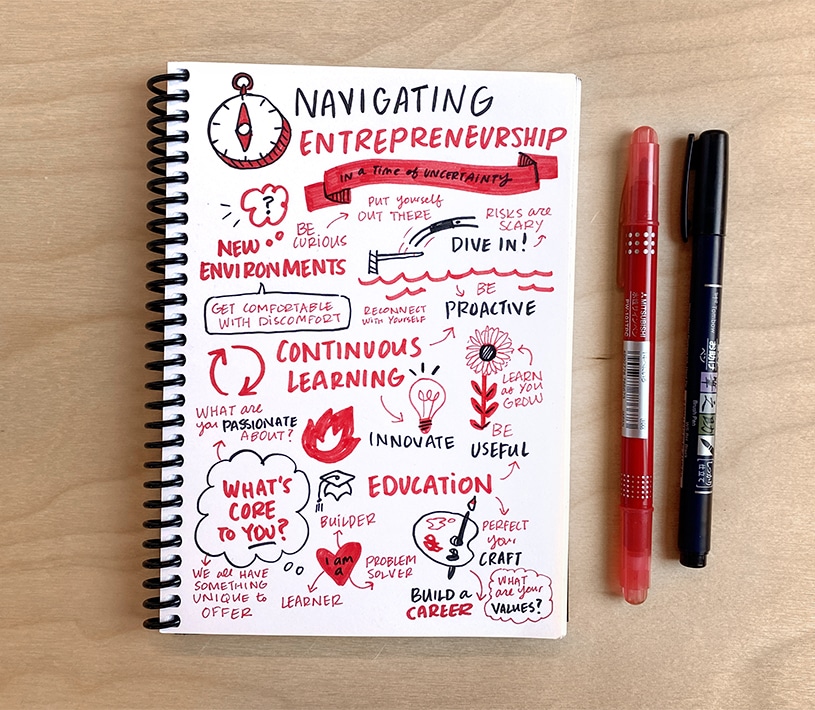 Best for Small Notebooks: Pure Color-F
Black Inks: Tombow Fudenosuke
These little guys are dual-ended bullet-tipped markers, and the perfect nib size for a smaller notebook. The markers are pretty small as well for easy travel. You can buy them as a kit or as individual markers. The color is nice and vibrant, which we love. They're not the best for filling large areas with color, which is why we suggest them for small notebooks. The tips of these are very firm, which means they'll last a long time before wearing down.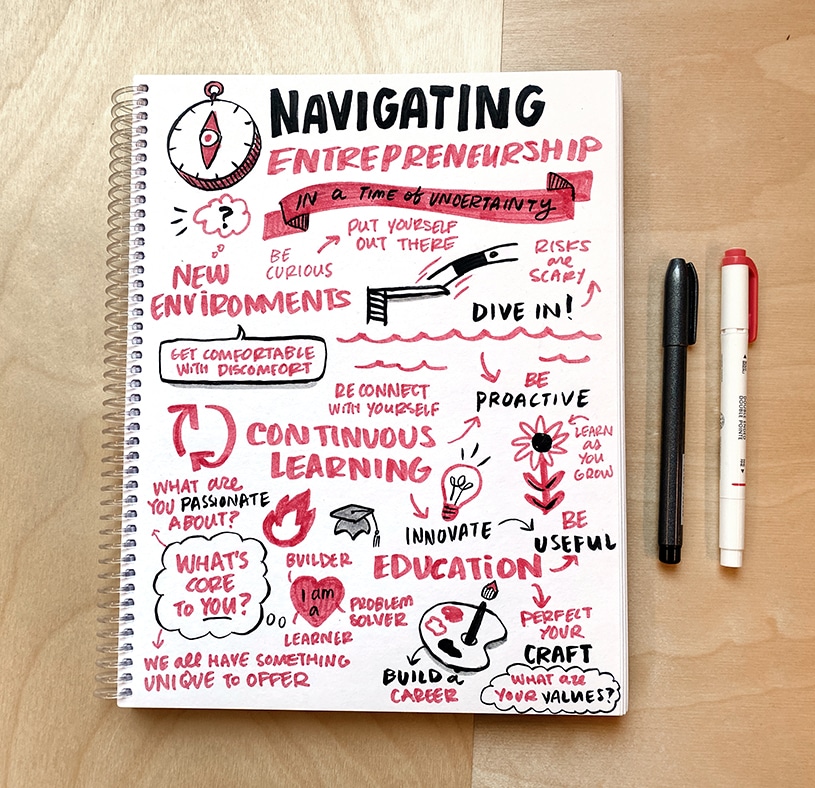 Best Highlighter: Zebra's Midliner
Black Inks: Zebra's Disposable Brush Pen
These double-ended markers from Zebra lean into highlighter territory, but there is still a great range of colors to choose from. The colors are not as saturated as a traditional artist marker, but they could be great for sketchnotes. We love the chisel and bullet tip option, but wish the bullet tip was a bit smaller and firmer.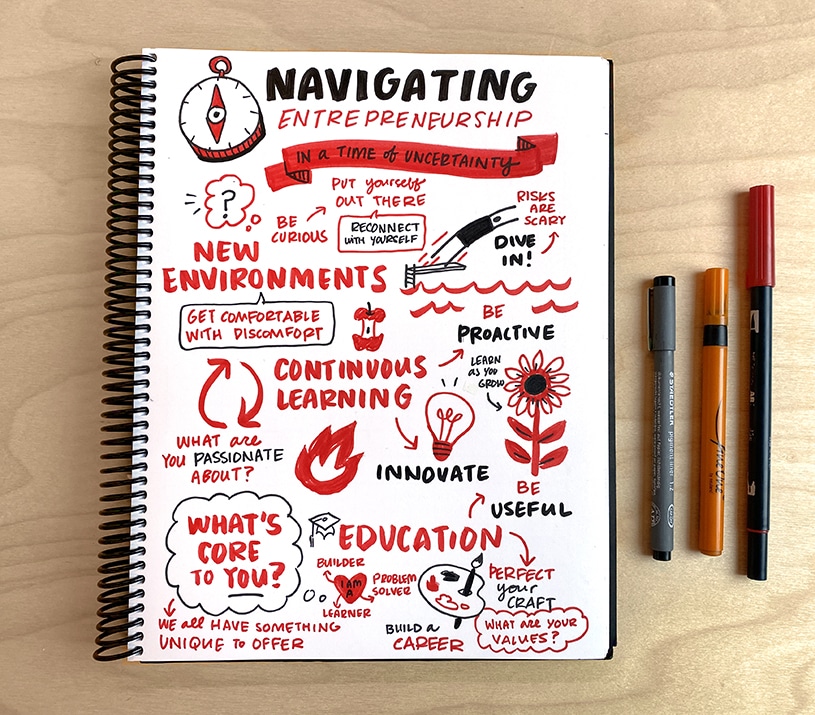 Best Pigment: Tombow Dual Brush Pens
Black inks: Neuland's FineOne Outliner and Staedtler's 1.2mm Pigment Liner
Tombow's Dual Brush Pens are a very popular choice among illustrators for their vibrant colors, large color range, and distinct nibs. We found the brush side perfect for filling in large areas of color. The bullet side was perfect for drawing details and writing text. The red was also the most vibrant of any we tested.
Suggested Colors For Your Sketchnote Toolkit
Found a marker brand you want to try but not sure what colors you need? We'd recommend the following colors (in addition to some smudge-proof blacks) to start your sketchnoting toolkit: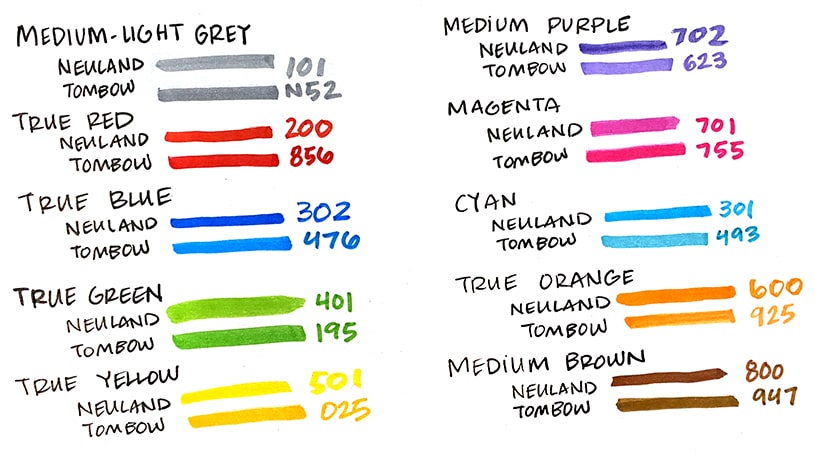 Our sketchnoting toolkits are halfway completed! What's your favorite kind of color markers for sketchnoting? Let us know on social media using the hashtag #ThinkLikeInk!
Next up, we'll cover all the other items you'll need to complete your toolkit. You'll learn about papers, tools for fixing mistakes, and our kit guide for beginners and advanced sketchnoters.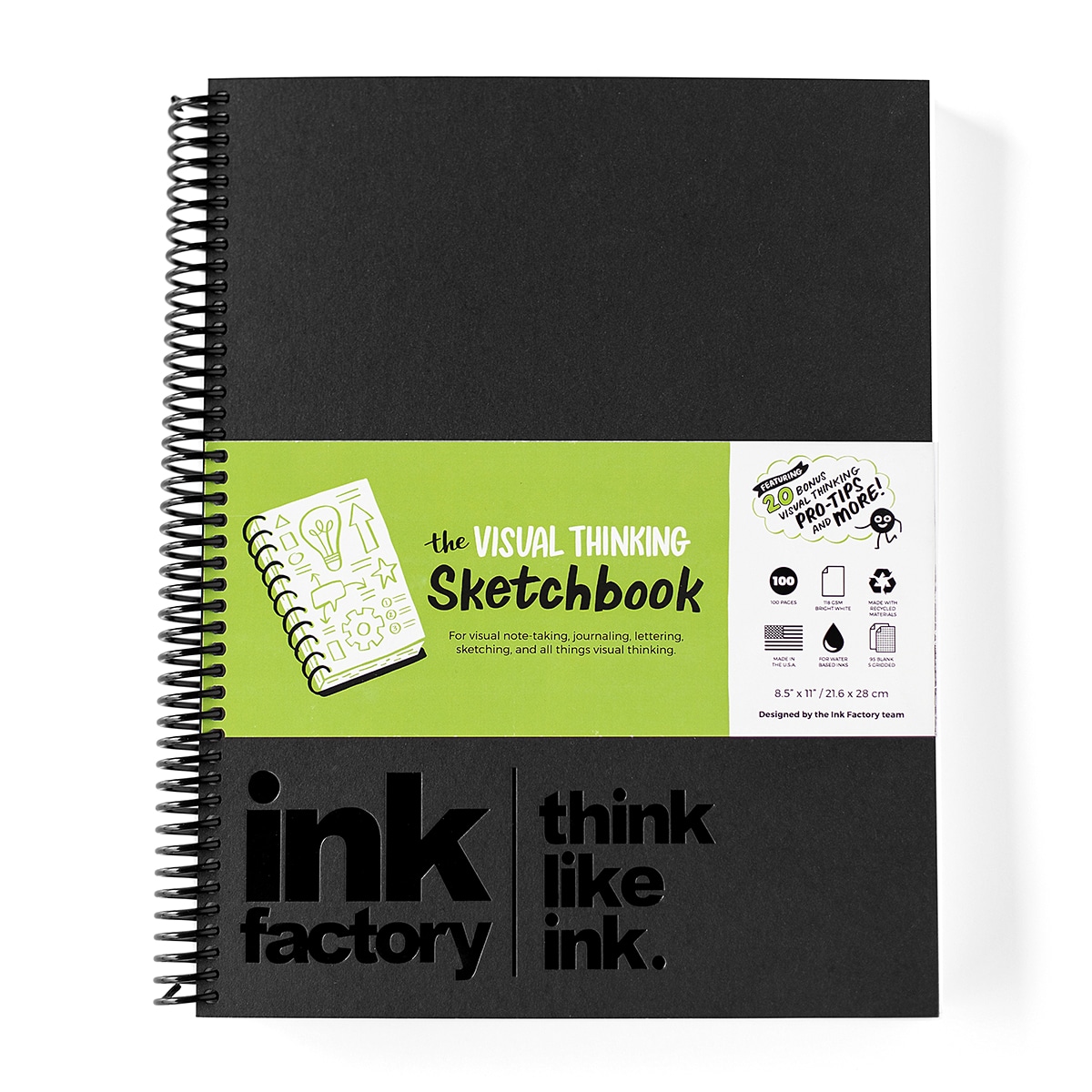 What's our favorite tool for sketchnotes? The Visual Thinking Sketchbook of course!
Our team has spent the past year developing a sketchbook that both our artists and visual thinking fans alike would love to use.
This is MORE than just a sketchbook–we hope it inspires you to use visuals to help you better think & communicate.