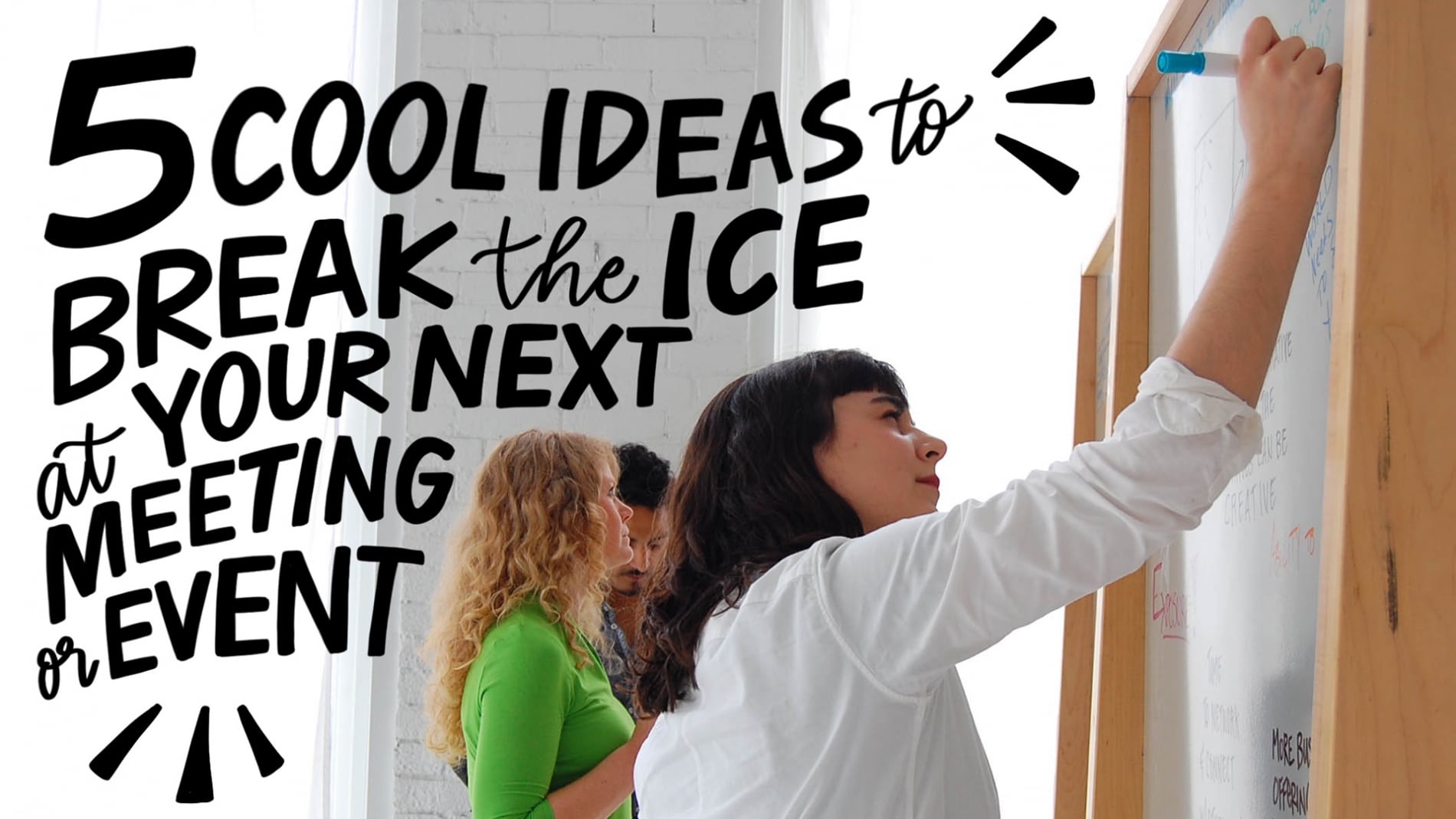 Creative Ice Breaker Ideas for In-Person Events
As we return to in-person work, meetings, and events, many of us are finding these settings to be a little…awkward. From greeting one another (are handshakes still a thing?) to face-to-face conversations (no turning off video IRL), we're all figuring out what being back together looks and feels like. Luckily, a thoughtful ice breaker activity can help put attendees at ease and jumpstart conversations and collaboration. At Ink Factory, our artist team has facilitated all kinds of creative warm-up exercises for groups of every size. Here, we've rounded up our favorite ice breaker ideas for meetings. Some are easier to execute with an artist on hand (we can help!), while others you can simply DIY.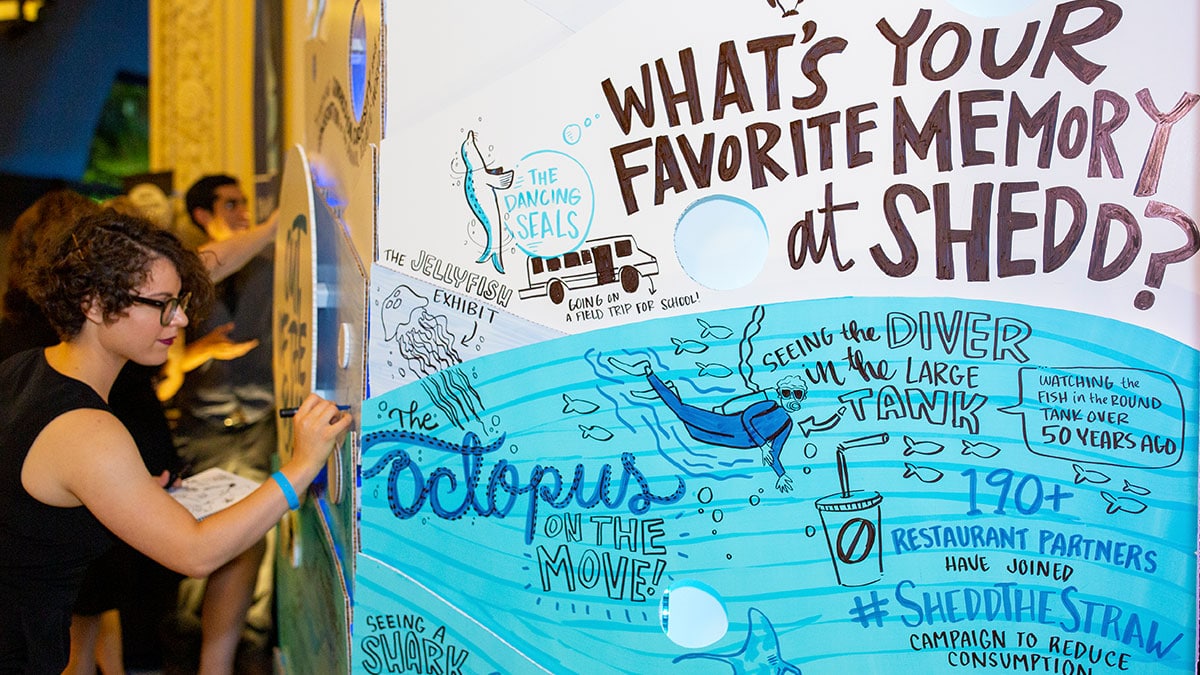 1. Engagement Board
This activation helps attendees interact with an event's theme or purpose in a meaningful way. It's a great conversation starter so utilize it in high-traffic areas for maximum impact. You'll want at least one artist, possibly more depending on the size and scale of the installation.
How it Works:
Ink Factory designs and installs a whiteboard or wall at your meeting or event site. Typically, in an open area where attendees can easily see and engage with it.
The engagement board features one or a series of questions you'd like attendees to answer. An artist team of visual note-takers (aka, graphic recorders) manages the engagement board, inviting attendees to share their answers. The artists then illustrate these responses.
Attendees can share answers verbally, or write them down. When the event wraps, the illustration can be digitized and shared.
The Shedd Aquarium in Chicago utilized an engagement board at its annual fundraising event, which focused on increasing zero-waste practices. Ink Factory designed the wall using recycled materials, then posed questions to guests and illustrated their answers.
"The live notes installation was a beautiful addition to the event, and helped our guests to engage with the event's theme around sustainability in a meaningful and interactive manner," said Melissa Sommer, Corporate Partnerships at Shedd Aquarium.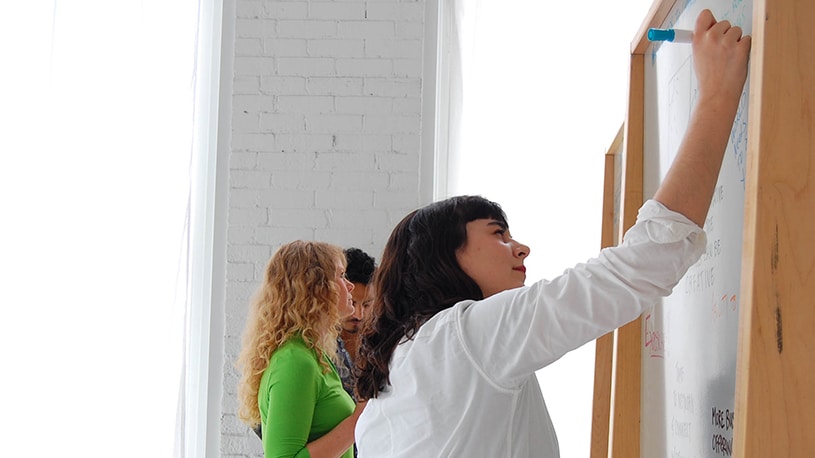 2. Reverse Pictionary
This is Ink Factory's take on the classic word-drawing game. It's guaranteed to give groups an energy boost–and lots of laughs. It gets bonus points for working well in live and virtual settings. You'll need an artist to facilitate.
How it Works:
Assign everyone a unique question. For example, "what's your spirit animal?" or "what's your favorite snack?"
Next, each person will take a turn describing–but not giving away–their answer to the artist. So, if your favorite snack is a pickle you might tell the artist it's green and sausage-shaped with warts.
The artist draws while the group guesses. If no one guesses correctly within 3 minutes, you reveal your answer and move on to the next person.
Meeting virtually? Email questions to participants in advance to keep things moving. Have the artist share their screen so the group can watch the drawing in real-time. And leave microphones on so everyone can guess.
Blind Contour Drawing
This exercise is a staple of drawing classes and is ideal for smaller groups. It helps hone observation skills and many participants find it calming–it can also be hilarious. Use it as an ice breaker, or offer it during breaks to clear the mind. No art skills required.
How it Works:
Provide each participant with a pencil and paper. Ask everyone to identify an object in the room to draw. Or, specify an object.
Next, instruct participants to draw the contour of the object in one continuous line without looking at their paper.
When time is up, have everyone share their drawings. It's almost impossible to create a realistic drawing so the results are often funny. Remember, it's about the process, not the finished piece!
Artist's tip: Provide an example or demonstrate for everyone to reduce group trepidation about drawing!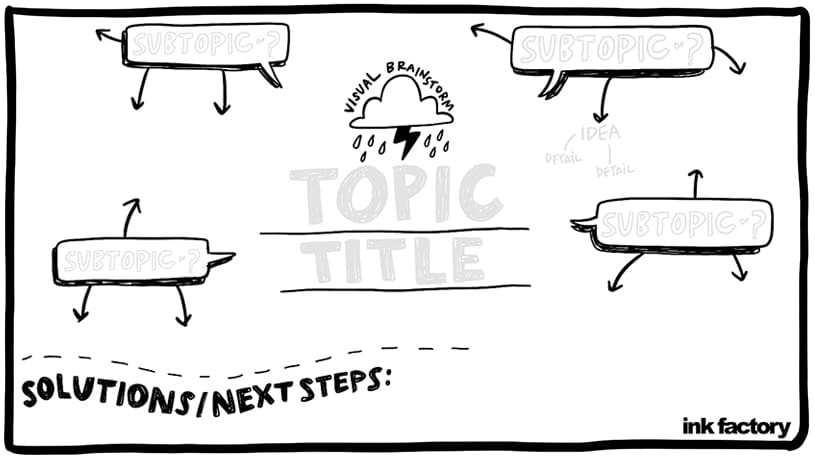 Visual Discussion Guide
This tool helps spark collaboration, especially when bringing together people who do not know each other. Implement it at the beginning of a breakout session to rally everyone around a task. Working with an artist will ensure an awesome visual output that can be utilized beyond the event.
How it Works:
You'll work with an artist to design a visual discussion guide specific to your event purpose and objective. In the example pictured above, the goal was to guide participants in a small-group brainstorming exercise.
During the event, the artist will use the discussion guide and illustrate the group's ideas in real-time. Once complete, groups can easily share their visualized ideas with one another.
Want to create a DIY visual discussion guide? Download our visual thinking toolkit for templates and icon packs to get your started.
Meeting virtually? Upload a digital version of your worksheet to a collaborative whiteboard tool like Mural or Google Meet's Whiteboarding. The artist will use digital visual notes to illustrate the group's ideas. When finished, groups can share screenshots of their completed work.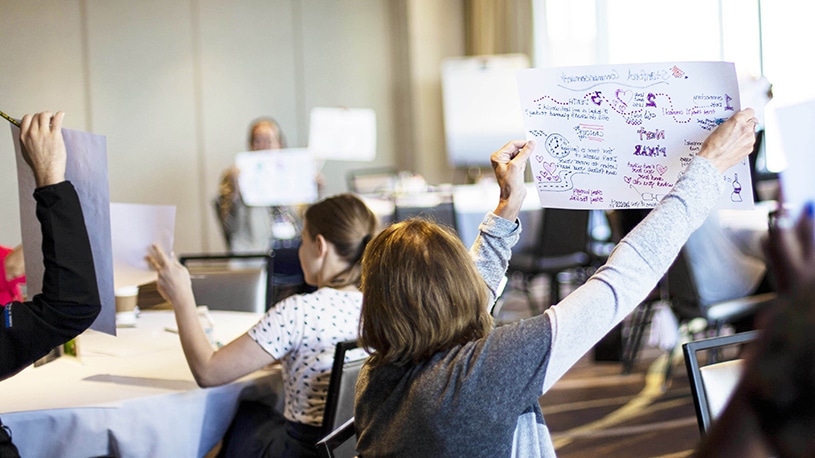 Visualize Your "Why"
This exercise centers around the question: what's your why? It allows for self-reflection while also directing thought towards a shared purpose–of a team, organization or initiative. It's ideal for mission-driven organizations and non-profits.
How it Works:
Participants will have 45 minutes to complete this visioning exercise. Provide everyone with a marker and blank sheet of paper.
Ask the group to think about where they see themselves at a future moment in time. This could be months, years or even decades from now. Guide them to think about their purpose–their "why"–and how it manifests itself in the future.
Next, instruct the group to visualize this vision using one word and 2-3 images. Participants will use art to eliminate options, resulting in a drawing that is focused and intentional.
After everyone has created their personal visions, ask them to think about the future state of the business, industry, or whatever entity brought them together for this meeting or event. Provide time for participants to link the two visions and discuss them as a group.
Want to brainstorm the perfect ice breaker for your next meeting or event? We can help! Schedule a free 30-minute call. Don't forget! If an artist is supporting your event with visual notes, they can easily help facilitate any of these ice breakers, too. Let us know and we'll help you plan.
Wait, there's more! Subscribe to the Ink Factory newsletter to learn the latest on visual trends.
With a community of 4,000+ visual thinkers, you'll be in good company. Join us!