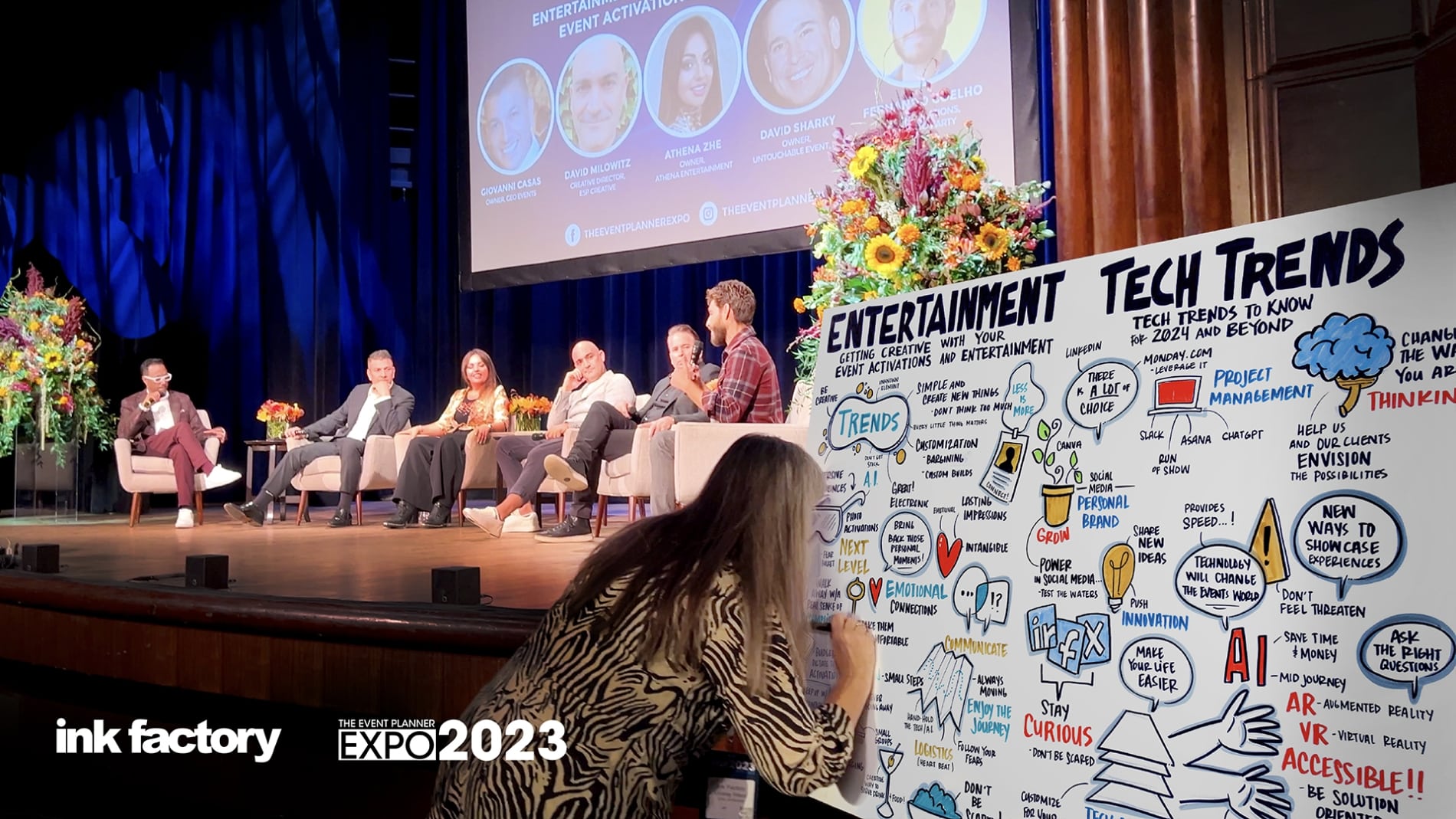 What Wowed Us At Event Planner Expo 2023
That's a wrap on Event Planner Expo 2023! It was an awesome week filled with lots of visual notes, countless insights, a little Ja Rule, and even a new tattoo. This year, Ink Factory was both an exhibitor and visual note-taking partner, giving us a unique perspective on what's trending in the event industry. Read on for our big learnings and favorite moments.
View this post on Instagram
Engage all five senses
Keynote speaker and renowned event planner Marcy Blum reminded us to lean into all five senses to create truly immersive experiences. Think: Delicious food, scent activations, transformative visuals and lighting, unexpected textures, and mood-setting music.
Expo exhibitors didn't disappoint, showcasing new-and-now ways to capture the senses. We loved NYC's Starbright Floral Design's always-fresh take on flowers. There's nothing more luxe than botanical backdrop for Instagram selfies.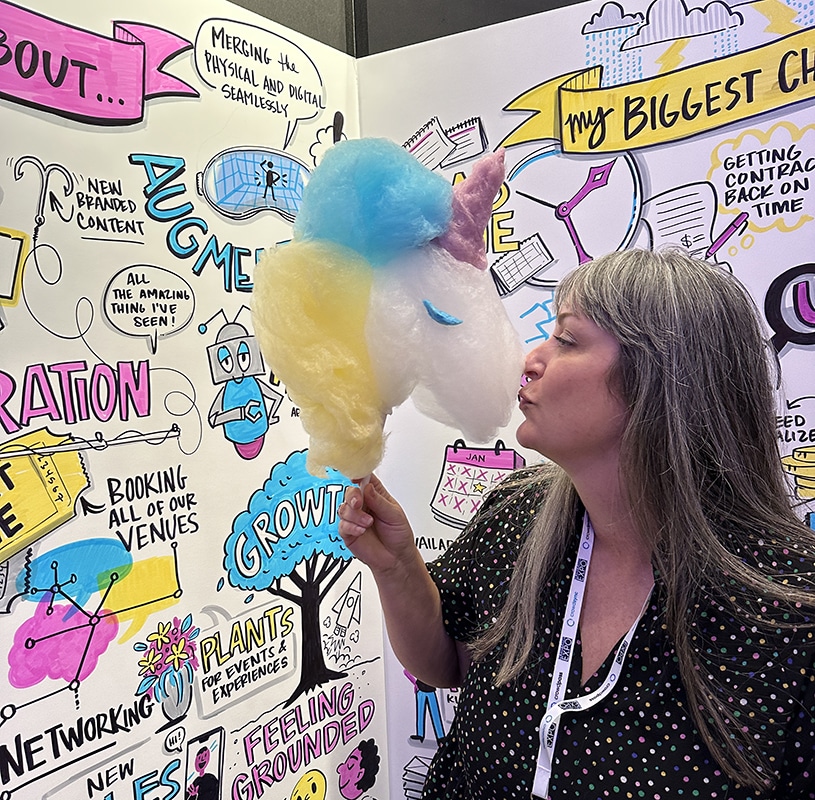 And NPA Parties' cotton candy artists who spun original designs right before our eyes. Yum.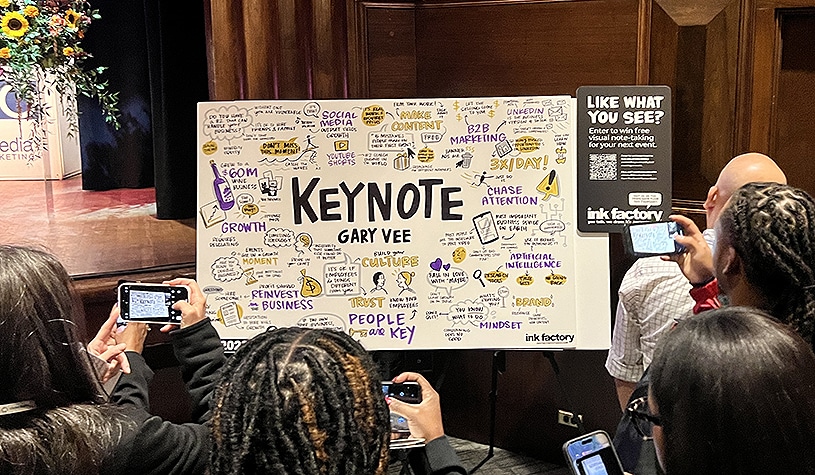 Let's not forget the visuals! Ink Factory knows first-hand that visualizing an event makes it easier for guests to remember all the ideas and content that was shared. Expo attendees couldn't keep their cameras off our visual notes!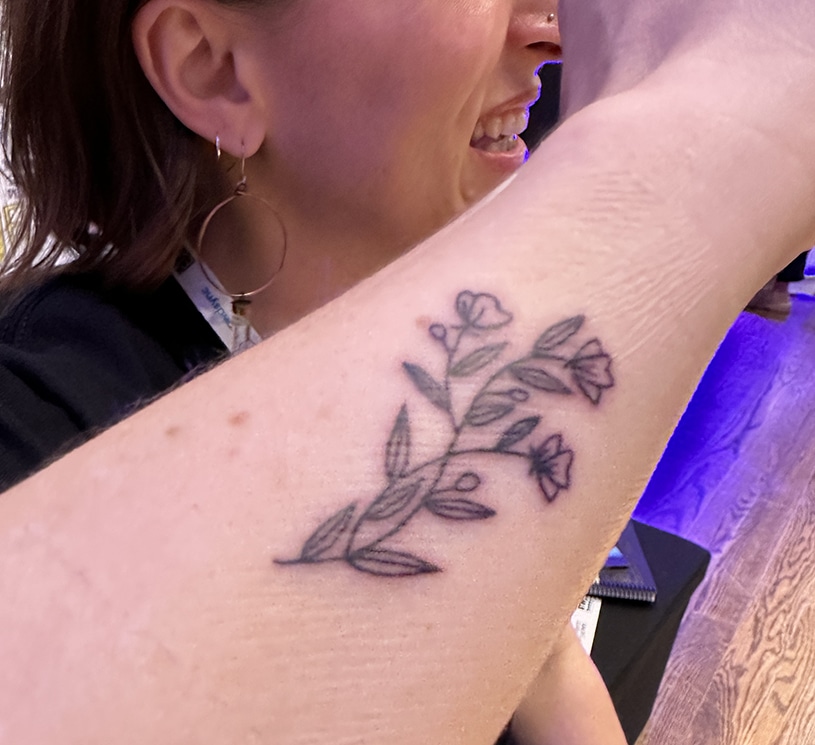 Personalize, personalize, personalize
Personalized experiences are critical to making your event "stick" in the hearts and minds of attendees. One of our favorites was Hive Studio, which offered Expo-exclusive tattoos on-site. Our teammate Teresa Rawlings jumped in the chair for some fresh ink!
Another fave was Printing on Main Street's live event t-shirt printing. Attendees loved watching their custom tees come to life.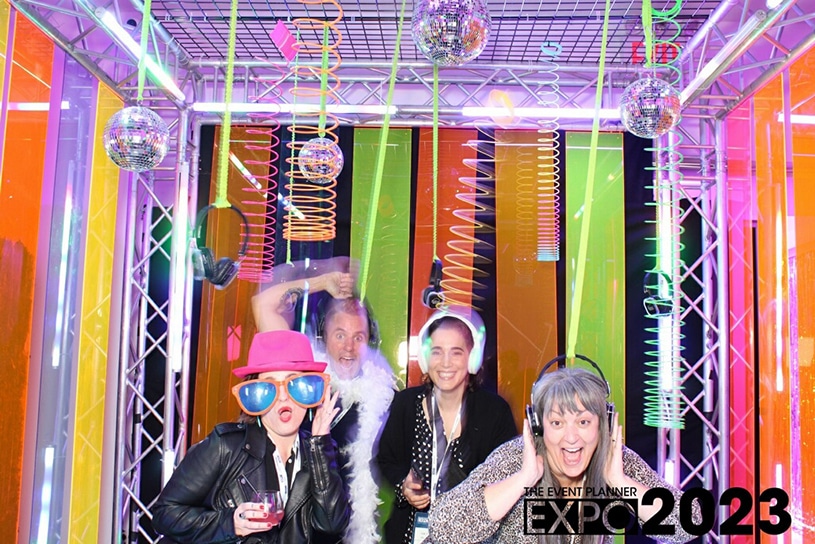 And then there's the tried-and-true photo booth. Untouchable Events gave this guest-favorite experience a refresh with a super large photo booth that could handle your whole team as well as a stand alone selfie! They amped it up with magazine worthy lighting and fun props. We loved how this setup could be integrated into any space – large or small.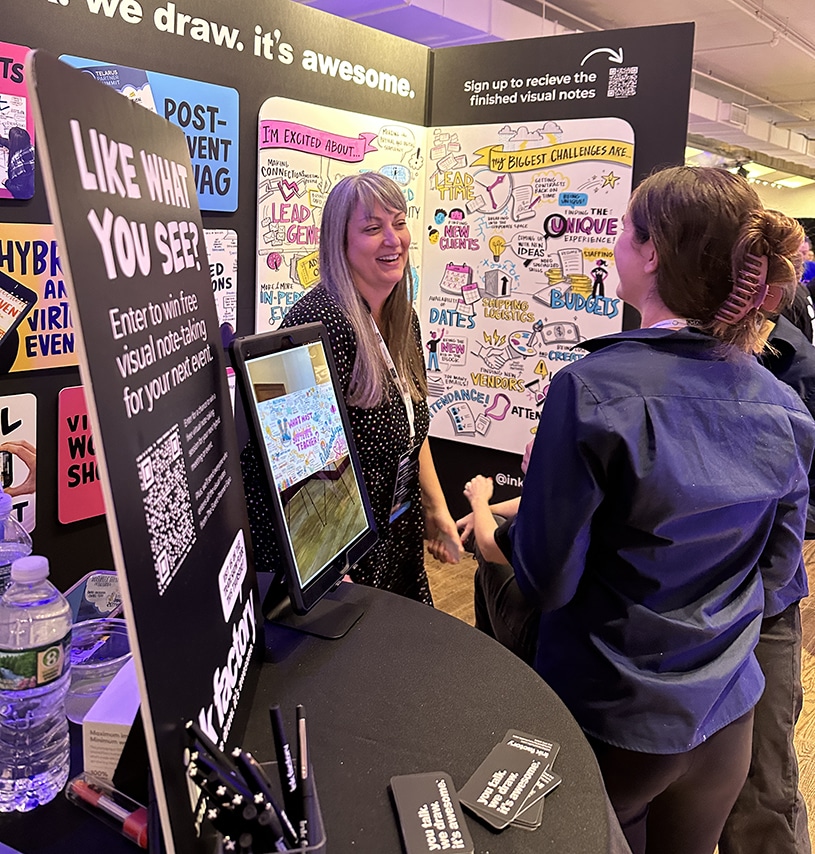 Keep it casual
Similar to the workplace, attendees want flexibility at events. Think more free-flowing, choice-filled agendas, and fewer mandatory sessions. Break time activities that focus on mindfulness and creativity are in demand as well.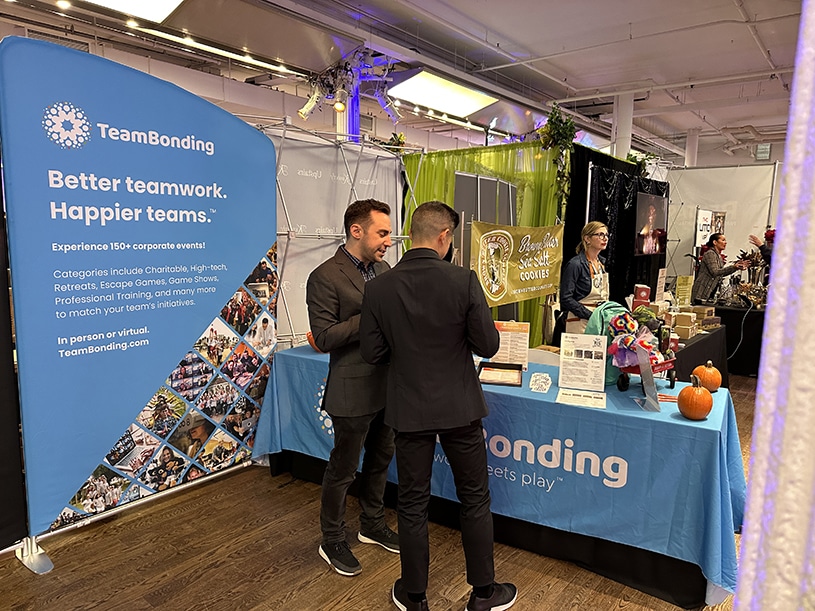 TeamBonding kept it light and fun with their…you guessed it…team-building games. The perfect way to unwind with co-workers and fellow Expo-goers.
Attendees who stopped by the Ink Factory booth had a chance to reflect and share as part of our live-drawn engagement board.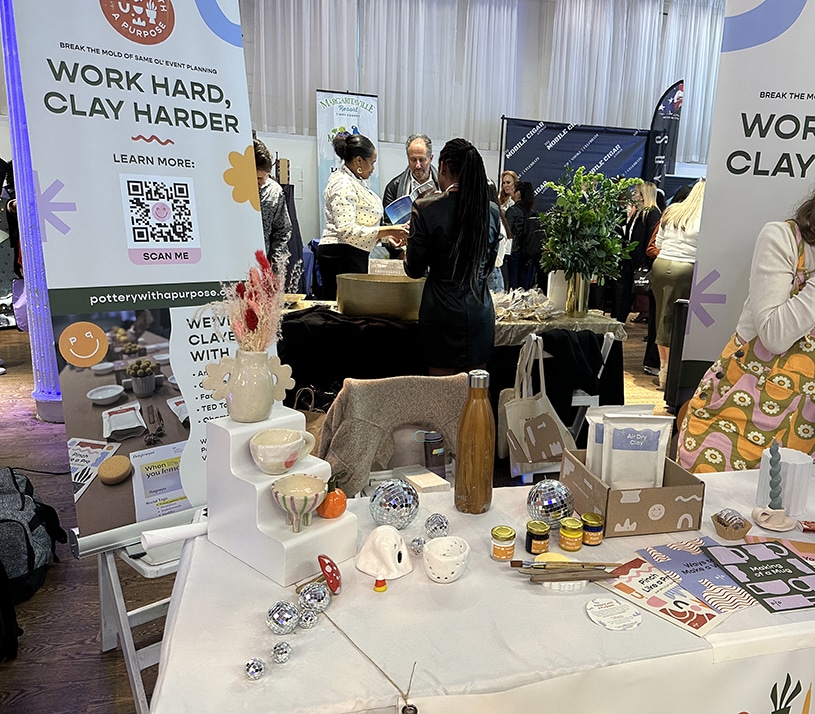 Designed for sustainability
Creating greener, more eco-friendly events is a priority for many planners right now and Expo was full of cool solutions. We especially loved Pickytarian's elegant and compostable tableware made from bamboo and sugarcane pulp. A colorful replacement for disposable plastic and paper products.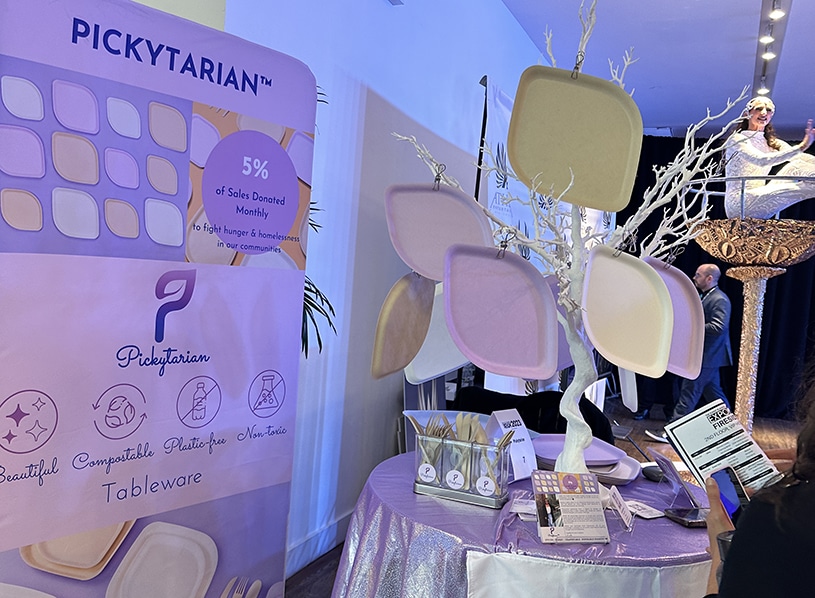 Searching for a fresh and creative team-building activity? Pottery With A Purpose offers sustainably designed make-your-own pottery kits. Bring co-workers together for a creative, stress-relieving pottery workshop. (Yes, please!)
Sustainability is top of mind at Ink Factory, too. Our artists use refillable markers and draw on EagleCell boards, a recyclable, paper-based substrate sourced from the Sustainable Forest Initiative, to minimize our carbon footprint.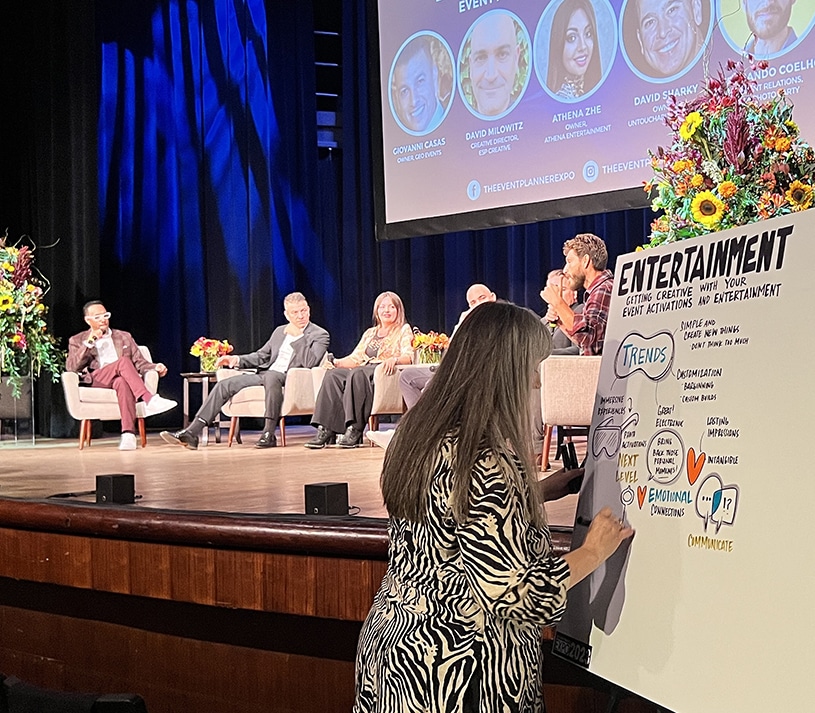 Download our visual notes from the Event Planner Expo
If you missed Expo, catch up with our visual notes from each keynote and breakout session. Download Event Planner Expo 2023 visual notes here.
Want to bring visual note-taking to your next meeting or event? Ink Factory would love to help. Send us a message to schedule a call. We can't wait to create something awesome together!