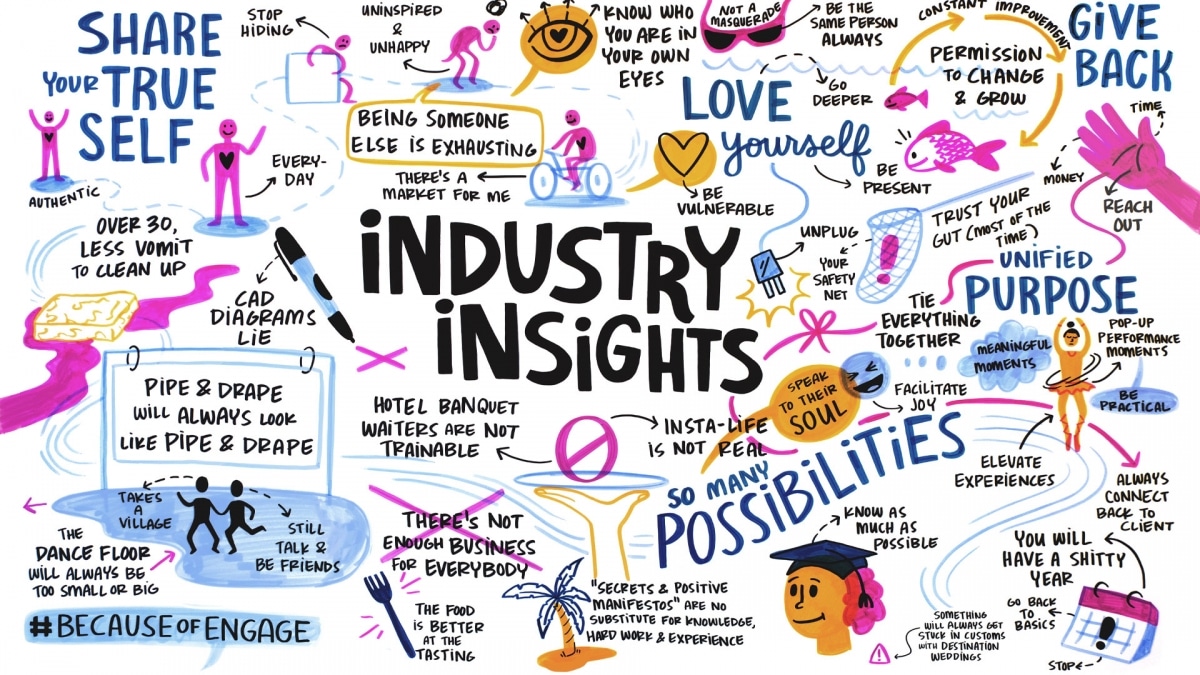 Event Planning Tips You Need to Know
There's so much that goes into successful event planning, from audience engagement, social media partnerships, branding elements, and down to the numbers and ROI. It takes a lot of smart strategizing and hard work to make any event a smash. These real-time visual notes are from Engage!19, where the who's who of the event industry gather to share their insights. Here's 5 of the most illuminating event planning tips that we learned at the Engage!19 conference.

Event Planning Tip #1
Authenticity is a Must When Planning an Event
A successful event is one that is personalized for the client–which means representing them authentically. The event industry revolves around creativity and brand identity–something that's impossible to achieve by simply copying those around you. Successful events are about standing out! That's much easier to do so if you know who you are.
Confidence in your event's brand is necessary for understanding and capturing what the client is asking from you. It allows you to trust yourself and put all your focus on what would make the event truly special. Hone in on what makes you unique to figure out what you need to create an amazing and original experience.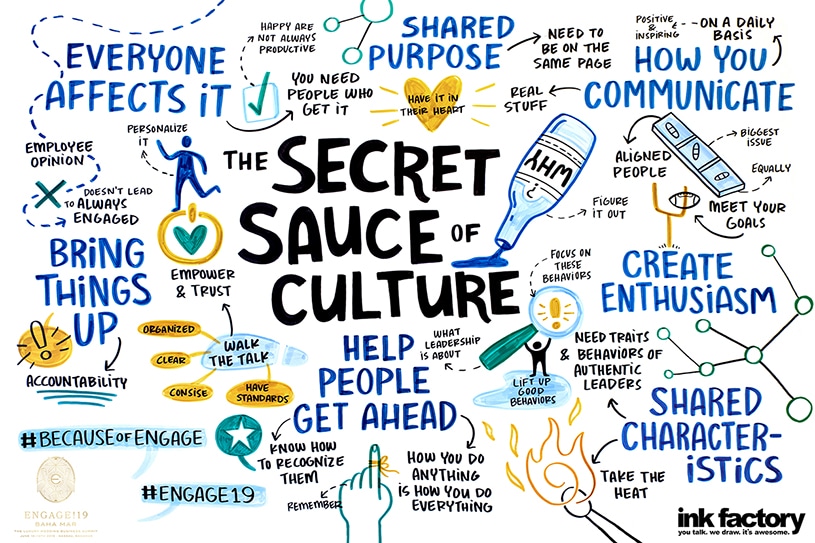 Event Planning Tip #2
A Great Culture Creates a Great Event
Pulling off an event is a huge endeavor from start to finish. It takes a team of like-minded individuals who work well with each other. However, in order for everyone to be on the same page, there has to be a strong culture present. The culture of a workplace sways whether or not companies meet goals and see successes. Everyone affects culture, so it's important that employees are engaged with their work and share a unified purpose.
Setting the stage for this comes down to leaders stepping up. On a daily basis, leaders should focus on lifting the good behaviors of their colleagues up. It won't always be easy, but having accountability and recognition will guide employees to alignment, empowerment, and trust. Aligned teams lead to a smooth-sailing event!

Event Planning Tip #3
Building Relationships Generates Revenue
In the event planning industry, most of the revenue comes from recurring clients and word of mouth. Gaining these repeat clients and their referrals is where the potential for revenue lies! To capitalize on this, concentrate on developing intentional relationships. Shift your career's focus from "me" to "we." If you start showing up in the moment, listen more, and talk less, the path to lifelong clients will be an easier one.
The same goes for generating partnerships. What you'll find along the way is that anyone and everyone can add value to your business. It's about keeping an open mind and collaborating as much as possible.

Event Planning Tip #4
Always Outdo Yourself
It's important to make waves in the event industry–which all comes down to being fearless. In order to do this effectively, you need inspiration and new ways of looking at the industry. Chase the extraordinary and train yourself to find inspiration anywhere that you might be.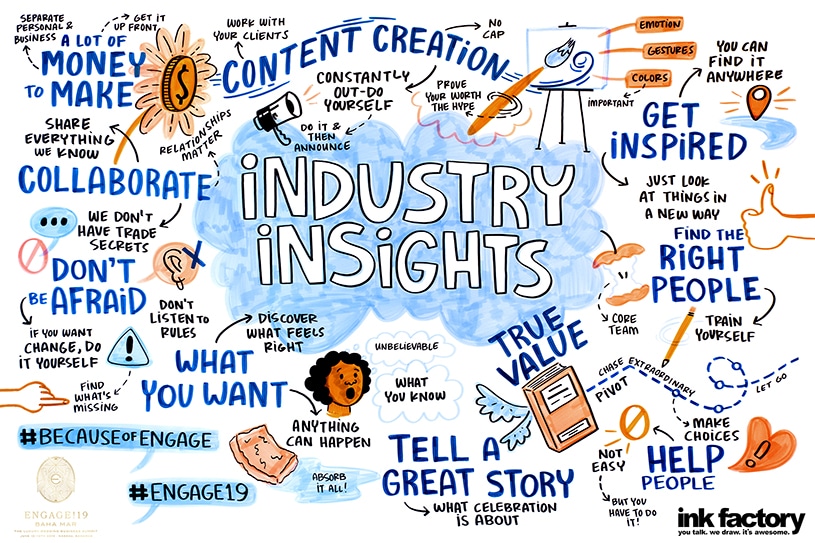 Event Planning Tip #5
Tell an Engaging Story
Stories are at the center of every celebration, so highlight them! Good stories are complex and require strong emotional intelligence in order to showcase them successfully. Emotional intelligence should be a muscle you are constantly toning: it comes from actively caring about what you're doing and what relationships or sentiments are being honored at your events.
Stay on the lookout for meaning in what's being celebrated and make it your goal to share it in as many creative ways possible.  Our favorite way to share a story is through drawing, of course! We can tell your story in real-time through visual note-taking during your event, create an illustration before your event that you can share with attendees or even a video that can be watched at the event and long after.
Planning your next event and curious about how our services can help? Get in touch today and we'll work with you to create a custom visual experience for your attendees.