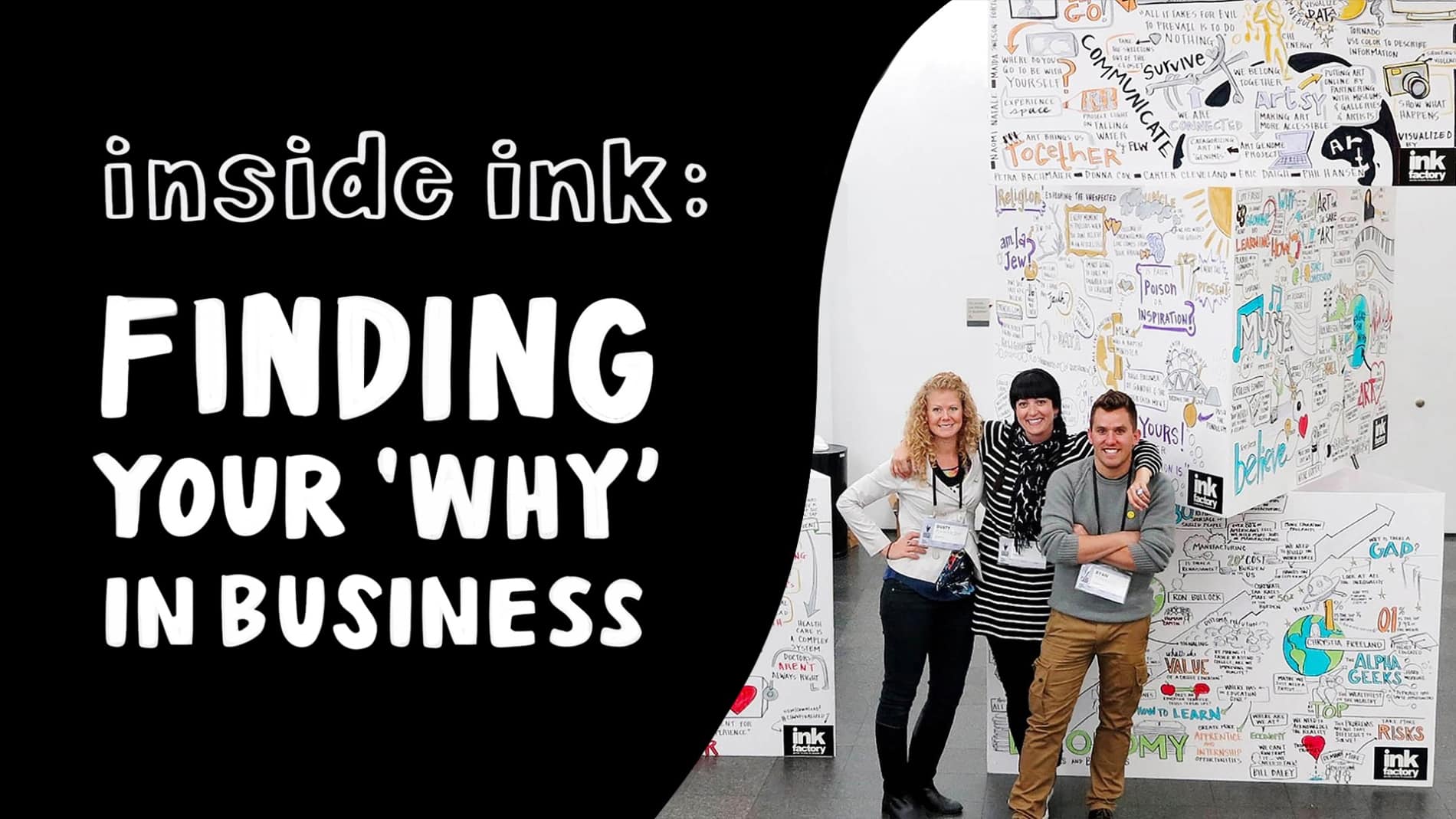 Inside Ink: Finding Your "Why" in Business
Welcome to Inside Ink. Written by Ink Factory co-founders Lindsay, Dusty, and Ryan (aka, LDR), this series explores the journey from fledgling startup to industry trailblazer. Follow along for honest thoughts on building and growing a mission-driven business in today's world.
This fall, Ink Factory is celebrating 11 years in business. WOW. We've come a long way. What started as a three-person visual note-taking studio startup in Chicago has grown into an industry-leading visual communication company serving some of the world's most respected brands.
The thing that hasn't changed? Our mission. The "why" that fuels our work.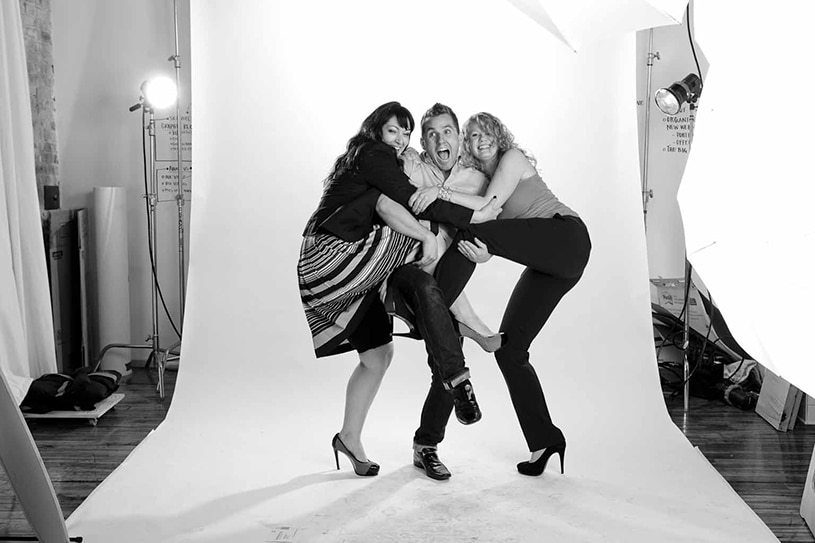 At Ink Factory, we exist to create visual experiences that inspire and engage. This was as much our purpose when we launched as it is today – and we hope for many years to come.
The three of us came together just over 11 years ago. As artists at a big management consulting firm, we had all come to the same realization: our work as visual note-takers created real value in business settings.
We saw first-hand how corporate America enjoyed having its ideas illustrated because it made them easier to share and remember. And we loved illustrating these ideas. It allowed us to help propel ideas and great thinking. To support problem-solving and innovation. To help people learn.
This was the a-ha moment that defined our "why" and put us on the path to founding Ink Factory.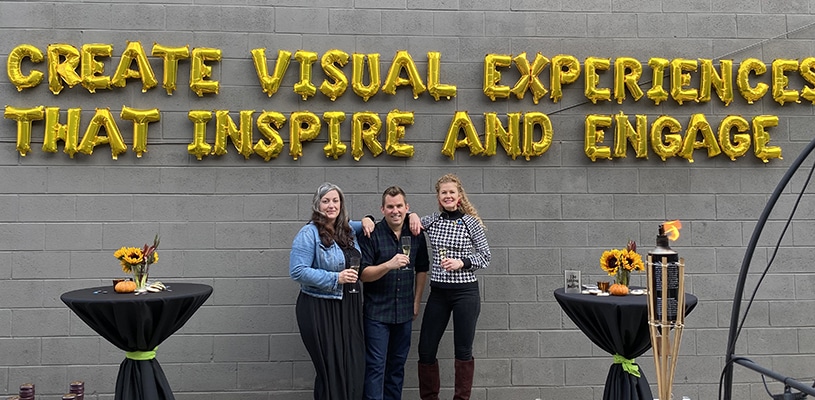 What it means to be mission-driven
Today, it seems like "mission-driven" is a much-talked-about topic in business without a clear, singular definition. For us, our mission is our North Star. It guides what we do, and, just as importantly, what we don't do.
So, when we're considering new ideas, we ask ourselves "does this idea help us to create visual experiences that inspire and engage? If the answer isn't a firm "yes," we don't pursue. Our "why" keeps us focused and on track.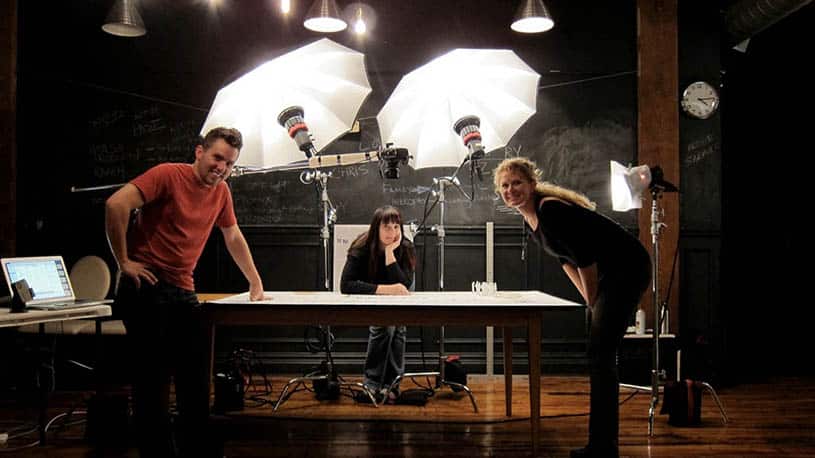 How to find your "why" in business
Every business has its own "why." For us, it wasn't about shareholders or profitability or selling. Instead, we designed our company to align with how we live our lives and move throughout the world.
Ink Factory is inclusive and nimble and creative and committed to leaving the world a little better than how we found it. Visuals allow us to accomplish this. They're a conduit to inspiring and engaging in ways that have the potential to change the world.
For founders thinking about their purpose, some guideposts to keep in mind:
Make it actionable. Use your mission to make decisions. If something doesn't fit your mission, then it probably doesn't fit your business.
Think holistically. Your mission is an element of your brand identity, just like your logo and core values. These pieces should complement one another.
Think solutions, not services. Your mission isn't about a specific product or service, it's about the problems you help solve.

Winning with your "why"
A business built on a solid mission can do mighty things. Eleven years later and we continue to enjoy the benefits of a mission-first approach. Here are just a few.
Better Service. Our mission keeps us focused so we can deliver the very best work to our clients. This focused attention allows us to continually invest in and improve our service offerings.
Strong Culture. Like our clients, we're committed to inspiring and engaging our team too. Our strong culture makes us adaptable, enabling us to more easily shift to virtual work or even a four-day workweek (yes, really!).
More Innovation. When you're focused, you have time to create new things. For example, we've been busy building a new AR (augmented reality) offering (stay tuned!) that will make visual experiences even more interactive.
Trusted Brand. We know who we are and what we stand for, and so do our clients. Our business has evolved, but our purpose is steadfast, building trust and respect among our team and clients.
A final thought: identify a "why" that speaks to you both personally and professionally. The three of us choose to be at Ink Factory because we believe in the mission and love that we can provide an awesome workplace for fellow creatives.
Stay awesome,
LDR
Don't miss the next Inside Ink!
Subscribe to the Ink Factory newsletter for our latest visual thinking content delivered right to your inbox.