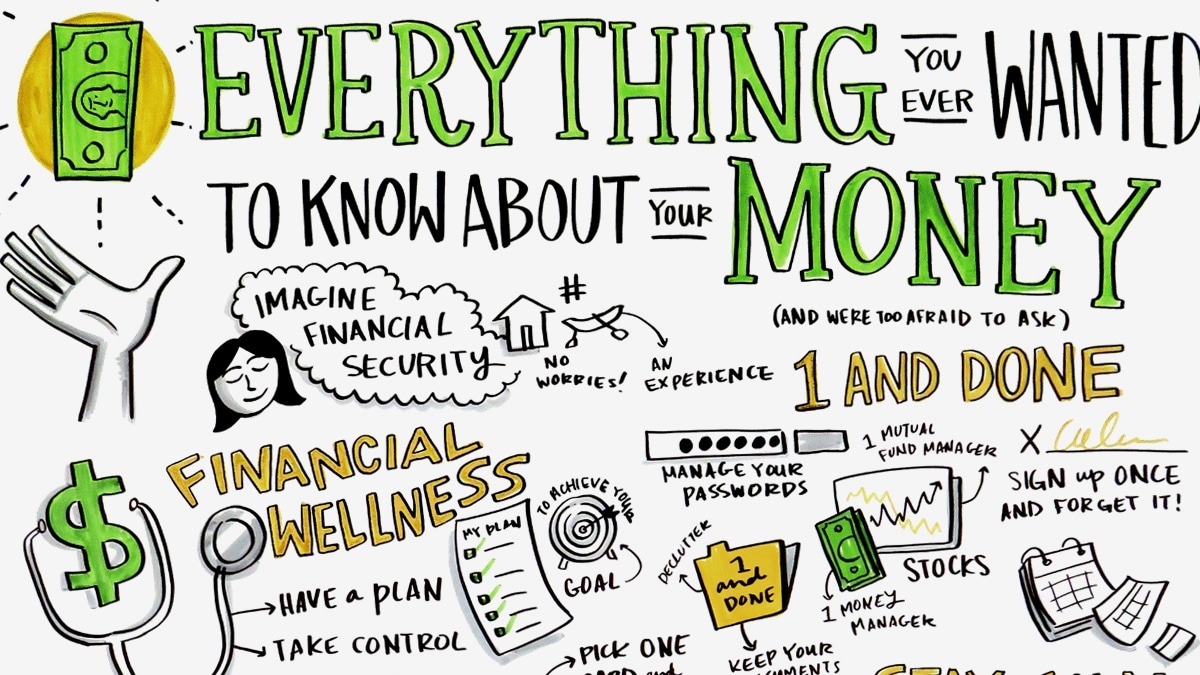 Five Storytelling Trends In Financial Services
Companies around the world rely on Ink Factory's visual notes to help breathe life into their content through drawing. In our work, we've noticed the rise of storytelling as a key to keeping employees and customers engaged—especially in the financial services industry. Banks, investment firms, and credit companies all need to communicate complex ideas to their people quickly. Here are the top five themes we've heard (and drawn) from the financial services industry that show how they're using storytelling to improve their services.

1. In financial services, It's all about the user experience
Whether you're teaching people about their FICO score or motivating them to become empowered with their finances, making a one-on-one connection is the greatest way to make an impact on your customer. Gone are the days of simply sending out a generic-one-size-fits-all e-blast. These days using new technology, like social analytics tools, allows you to design and deliver a tailored customer experience. By diving into the personality of your customer you can design a narrative specific to your customer's needs helping them to connect with the content you are delivering on a deeper more meaningful level.

2. Focus on your financial health
While credit scores and income give a high-level snapshot of a person's financial history, they don't tell the complete story. Financial Health is a multi-faceted story of a person's savings, retirement, spending on fixed and non-discretionary expenses, debt to credit ratio, and of course the credit score. These days companies are moving away from that single snapshot view—focusing more and more on the full story of financial health.

3. Transparency will always be king
Truth is the core of transparency—and often times that truth is a combination of the good, the bad, and the ugly. When it comes to connecting with consumers being honest and transparent about your company's story and values not only gains their trust but encourages your customers to share their story. When everyone lays their cards on the table it makes understanding your customer and their needs that much easier, and hopefully transforms consumers into advocates for your brand.

4. Money language is the new love language
Consumers have an extremely emotional relationship to money. Knowing how to talk to consumers in a way that they can relate is not only high-touch but also high-value. Telling a financial story that taps into an audiences' emotions will not only grab their attention and help them understand your message, but is a simple way to empower your consumers.

5. Ai is not a replacement for customer service
Artificial Intelligence (AI) has been buzzing around more frequently the past couple years in the business world. The more technology advances, the more we know about AI's potential. From generating scenarios, to helping improve your financial health, to talking with a chatbot, AI is a layer of communication that gets simple problems solved quickly. But speaking to an actual human is, and will always be, the best way to connect with your customers. Humans understand the tone and sentiment in one's voice. Being able to tap into your customers' emotional side is something a robot will never do ­– a real person will be able to relate a businesses' story to others in a meaningful way – and understand the stories of employees and consumers.
---
Find out other ways Ink Factory is creating visual experiences that inspire and engage. Let's connect and make something awesome together!