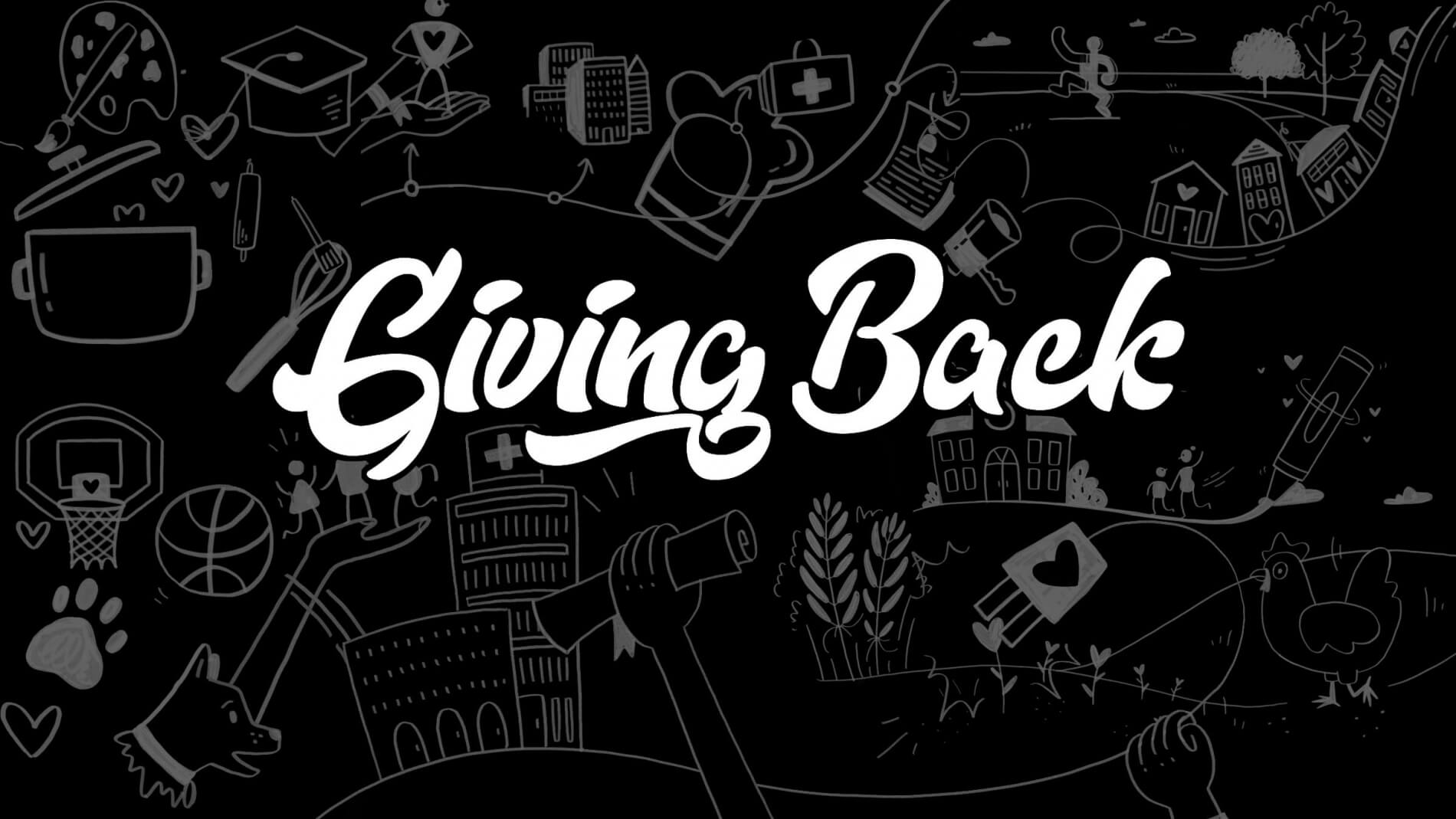 Giving Back on #GivingTuesday
At Ink Factory, we love to give back to those in need of resources, education, care, food, or any other human need that is often left unreachable. As we turn a page into a new decade, we hope the following organizations fill your heart with humbleness (and giving) throughout the year and beyond.

Chicago Commons
Dusty chose to give back to Chicago Commons. Their mission is to empower individuals, families, and communities to overcome poverty and systemic barriers, embrace opportunities, and thrive across generations. To fulfill that mission, they provide high-quality early childhood education, family-centered adult education, and senior services to more than 3,000 individuals annually.
Founded in 1894, Chicago Commons was one of Chicago's original settlement houses serving immigrants on Chicago's near north side. For 125 years, they have operated in areas where residents are most under-resourced. Today, they are located in the neighborhoods of Humboldt Park, Pilsen, Back of the Yards, and Bronzeville, and offer senior care throughout metro Chicago. Their programs work together to create opportunities and move children and families toward educational success, economic security, and health and well-being.

Canines For Disabled Kids
Dogs!! Puppies! Co-founder Lindsay wants to ensure everyone has an opportunity to form a special bond with an animal. Her two fur babies have enriched her life so much that it just seems right to help a child in need get a helping paw (get it?). Canines For Disabled Kids' mission is to increase independence for children with disabilities and their families by promoting service dog partnerships, understanding, and awareness throughout the community.

Heifer International
Ryan's favorite charity is Heifer International. Heifer gives families more than a cup of milk; It gives them an entire cow. By gifting livestock, crops, and all the training that comes along with them, Heifer allows global farmers to lift themselves and their communities from hunger and poverty. Their long-lasting impact has helped create sustainable, self-reliant, and dignified communities all over the globe. They also make it fun and easy to donate by selecting types of animals or impact.

Project H.O.O.D.
Teresa, our Director of Operations, chose H.O.O.D – Helping Others Obtain Destiny. This powerful organization's mission is to empower people with the guidance, information and tools necessary to become peacemakers, problem solvers, leaders, and entrepreneurs in their communities. Teresa prefers to donate to local, community-based organizations that are dedicated to uplifting not only their entire communities, but women and children in particular, and that's what Project H.O.O.D. does. Ending violence and building communities, one neighborhood at a time is their vision – and it's a bold and powerful one.

Chicago House
Alison chose Chicago House – a social service organization that supports individuals impacted by HIV/AIDS and the broader LGBTQ community with housing, health, and employment support. Chicago House provides permanent, community-based housing, supportive services, and prevention outreach to individuals and families struggling with HIV and AIDS. Many come to [Chicago House] with the added burdens of poverty, homelessness, substance abuse, and mental illness, as well as the need for job skills and training.

AIDS Garden Chicago
Ariana is giving to the AIDS Garden Chicago. When completed, "it will be the city's first public monument to memorialize the early days of Chicago's HIV epidemic, and to honor those who continue to fight against the disease today." She says, "I like how much consideration was taken in planning for this new park. It's a place for EVERYONE, it's in a historical spot and it has a self-portrait sculpture by Keith Haring, an artist who did a lot for HIV/AIDS awareness." Set to be completed in 2020, the Garden will be built along Lake Michigan just south of Belmont Harbor at the original location of the historic Belmont Rocks. AIDS Garden Chicago is a community collaboration project in partnership with the Chicago Park District and Chicago Parks Foundation.
LNESC (LULAC National Educational Service Centers)
Rico selected LNESC because he is aware of the lack of Latin-American CEOs at corporations in the US. A large part of this is because of the widening gap inequity within education. With a strong mission to provide educational and leadership opportunities to create lifelong learners and leaders within the Hispanic community, LNESC seeks to develop America's future workforce by effectively preparing young people for the jobs of the new economy.

The Night Ministry
Sarah chose The Night Ministry. They provides housing, healthcare, and compassionate human connection to more than 6,000 young people and adults in the Chicagoland area that are affected by homelessness. Their headquarters and The Crib, their supportive emergency overnight shelter for young adults, are moving into the same neighborhood as Ink Factory's Bucktown office. The Night Ministries core values should be the foundation of every organization:
Collaboration & Teamwork
Compassion
Respect
Accountability
Strength-Based Approach
"We recognize that we are all part of the human community. Each person is important and of value. We believe that supportive relationships can build dignity, confidence and a foundation for self-empowerment. We hope that the goods, services, and resources we offer will help people improve their daily lives."

Kitchen Possible
Jordan says "Kitchen Possible's mission is really cool: they help teach kids in underserved communities how to cook awesome meals with fresh ingredients that they normally wouldn't have access to in their own homes."
Even though it's quite simple, learning how to cook can be challenging by itself. Remember when you first baked something that you were proud to share or when you assembled an Instagram-worthy dinner for you and a friend? That may have been easy for you to think of and execute – but what if you believe you don't have the skills to even plan for a challenge like that? (looking at you Gordon Ramsey) They've got it sifted down to a five-step process:
Decide what you want to make
Get a recipe ready
Follow it closely
Check-in and edit
Taste and reflect
"Research shows, kids in underserved communities are less likely to grow up believing they are in control of what happens in their lives. By teaching kids to set goals, follow a plan, push through when things get tough, and ultimately succeed, we can help shape the way they approach their world."

Sweet Water Foundation
Grace selected Sweet Water Foundation. This organization doesn't believe in "blighted" neighborhoods. They make use of vacant spaces for regenerative community development, using art, agriculture, and education to transform vacant buildings into urban farms and community centers. There are three programs they've developed to create this incredible urban ecosystem that stimulates more than just vacant city land.
The Commons – Unique sequences of urban acupuncture-like interventions that actively re-story and re-construct a neighborhood located at the nexus of Englewood and Washington Park, two communities on Chicago's South Side that have endured decades of disinvestment. SWF's work is a direct response to the everyday chaos of economic hardships, violence, perpetual poverty, and systemic racism that pervades these communities.
Sweet Water Academy – A neighborhood development and urban ecology academy that inspires, trains, connects, and catalyzes individuals and organizations to build/rebuild communities and reconnect people to one another and the Earth via the practice of Regenerative Neighborhood Development.
Marketplace @ The Commons – An emerging social enterprise incubator and marketplace for eco-logical goods and services.

Chicago Coalition for the Homeless
Emma is choosing to donate to Chicago Coalition for the Homeless because her views align with that of CCH's mission statement: Housing is a human right in a just society. There are over 80,000 homeless people in Chicago alone, and CCH is working hard to end the problem! Chicago Coalition for the Homeless is the only non-profit in Illinois dedicated to advocating for public policies that curb and can ultimately end homelessness. Our organization leads strategic campaigns, community outreach, and public policy initiatives that target the lack of affordable housing in metropolitan Chicago and across Illinois.