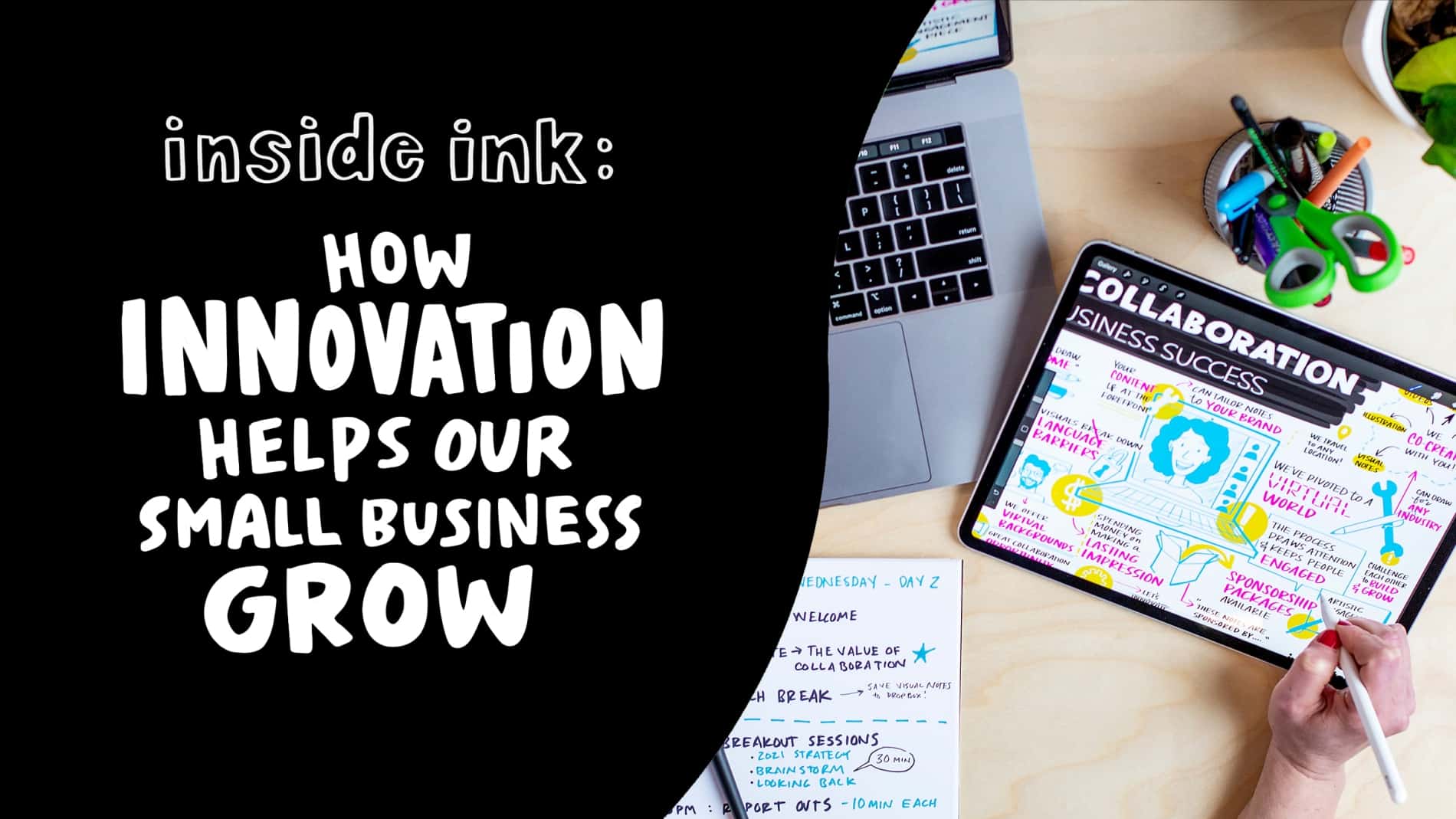 How Innovation Helps Our Small Business Grow
Welcome back to Inside Ink. Written by Ink Factory co-founders Lindsay, Dusty and Ryan (aka, LDR), this series explores the journey from fledgling startup to industry trailblazer. Follow along for honest thoughts on building and growing a mission-driven business in today's world.
Innovation has played a central role at Ink Factory since the very beginning. We brought our craft (visual note-taking) to market in a way that hadn't been done before. So it's fair to say we're big fans of thinking and working differently.
But our recent transition to a four-day workweek–its own exercise in innovation–pushed us to think even more critically about how innovation fuels our business growth. And, how we can measure the return on this investment.
At Ink Factory, we focus on our innovation efforts in three areas: new ways to operate our business, creating new services, and improving existing services. Here's a look at how we do all three, and how it is propelling our growth.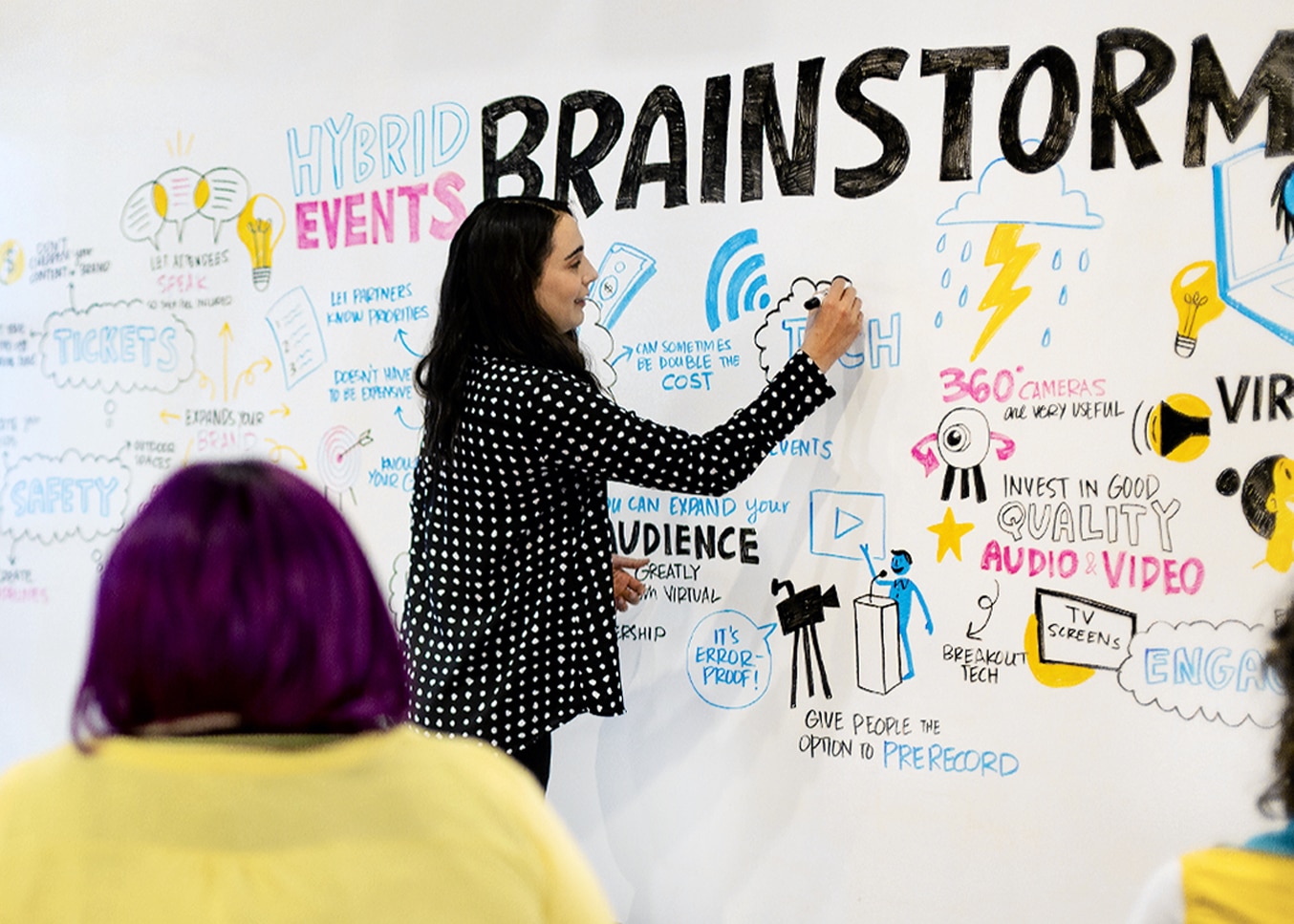 A culture of innovation
Innovation is central to our core values of having fun, creating awesome work and valuing one another. Thinking about new and better ways to accomplish these three things keeps our team feeling inspired and motivated.
We also recognize that innovation comes in many shapes and sizes. Sometimes it's huge–like a cool new service offering–and other times it's small–like when we create a new automation that saves time without sacrificing quality.
The consistent thread? Innovation keeps our team (and clients!) excited about the work we do. It's a driving force behind our strong employee and client retention and satisfaction.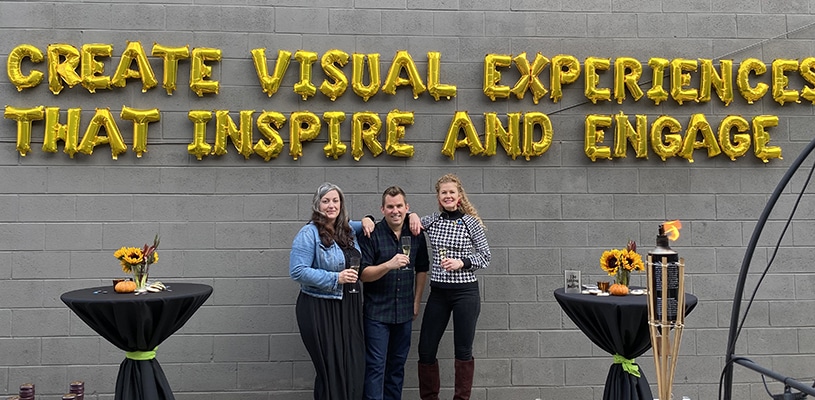 Owning innovation at the C-level
It's easy to say innovation should be the responsibility of everyone at a company. After all, awesome ideas can come from anyone. But we believe the C-level should ultimately be responsible for this role. It signals that this is a priority for the business, which trickles down to the rest of the team.
As our company grows, the goal is to create one C-level role dedicated to innovation. Right now, each member of Ink Factory's three-person C-suite contributes. As Chief Vision Officer and Chief Operating Officer, Dusty and Lindsay lead innovation efforts related to business operations and the future needs of the business as a whole. And as Chief Marketing Officer, Ryan oversees technology innovations. From there, all employees are empowered to suggest ways to innovate within their roles and across the organization.
Taking an outside-in approach
We believe collaboration fuels innovation. While we love to innovate within our own four walls, we're just as happy to do it with clients and partners. It's all in the spirit of creating awesome visual experiences. Here are just a few ways we do it: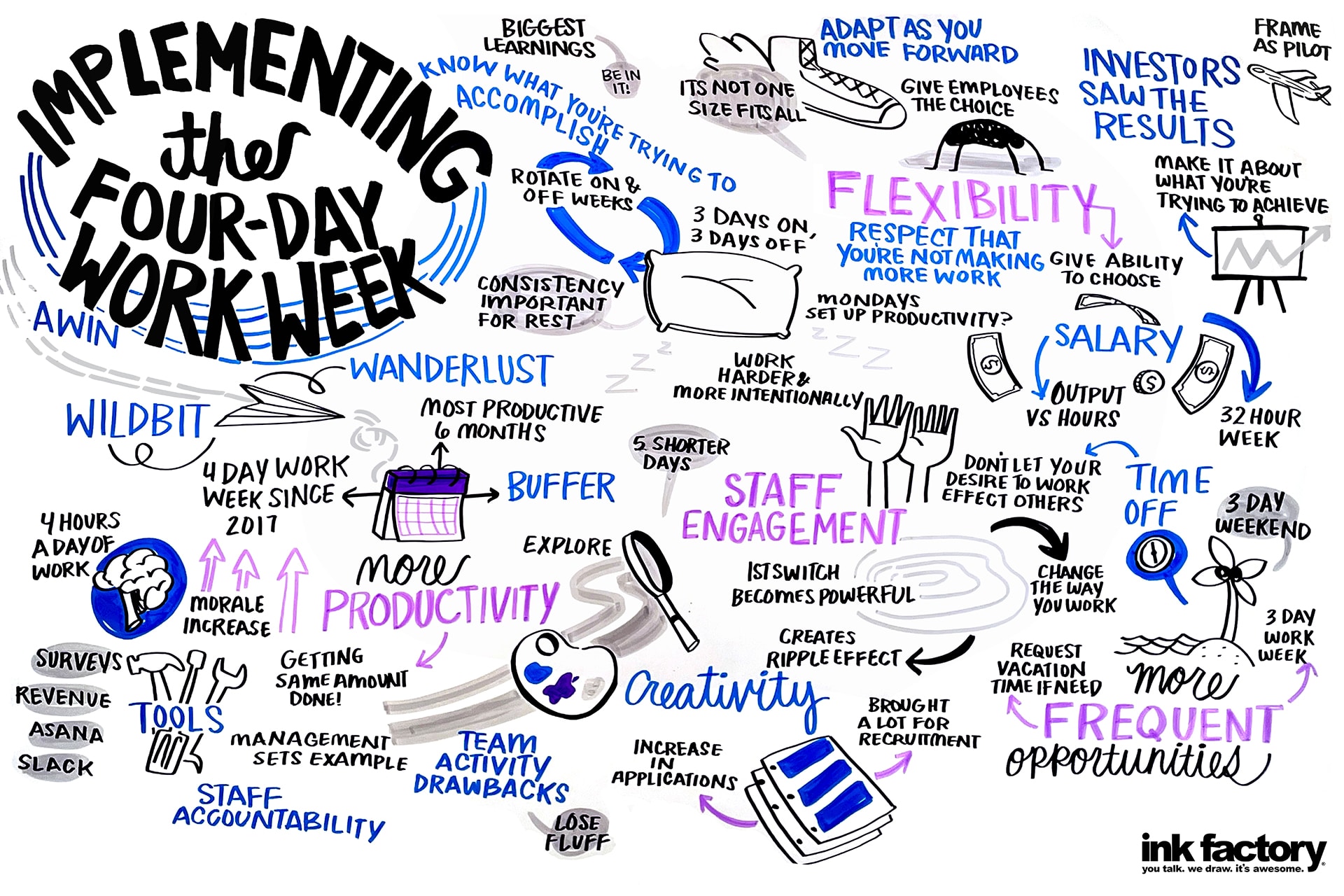 Innovating with our team
Our team is leading two big innovation initiatives in 2023. The first is our transition to a four-day workweek. We didn't want this new schedule to mean working longer, more demanding days. Instead, we wanted to find ways to work smarter so we can accomplish a 40-hour workweek in 32 hours.
And that's what we did! The team rose to the challenge with open minds and new ideas, and, after months of research and testing, we identified processes and tasks that we could automate without impacting the client experience.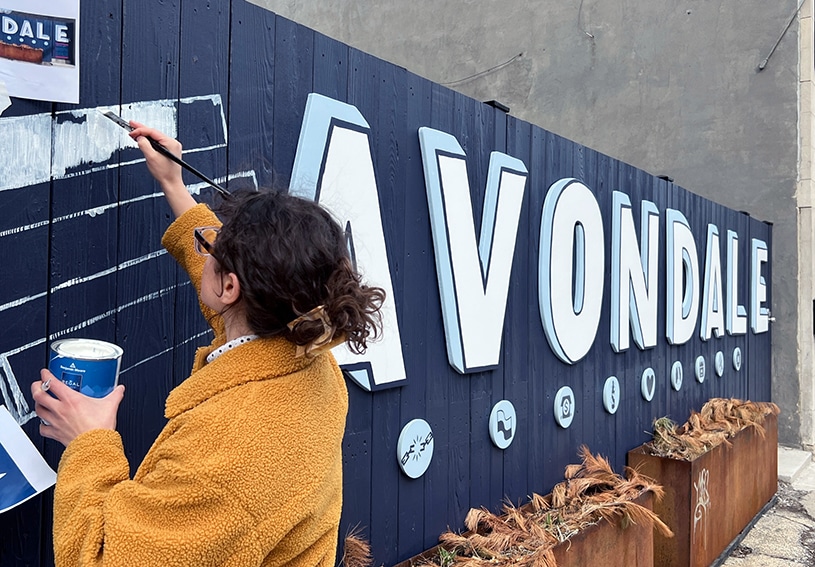 Innovating with partners
The second big initiative is the launch of our new augmented reality (AR) experience. We're always looking for new technologies to help us create awesome visual experiences that are accessible to all. With AR we can do both. To bring this innovation to life we partnered with a local Virtual and Augmented developer in Chicago.
For the launch, we're debuting an AR mural on the Ink Factory HQ property that depicts the history of our Chicago neighborhood, Avondale. The AR mural will tell the story of Avondale in three languages and include the universal language of visuals.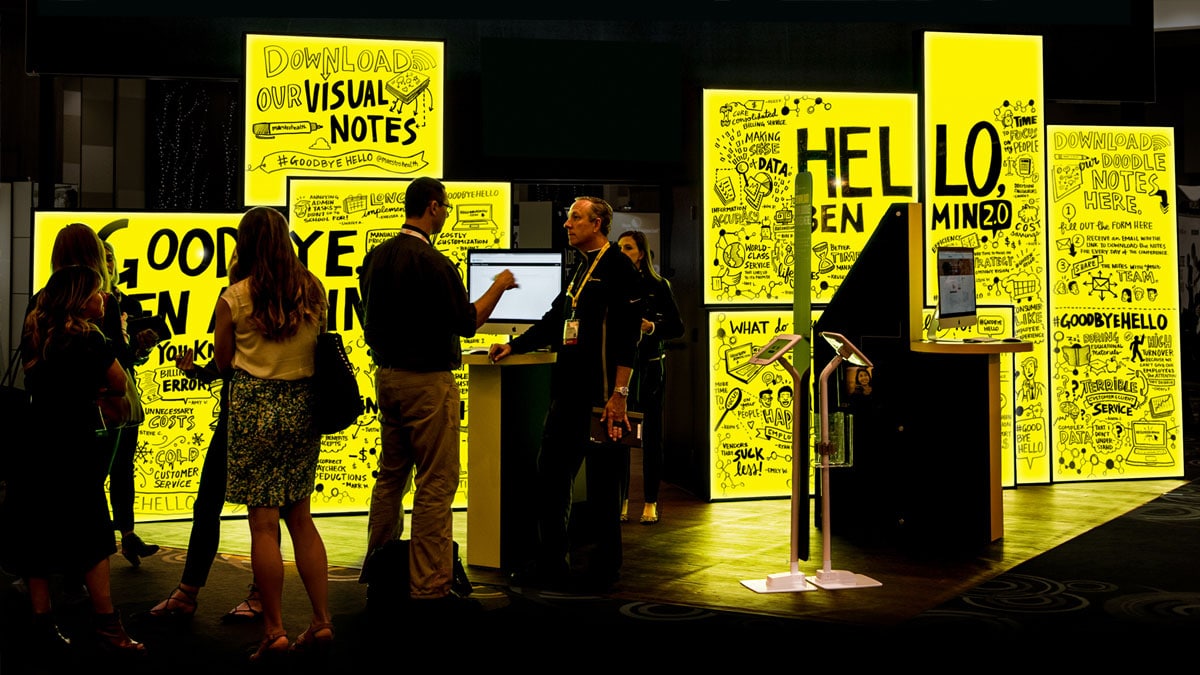 Innovation with clients
We love thinking big with our clients. When Maestro Health wanted to create a one-of-a-kind visual experience at a tradeshow, we jumped at the opportunity to collaborate. The result was a first for us: a booth comprised entirely of backlit LED panels featuring visual notes captured throughout the conference. The experience was such a success that we added the concept to our permanent offering mix.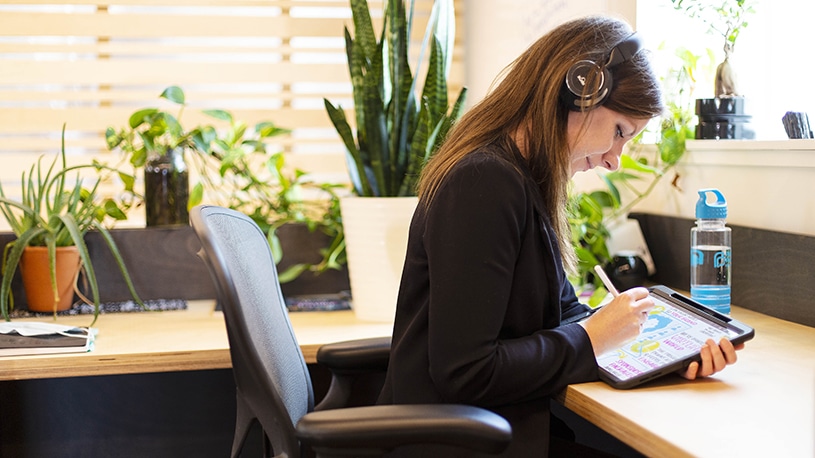 The return on innovation
For us, there's no single success metric for innovation. Not every new idea will develop into something that sticks. And that's okay. Feeling energized by the process and taking away key learnings are often the outcomes that matter most. That said, we always set guardrails like timeframes and budget parameters to help teams stay on track.
A final thought: Have fun! Don't worry about making a mistake and never shy away from new ways of working. Innovating doesn't mean that something is broken or needs improvement. Rather, it's the key to refreshing both sides of our brains – especially in a creative industry with high expectations.
Stay awesome,
LDR
Don't miss the next Inside Ink!
Subscribe to the Ink Factory newsletter for our latest content delivered right to your inbox.