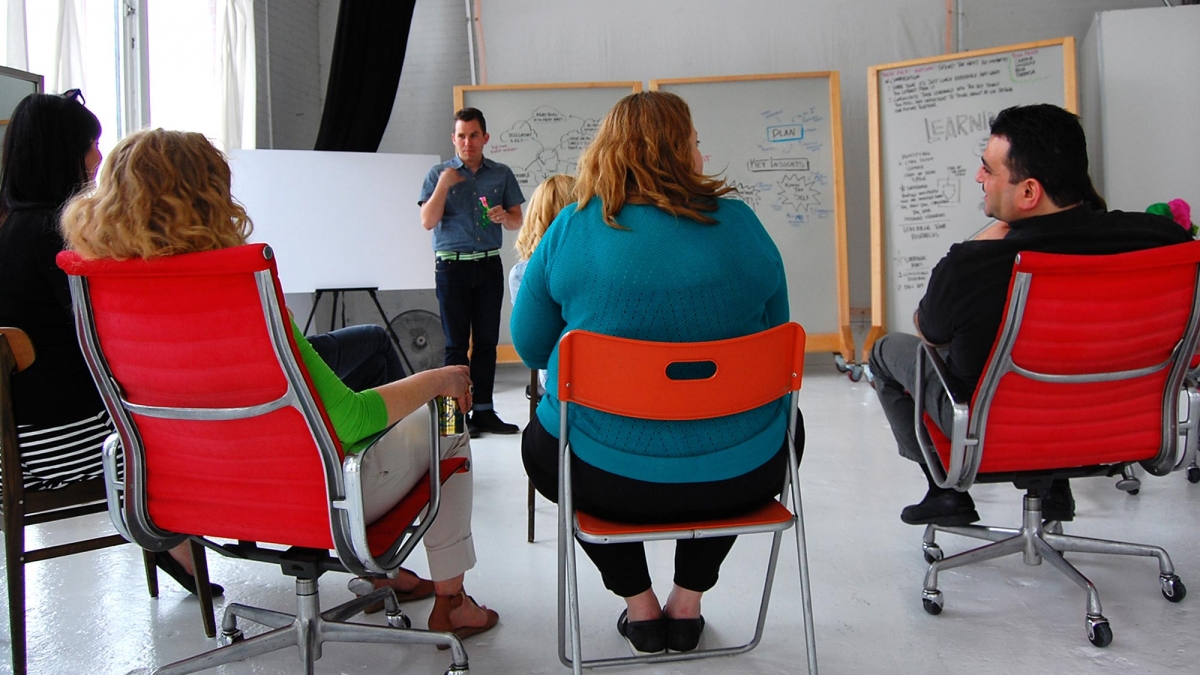 Visual Notes Help Make Your Workshop a Success
Internal development and strategic workshops can sometimes be grueling. Long hours locked up, chipping away at a roadmap, visioning session, change management strategy, or mission statement. And all that time, your list of unread emails back at your desk grows longer and longer.
Do you run your internal workshops? Or do you implement the help of an external facilitator? Either way, visual notes are the perfect tool to keep your group on track to accomplishing your goals.
Visual notes keep your group focused during workshops
Our artists' unique ability to process, filter, and synthesize information into one visual means you and your audience can focus on accomplishing your goals. Having an illustrated board at the front of the room that reflects what's actually being said is far more intriguing and engaging than any PowerPoint. When people watch the artist draw, they're also reading and seeing your content come to life.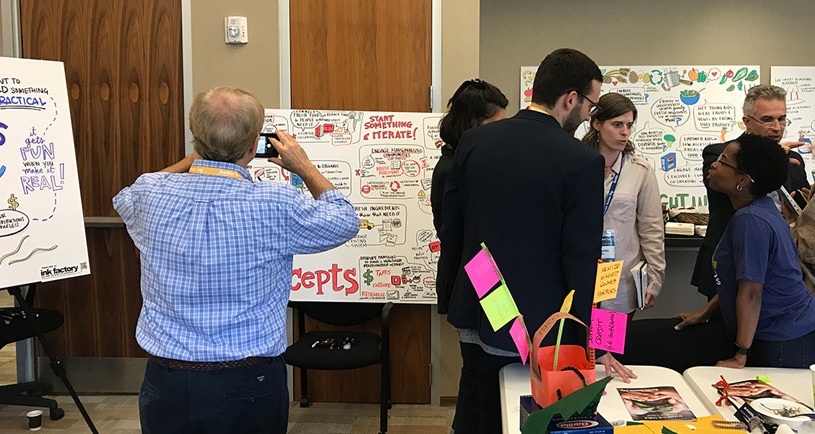 Prevent boredom and fatigue in long workshops
People are inspired when our visual note-takers put marker to paper. Not only do they get to see what is being discussed come to life in real-time with visuals, but they get to see their input reflected in the final drawing. They are able to connect with your content on a higher level. People will retain and recall what was just said well beyond the event, and continue to be inspired by the visual.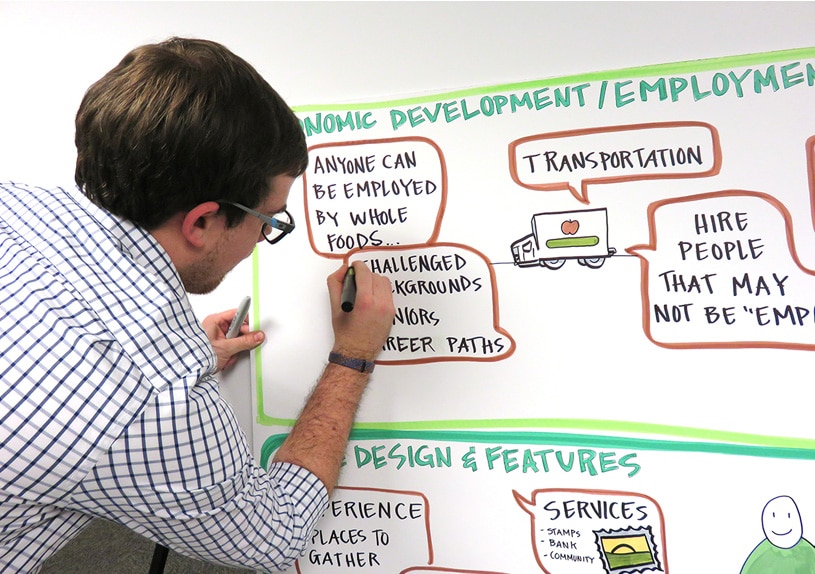 Visual note-takers can reflect every voice
Our artists are experts at working on-the-fly. We listen and draw what we hear, so if you're having a brainstorming session, we'll make sure everyone's ideas are represented. And if you need to review those ideas later, you have our visuals to jog your memory. Ideas that connect and support each other reveal themselves translated into our visual language.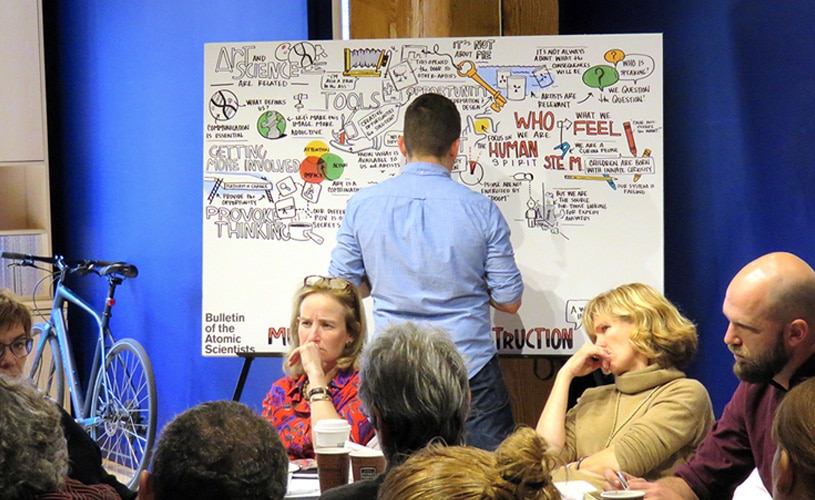 Visual notes hold people accountable
Visual notes let your team leave the workshop with concrete proof of what was accomplished. They're also great for assigning next steps and action items. Send out your digitally captured visual notes to your team after the workshop is over, and everyone can see who needs to do what, and when it's due.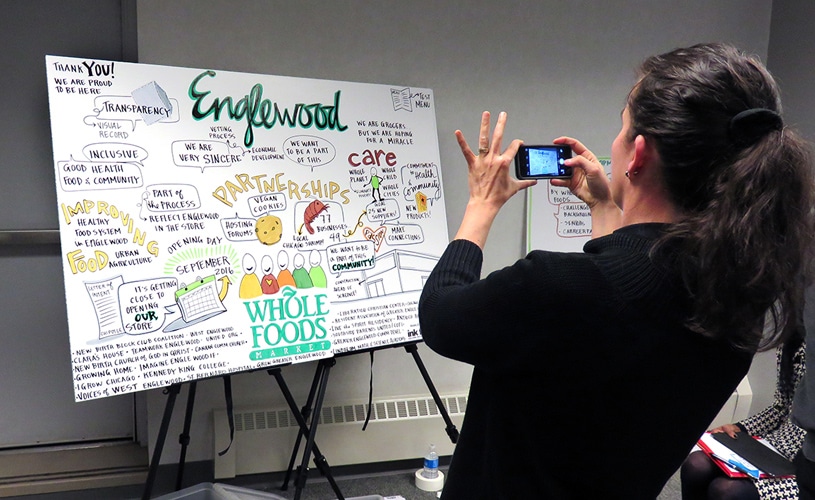 Visual notes give workshops momentum after they end
Most importantly, visual notes record your hard work so it isn't lost or forgotten. They're drawn in an organized way, so they're as useful as they are fun to look at. How many times have you wanted to hang your strategic plan up on a wall? With visual notes, you will.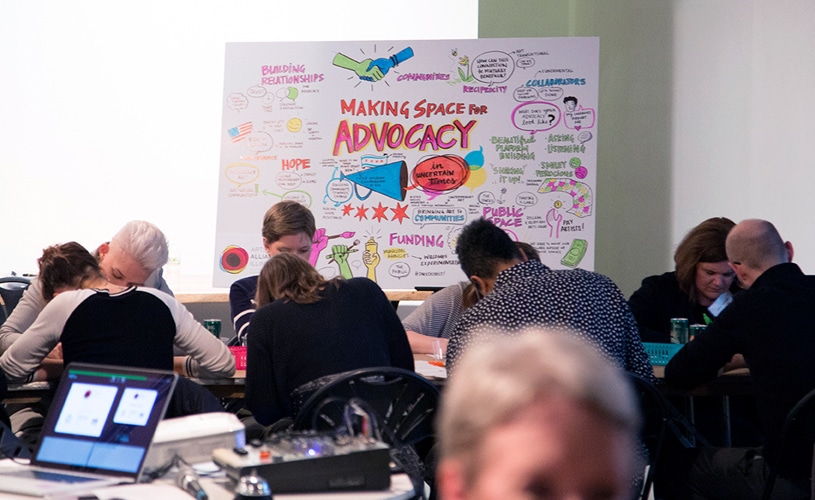 Seeing your ideas manifested in a completely new way will help you and your team make connections, energized decisions, and find the right way forward. Visual note-takers work with facilitators to make the most out of your meetings and workshops.
Have an upcoming workshop that would be perfect for visual note-taking? Send us a message and we can work with you to create an engaging experience for you and your team.