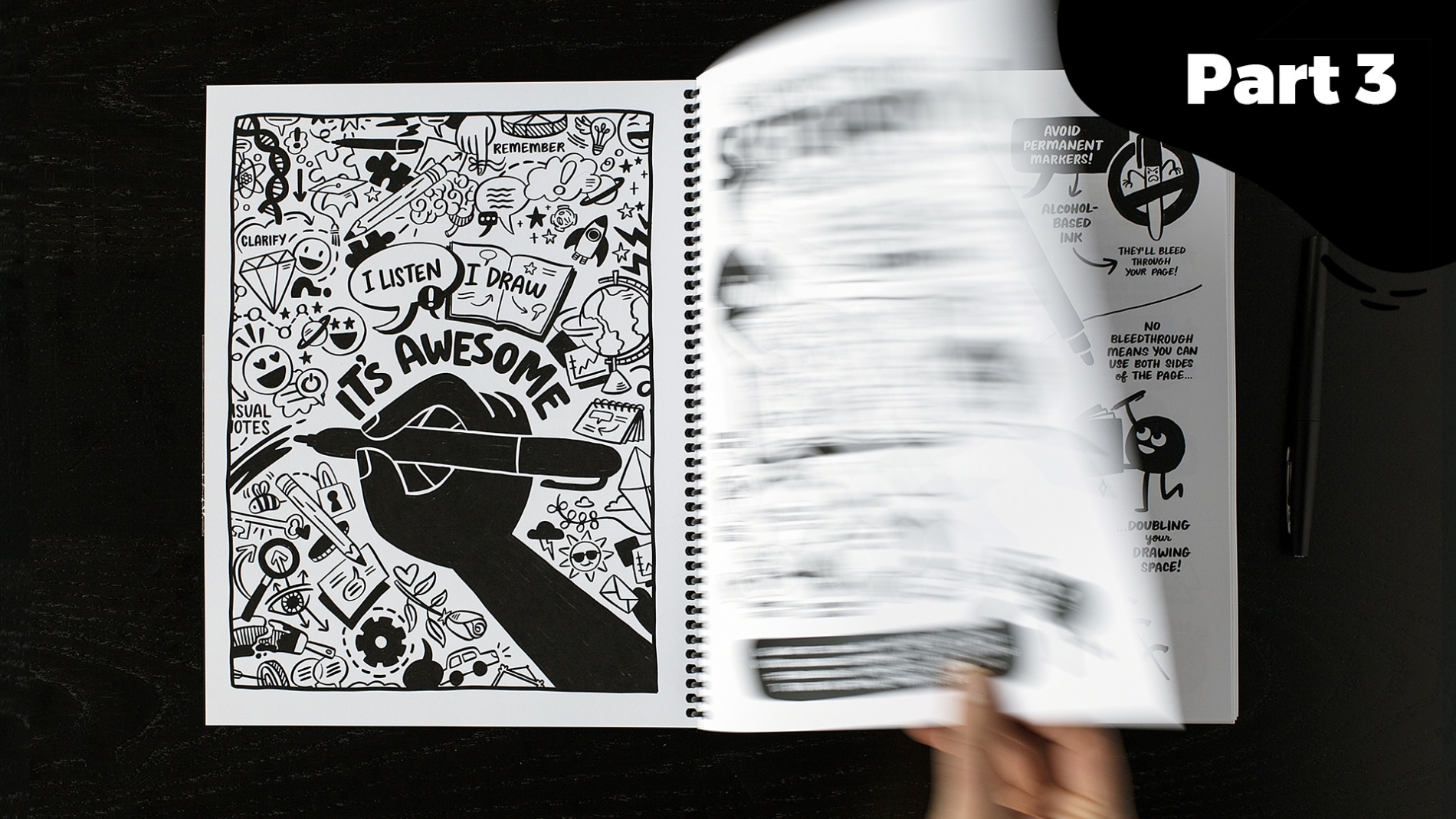 The Ultimate Guide Part III: Sketchnoting Supplies, Sketchbooks & More
New to sketchnoting? In part one of this guide, we reviewed the top black markers for small format visual note-taking, the foundation of any sketchnoting journey. In part two, we discussed the best color markers for sketchnoting. And now, we're covering everything else you need to know to create your perfect sketchnoting toolkit!
As a refresher, sketchnotes (or sketchnoting) are what we call a mini-version of our large-scale visual notes. At Ink Factory, we consider sketchnotes something you do for yourself, small scale, in a sketchbook or a lap-sized piece of paper.
None of the brands (besides our own) mentioned or links provided in this article are associated with or sponsors of Ink Factory, and no links provided are affiliate sales links.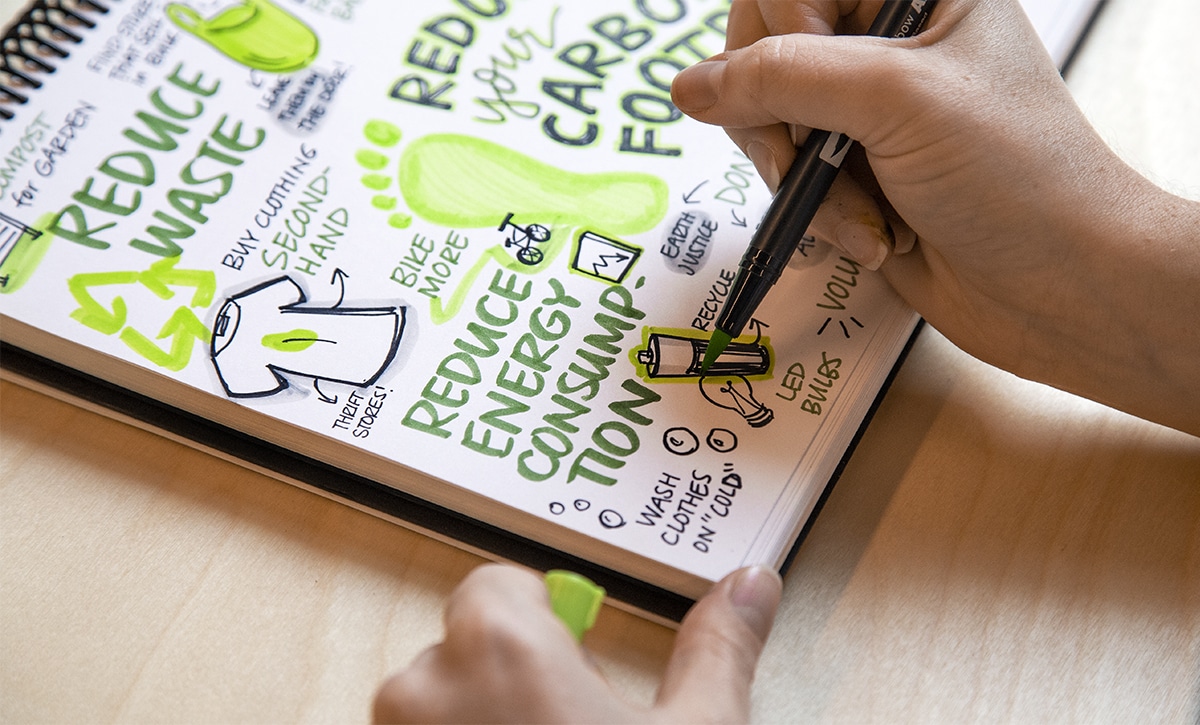 Surfaces & sketchbooks for sketchnoting
At Ink Factory, we like to create sketchnotes that look comparable to our visual notes. That means we want to be able to have a range of colors and sizes throughout our drawings. Drawing in a visual notes style comes with a special set of challenges that not all sketchbooks can accommodate.
Our perfect sketchbook for sketchnoting contains:
Plenty of pages because we take LOTS of notes, and often tear pages out to share with others
A big enough surface to draw on with detail
Thick enough paper so that ink doesn't bleed through the page
Grid paper to practice handwriting, and blank paper to create polished artwork
Can lay flat on a table without a seam down the middle
Finding that perfect balance in a sketchbook was a challenge, so we created our own!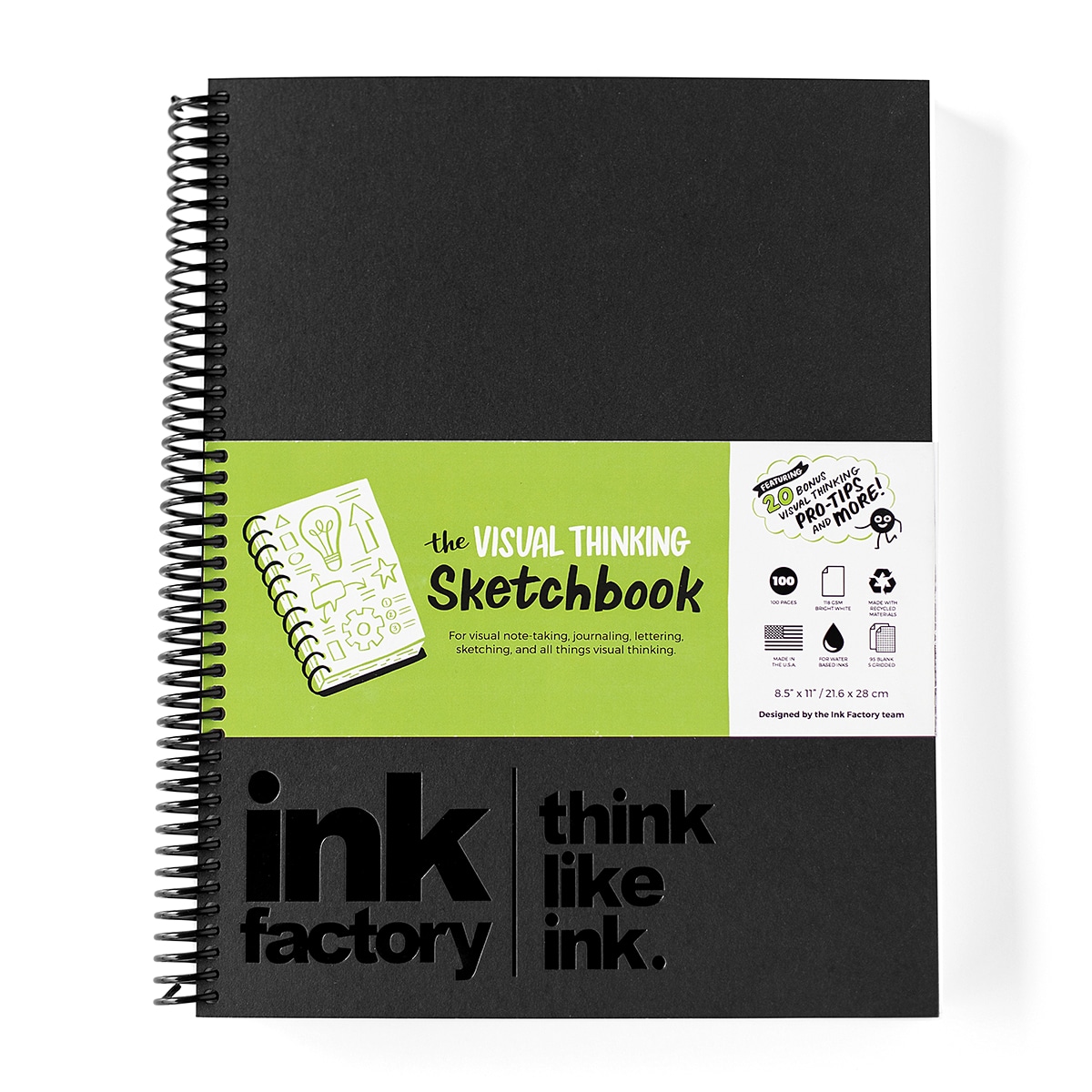 Introducing the Visual Thinking Sketchbook!
Very soon, our first artist-designed sketchbook will be available for preorder. We've developed this sketchbook for over a year to create something perfectly suited to sketchnoting. Learn more about it here!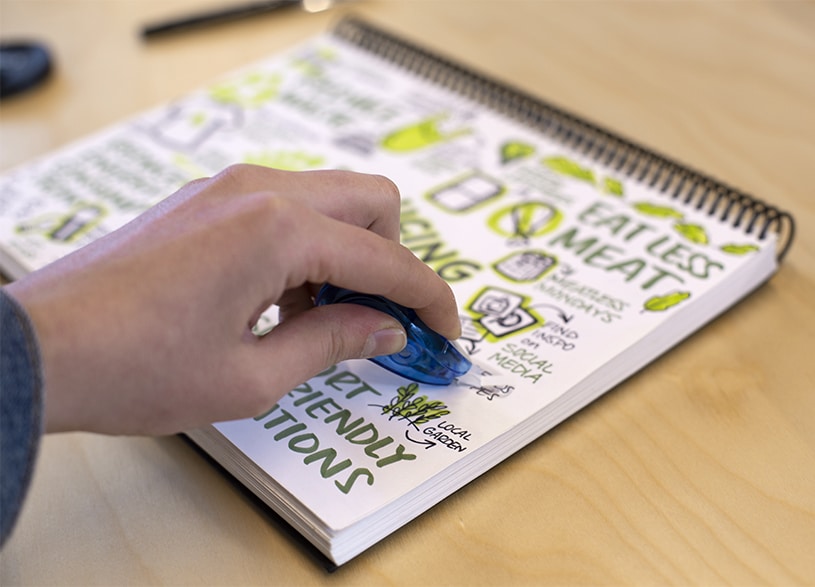 Sketchnoting Supplies for Correcting mistakes
The best defense (against mistakes) is a good offense! When sketchnoting, smears, misspellings, and wonky draws are inevitable. Luckily, since sketchnotes are mostly personal to you, there's less pressure to make a perfect drawing than if you were taking live visual notes.
There are tricks you can use to quickly fix mistakes in the moment, which we cover in this blog dedicated to fixing mistakes when live visual note-taking.
Since sketchnotes are small scale, our favorite tool for fixing missteps (if you can't work around them), is the small, portable white-out correction tape. These are offered by a variety of brands, and they all work pretty equally well.
If you're new to using white-out tape, it's important to test it to see both how to best hold and apply the tape, and to see how your inks and markers react to the whiteout. Water-based markers will take slightly longer to dry on top of white-out tape. It's also important not to draw too hard with a sharp tip on top of white-out tape, as that will rough up the tape and ruin the area you were trying to fix.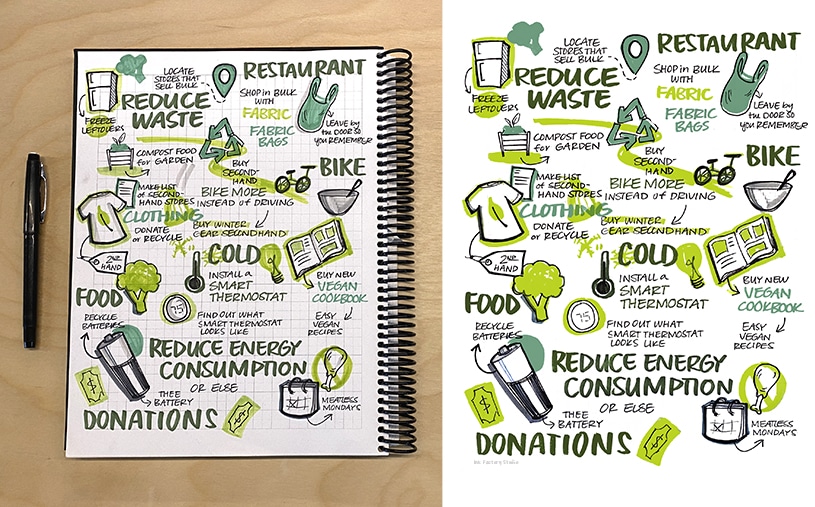 Documenting and sharing
For casual sketchnoters, and pros alike, a smartphone can be a powerful tool for translating your work on paper into the digital world.
Watch the video above to see our easy steps for digitizing paper sketchnotes using a basic photo editing app on a smartphone.
If you don't have a smartphone with a quality camera, you can also use a regular digital camera to snap a photo of your sketchnotes, and edit them using the same steps above in an image editor like Photoshop or Procreate.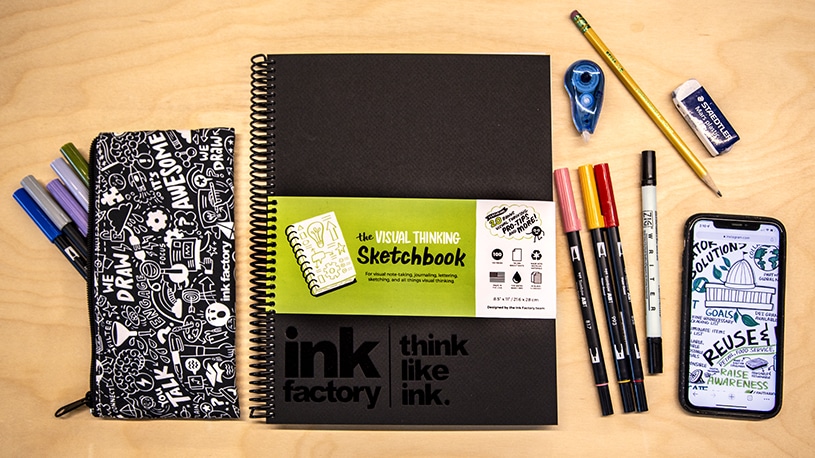 Our final recommended toolkit for sketchnoting
Now that we've talked about black markers, color markers, surfaces, and everything else, here's our ultimate recommended toolkit for getting started with sketchnoting! All artists are different, with different styles and preferences, so there's no rule that says you need all of these tools.
One bold and one fine-tipped black marker with permanent pigment ink (or a double-ended marker like the Kuretake Zig)
A set of basic colors that use water-based ink, either chisel tipped or double-ended so you can get multiple line widths out of one marker
A pencil of your choice (we like a regular #2 pencil) for blocking in more elaborate drawings and taking rough notes
A white polymer eraser for erasing pencil sketches
A camera or smartphone for documentation and a photo editing app
A pencil case to hold all your tools
A spiral-bound sketchbook, like the Visual Thinking Sketchbook
The more you sketchnote, the more you'll notice what tools you gravitate towards and which ones don't help you. You may find that you want to double up on certain tools, like black markers, which we use very often.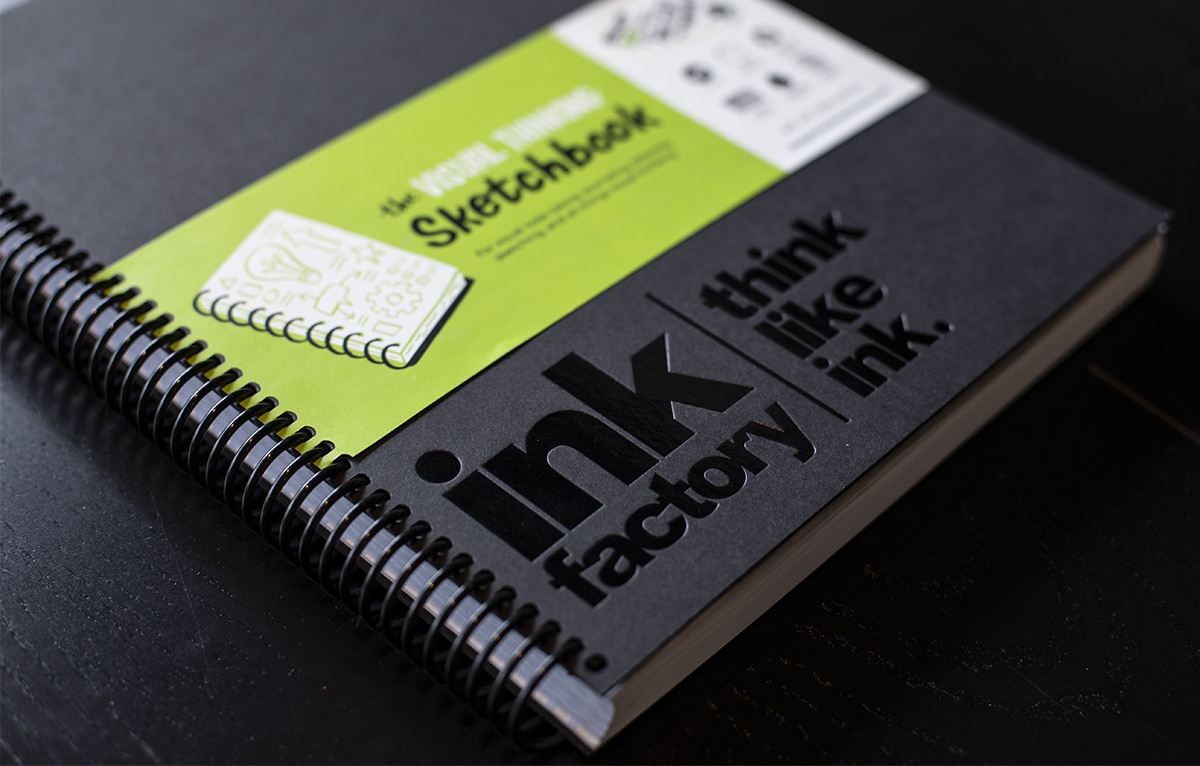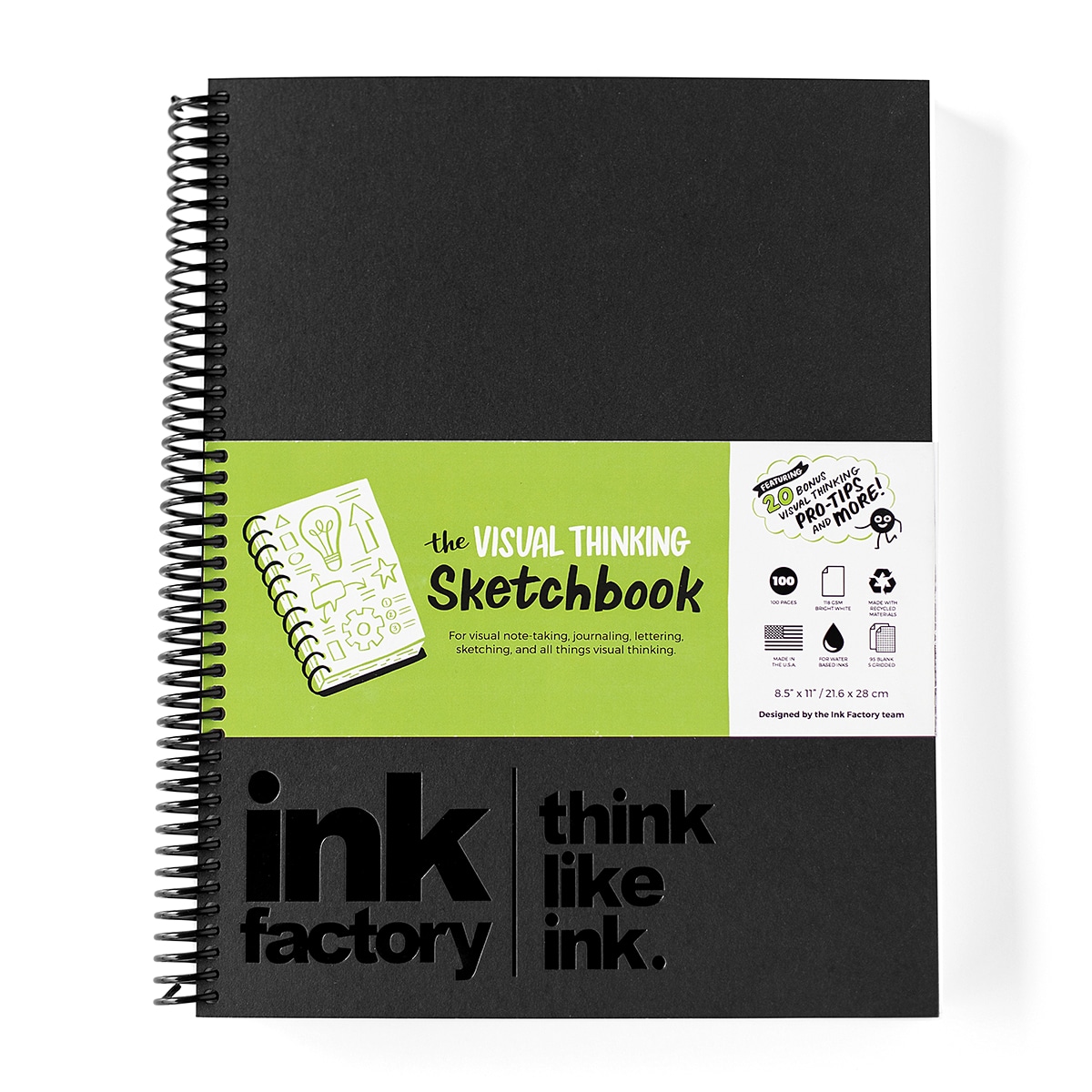 NEW! The Visual Thinking Sketchbook
Our team has spent the past year developing a sketchbook that both our artists and visual thinking fans alike would love to use.
This is MORE than just a sketchbook–we hope it inspires you to use visuals to help you better think & communicate.