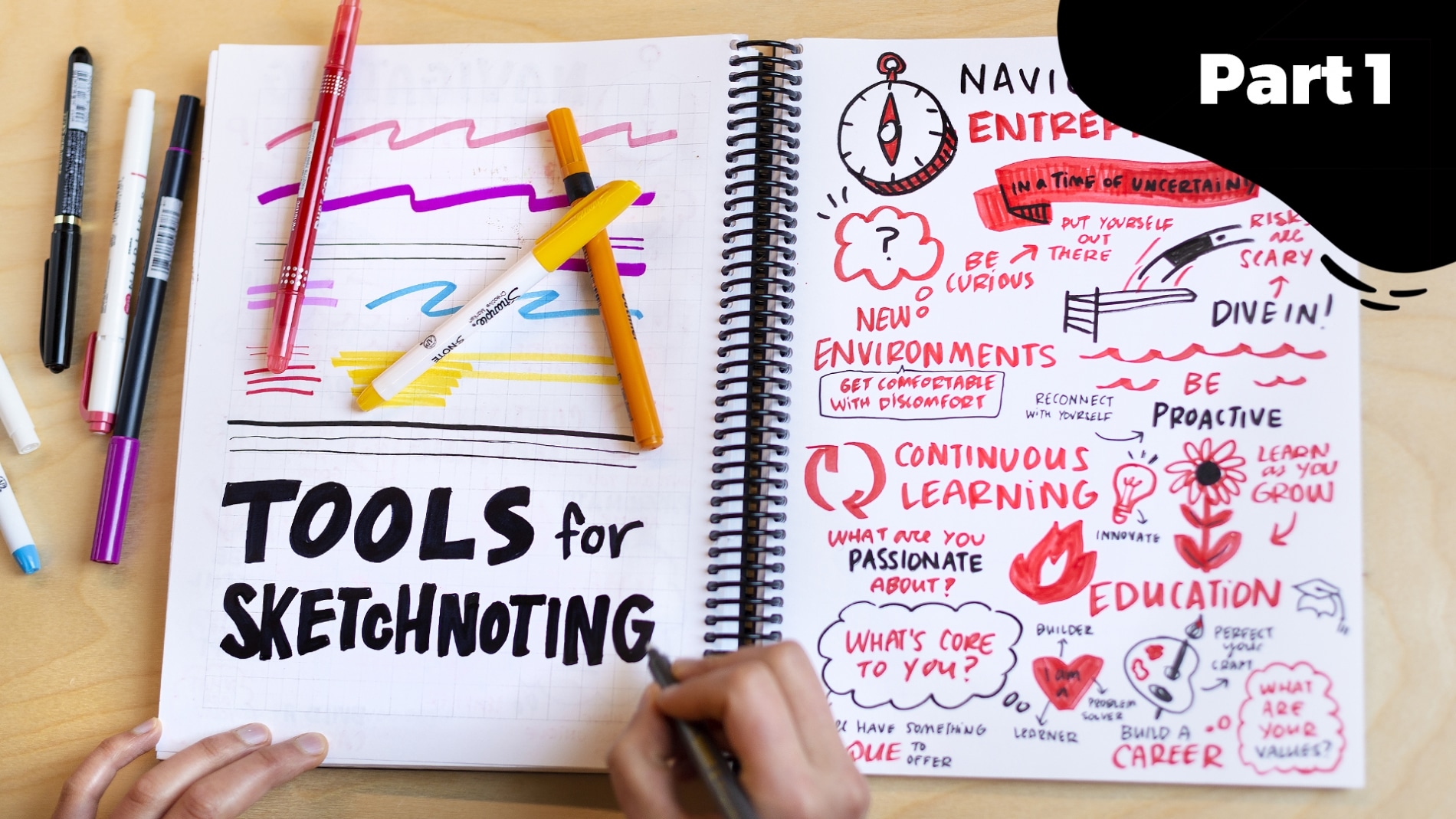 The Ultimate Guide to Tools for Sketchnoting Part 1: Black Markers
None of the brands mentioned or links provided in The Ultimate Guide to Tools for Sketchnoting Part 1 are associated with or sponsors of Ink Factory, and no links provided are affiliate sales links.
At Ink Factory, we take professional notes using words and pictures for our clients, a process we call visual note-taking. These visual notes are generally displayed digitally in virtual meetings or largescale on boards at in-person events.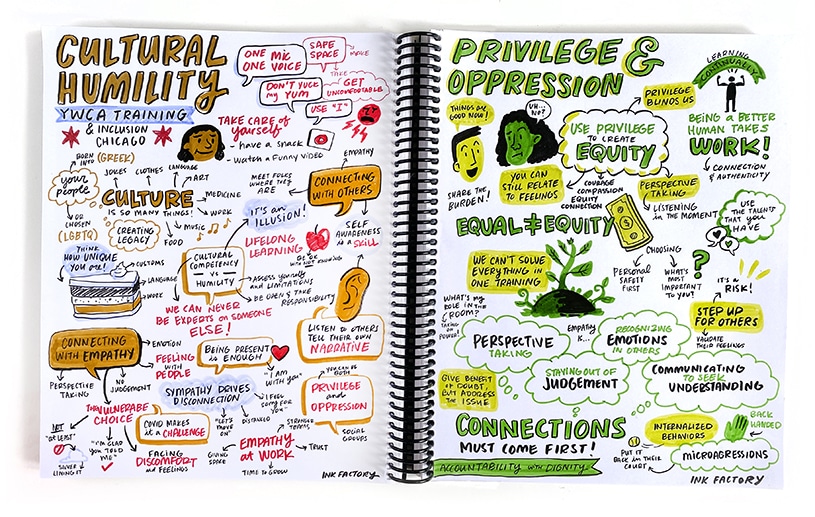 However, our team members also love to take personal notes in their sketchbooks–what people often call sketchnotes! As a personal tool, sketchnotes are an incredible way to keep you engaged with in-the-moment content like a classroom lecture, a team meeting, or even just listening to your favorite podcast. Plus, you'll end up with a drawing you can refer back to again and again, so you don't forget what you learned.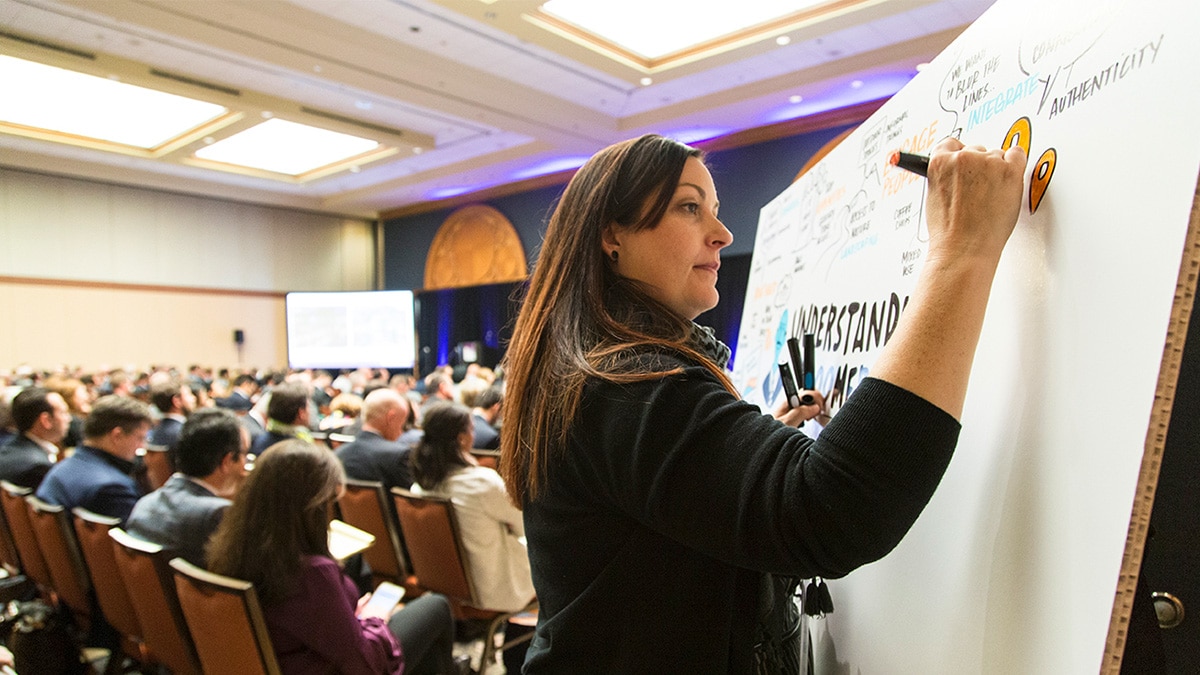 We've already shared our favorite tools for large-format visual note-taking, but sketchnoting comes with a special set of challenges. Our artists have spent months testing and experimenting with markers, papers, and more to create their perfect sketchnoting toolkits.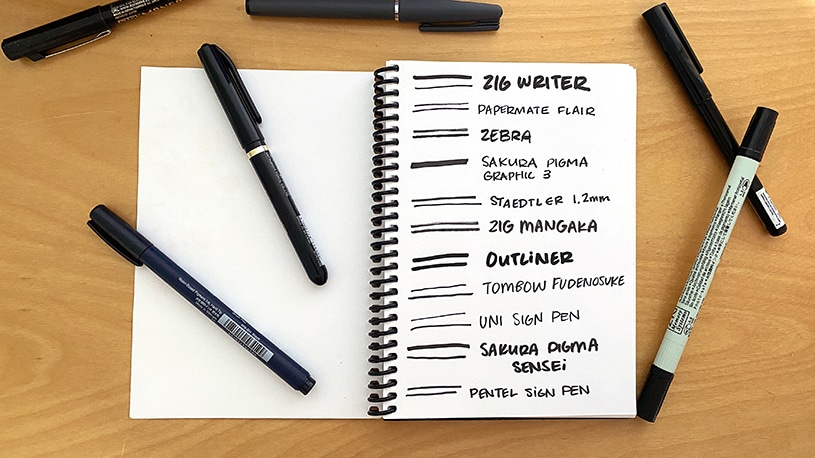 Why are sketchnoting tools so important?
Visual note-taking happens fast. We love tools that enable us to write, draw, and color quickly. An errant smudge or bleed can mean important content gets missed, and having to switch between 5 different markers (taking their caps on and off) repeatedly takes away from precious drawing time.
Markers Sizes for Sketchnoting
A common phrase echoed throughout our visual note-taking workshops is to match the size of your tool to the size of your canvas. A tiny 1mm marker is going to be virtually invisible on a large whiteboard, but it's just the right size for a small sketchbook.
We also encourage new note-takers to use a small, medium, and large marker (or at minimum, a small and a large). That's because it's much easier to establish a clear visual hierarchy on your page when you have two distinct sizes. We found it a bit challenging to find smudge & bleed-proof black markers in a range of sizes that would be useful for small format visual note-taking. Keep reading for the markers that have made it into our personal and professional sketchnoting toolkits!
Marker Nibs
In addition to a range of sizes, you might want to experiment with different nib types.

Bullet tip markers are very easy to find and provide one consistent line width. They're great for beginners that don't have super fine-tuned motor skills like professional artists. But some professional artists just prefer the look & feel of bullet tips too!

Chisel tip markers are versatile. With the rotation of your marker, you can achieve two distinct line widths. However, we found it difficult to find angled chisel tips in a decent size & ink type for sketchnoting!

Brush tips are for those that are committed to learning brush style lettering, or like a ton of line variation. They can lead to messier work if the user isn't careful. They're also more difficult to control without a lot of practice, but can be fabulous for hand lettering and filling in large areas of color.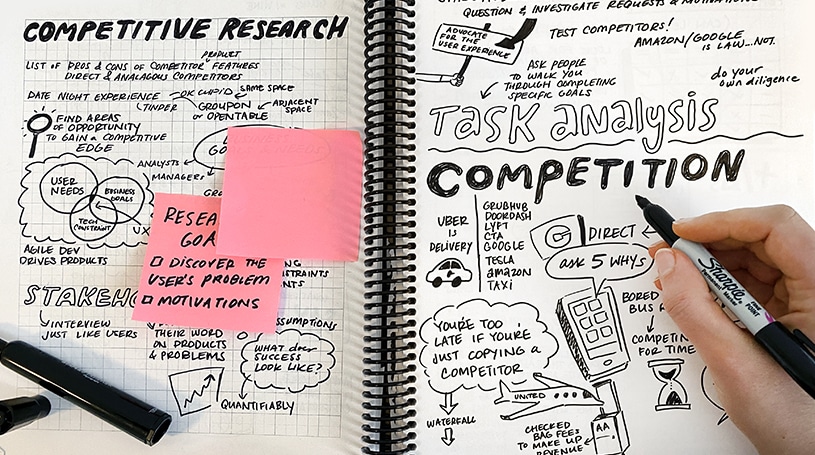 Markers: Black Ink
Black ink forms the framework of our sketchnoting tools, providing the highest amount of contrast against a white page. We use black for eye-grabbing titles, outlining icons to make them pop, and to keep our smallest level handwriting legible. You can create stunning sketchnotes with just black ink, and strategic uses of black can take sketchnotes from busy and confusing to neat and organized.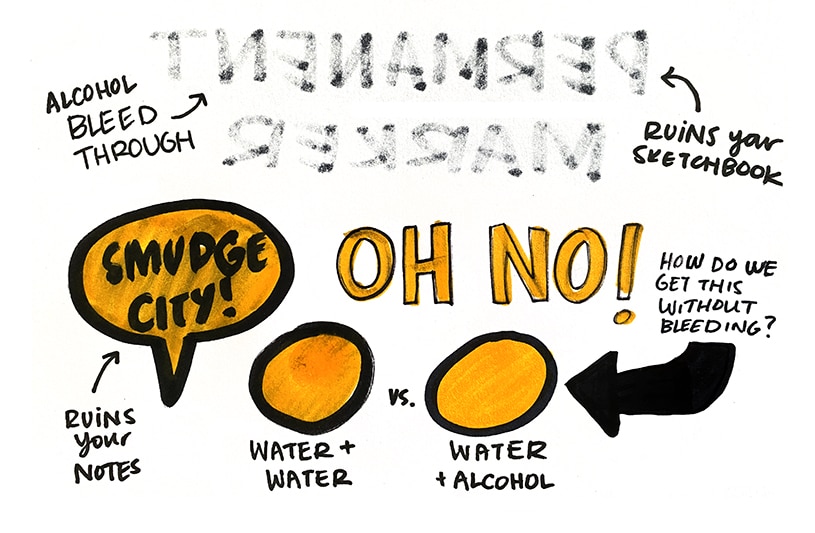 The problem: Bleeding & Smudging
When drawing in sketchbooks, our go-to alcohol-based markers that we use for large format note-taking bleed right through the page (no matter how thick your paper is). The obvious solution is to switch to a water-based black ink, however, water-based black markers smudge when mixed together. So if you want to color in a black outline you just drew with water-based color, you'll end up with a smudgy mess.
The solution: Water-Based, Water Resistant Permanent Pigment Ink
We scoured every marker marketplace on the internet we could find for these special ink makers. There are a handful of manufacturers that offer water-based inks that don't bleed through the paper that ALSO resist smudging with water-based colored inks.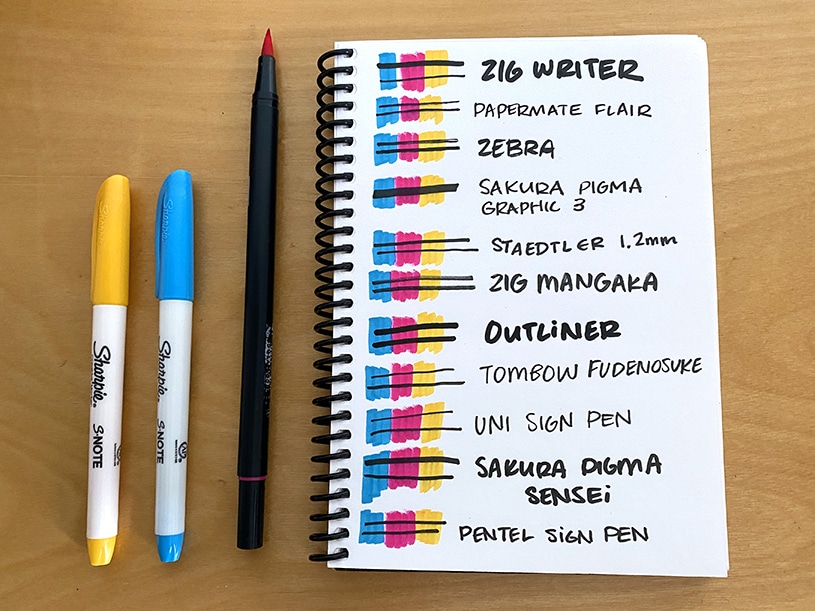 Our Favorite Black Markers for Sketchnoting
We tested Kuretake's Zig Double Ended Writer, Paper Mate's Flair, Zebra's Disposable Brush Pen, Sakura's Pigma Graphic Pen, Staedtler's Pigment Liner, Cartoonist Mangaka Flexible in Medium, Neuland's FineOne Outliner, Tombow's Fudenosuke Brush Pen, Uni's Sign Pen, Sakura's Pigma Sensei Drawing Pen, and Pentel's Sign Pen with two different types of color water-based inks to see if they smudged after about a minute of dry time.

Paper Mate's Flair Pen
The Flair Pen is a long-time favorite of the artists at Ink Factory for small details and text. It's not made with water-resistant inks, but because it's so small, the ink dries quickly, and we've found in our tests that it only smudges a little bit, and even less if you give it significant dry time. The nib is slightly flexible, allowing for some line variation. Even though it was the smudgiest marker we tested, for an accessible and affordable marker, you can't go wrong with the Flair.

The Zig Writer
The Zig Double Ended Writer is made by Kuretake, and this particular version is dual-ended. Each end is a bullet tip, and the sizes are perfect for writing a small and medium-level text when sketchnoting. Dual-ended markers make it easier to switch between sizes in the rush of taking notes and help keep you organized. The ink itself flows well and is nice and pigmented, though it does smudge slightly unless you give it a few minutes to dry down.

Staedtler Pigment Liners
This line of Staedtler markers come in a range of teeny tiny sizes, the largest being 2mm for chisel and 1.2mm for bullet. Like the Zig, Staedtler's ink needs a bit of time to dry down before being colored over for no smudging. The marker glides easily across paper, and the nib is very firm, providing a very consistent line width.

Tombow Fudenosuke
Similar to Flair, but with a firm brush tip that allows for greater line width variation. We'd recommend the Fudenosuke marker to intermediate or advanced sketchnoters who want to experiment with their art style. Unlike Flair, the Fudenoskuke has true Pigment Ink that resists smudging. In fact, it was in the top 3 of smudge resistant markers we tried.
If you've tried the Fudenosuke and enjoy it, you might also like this Zebra marker, which is a bit too flexible for us to recommend for sketchnoting, but is wonderful for illustrations, and also uses permanent pigment ink.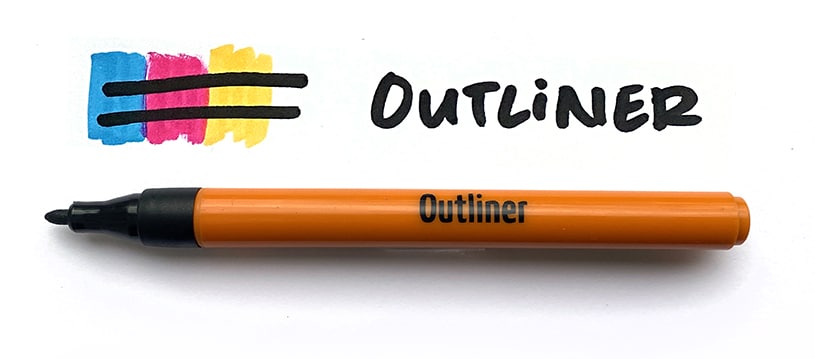 Neuland Outliner
Well known among pro visual note-takers, Neuland makes tools specifically for our profession. So it's no surprise their permanent FineOne Outliner was the most smudge-resistant while also not bleeding through paper. It also flows beautifully and has the most vibrant black ink of all the markers we tested. The FineOne Outliner is a great size for medium-level text when sketchnoting (we'd recommend a smaller marker as a complement to it). The markers do have to ship from Germany, so they may be less accessible to you than others on the list, but we think they're worth the investment!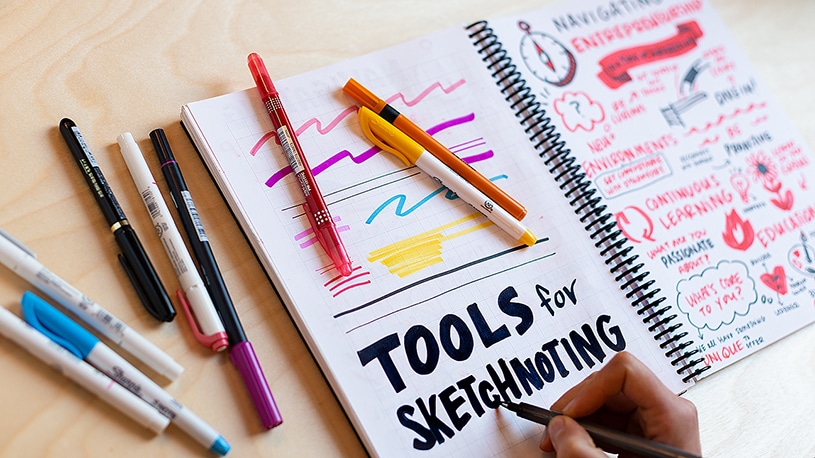 There's no clear winner here–Like any tool, the best one is the one you are most comfortable using. Some people may want a more consistent line width and a firmer nib, and some people may want a soft flexible nib with lots of line variation. Have you tried any of the black markers we tested above, or do you have a different cherished type of black marker for sketchnoting? Let us know on social media using the hashtag #ThinkLikeInk!

Next up: Color Markers for Sketchnoting
Next up, we'll be reviewing our favorite color markers and papers for sketchnoting. Read the blog here!