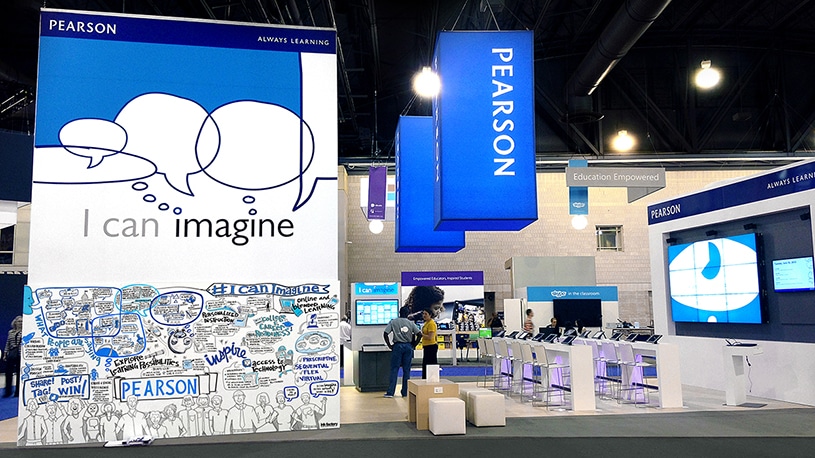 Why You Need An Artist At Your Next Conference Booth
Creating a compelling conference booth can be tough competition. Hundreds of vendors compete for participants' time and attention. During a busy conference, that can mean the countless hours your marketing team put into a conference booth's design and giveaway items could have a less-than-intended impact.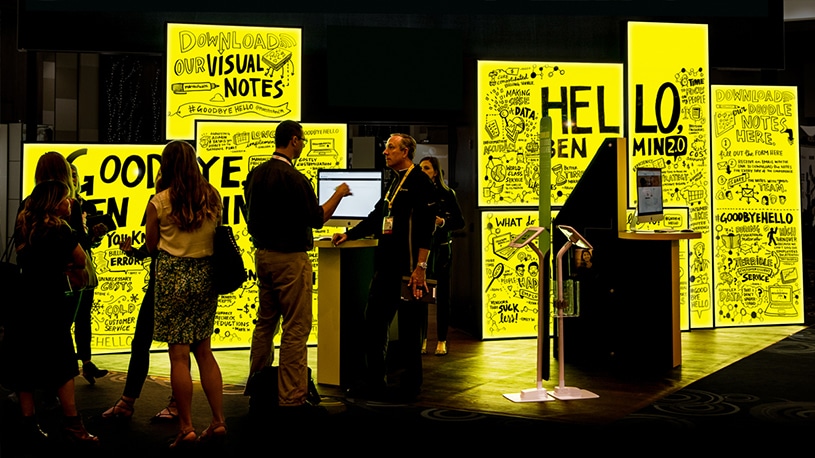 Visual notes are the solution to that trade show floor struggle. They'll have people flocking to your booth and even coming back for more the next day. Visual notes can be incorporated into a booth's design in so many ways. They can be the main attraction or one element to your display.
"When our artist captured the content presented during our session, the end result was impressive to say the least – people took photos with the image and came to our booth the next day just to see it again; it doesn't get better than that!"
Julie Bastien, Senior Director of Marketing at PointRight

Visual notes draw people into your conference booth
For Fresenius Kabi's booth at the 2017 ASHP Midyear, we illustrated three sections of pre-determined content. Passersby were amazed to see an artist working live, which pulled them into the booth. They could read all about Fresenius Kabi's offerings, and chat with representatives from the company. Visuals engage the emotional processing part of our brain, so they're better suited towards exciting people about your brand than standard conference booth displays.
"The live visual notes in our trade show booth were the perfect conversation starter, delivering our message in a fresh and creative way."
Julie Bastien, Senior Director of Marketing at PointRight

Capture feedback
A fantastic way to engage with participants on the trade show floor is to pose a question to them–like NetSuite's question to Non-Profit attendees at NTEN 2015. We drew boards with "How does technology further your social mission" featured prominently, and as people approached to answer, NetSuite's representatives were able to engage them in conversation. Attendees were thrilled to see their answers drawn live in front of them, posing and posting on social media. And at the end of the event, Netsuite was left with several boards that showed what their clients were looking for in a partner, better informing them on how they can improve their organization and serve their clients.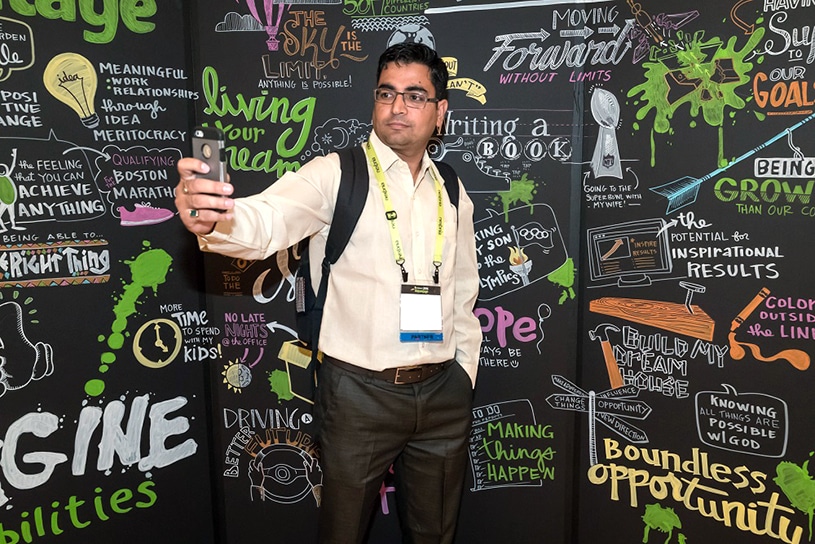 Engage with social media
It's common for conferences and organizations to employ hashtags to engage with participants on social media during events. Tweets with images receive 150% more retweets than tweets without images (Source). It can be a struggle to engage with people on social media when content is a bit dry, so when we're drawing at a conference booth, people love to snap a picture and post it on Instagram, Twitter, and Facebook. The more we draw, the more your ideas are shared with the world!
"The boards were a great way to bring the conference theme to life and we had tons of people taking selfies with the wall. We have found the illustrations to be a great item for social media around the conference and for driving awareness in general for Intacct."
Peter Olson, Director of Corporate Communications, Intacct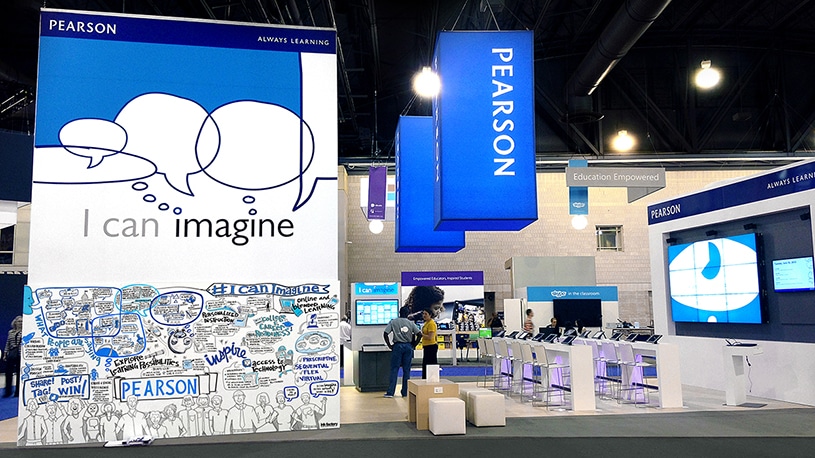 Your ideas will outlast the conference
Our clients love visual notes. They engage audiences live, and they also serve as a beautiful and concise record of your content. The images we create directly document your content. And visual notes are perfect for sharing long after the conference has ended. Want to follow up with your booth visitors? Send them a copy of your visual notes! We remember 80 percent of what we see, but only 10 percent of what we hear. If you want to remind participants about your brand, make sure you've got visual notes to make that connection.
"People kept coming back to visit throughout the day, and throughout the conference, to see how the mural was turning out and what was being added. I certainly think it was one of the most photographed things in the entire exhibit hall."
Lauren Lopez, Pearson North America Marketing Programs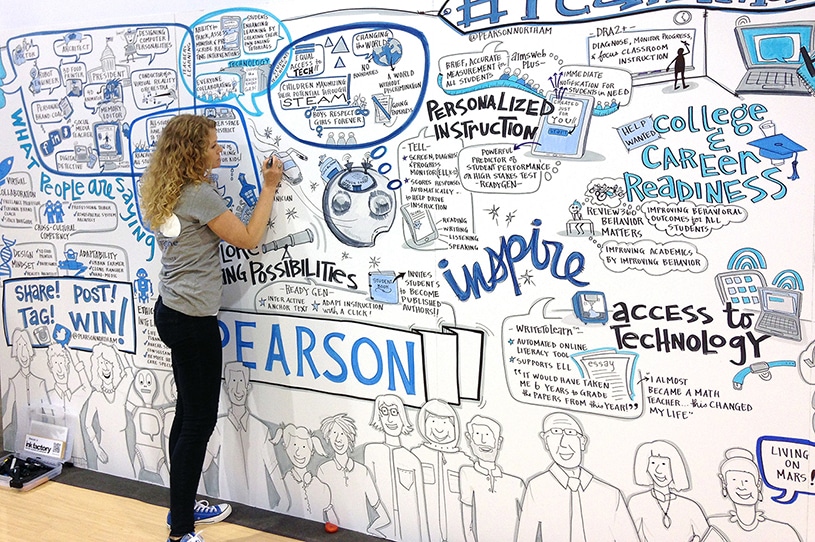 Looking for ideas for a virtual or partially virtual conference booth? We have the remote tools to make your next virtual event a success.