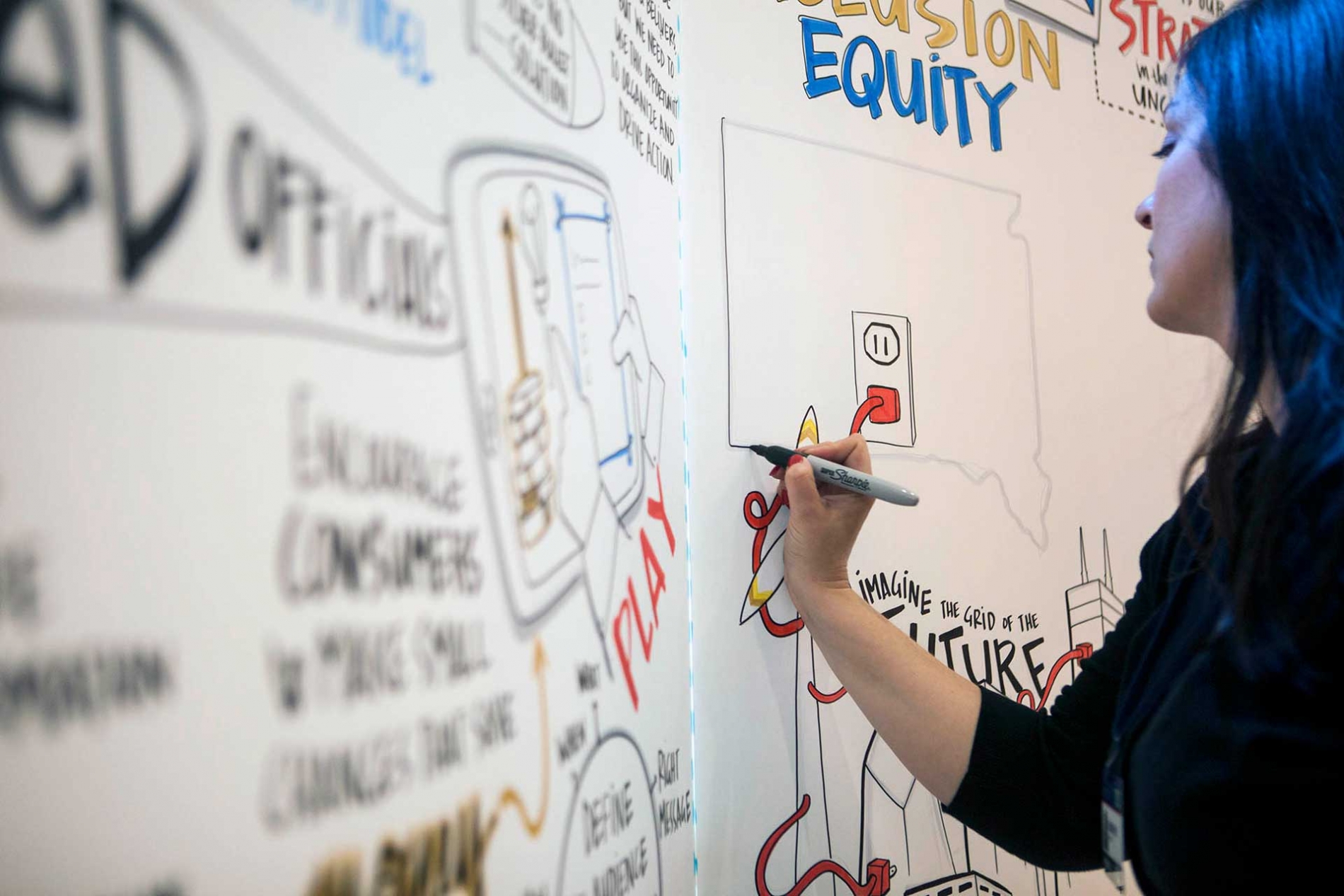 Who Is Using Visual Note-Taking?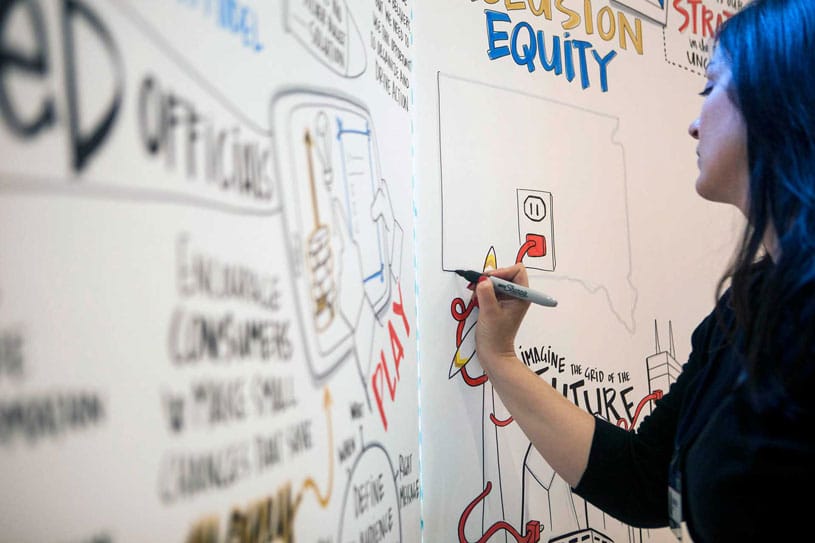 Ink Factory works with all sizes and types of organizations in any industry. Healthcare, marketing, education, non-profits, insurance, technology, finance, social justice, government – we've done it all! We work with clients in a wide range of settings, too—from conferences and trade shows to brainstorms, corporate retreats and strategy sessions. Our visual-notes have been used to break down language barriers and unite people from around the globe.From NYC to San Francisco, and from United Arab Emirates to South Africa, no location is too far. Although we collaborate with clients from many different industries, we find that the organizations we work with share a common goal: they want a better way to inspire and share ideas and engage audiences. There are a few different ways we can achieve that goal, depending on the organization.
---
We connect organizations with their audiences
The immediate nature of what we do makes visual note-taking a perfect way for organizations to gather real-time feedback from their customers, clients, patients or employees. For the American Society of Hematology conference (ASH), representatives from our client's booth were engaging physicians and healthcare representatives in conversation, with the goal of finding out what the biggest challenges their patients are facing.
Using a digital graphics tablet, the artist from Ink Factory visualized the conversation as it happened, and the interviewees were given a full-color printout of the visual as soon as their conversation was finished. Our drawings allowed the client to have a visual record of each physician's answers, and presented a unique way for each physician to see that our client cares about their patients and their goals. Each organization we work with has a human heart – and we draw it to life.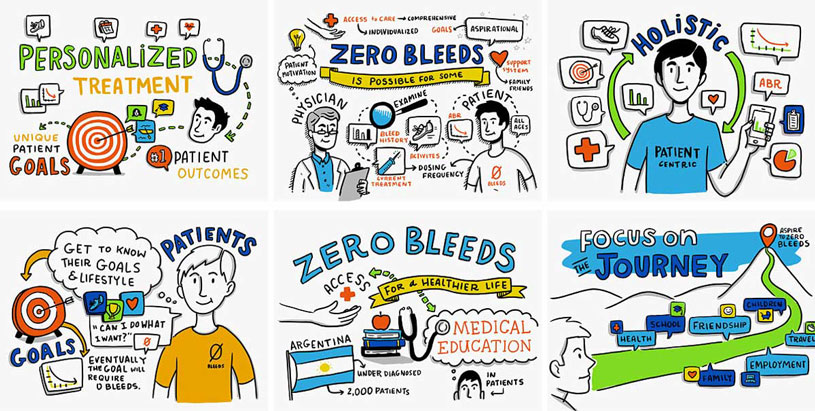 We help educate and energize employees

Our drawings play to how people learn best: visually. Over 65% of people are visual learners, and when large organizations struggle to disperse information and new processes, sending a visual message makes all the difference.
Autodesk has truly harnessed the power of our visuals to communicate new ideas and processes among their employees. They tapped us to create an illustration that they could use to present a new product lifecycle to their sales team – so everyone was on the same page. Employees could use the image for easy reference, in presentations, and for explaining the new process to their clients.
We've also visualized many of Autodesk's conferences throughout the year. At the world's largest gathering of Autodesk software users, Autodesk University, one of the big Living Walls we created integrated participant's input from three big questions about Autodesk's DESIGN, MAKE, USE process.
We interacted with conference attendees to get their best ideas of the future of this DESIGN-MAKE-USE process.When the audience is excitedly snapping pictures and posting them on social media, we know we've done our job right!
---
"They bring new ideas to the table and challenge us to think about how we communicate our message, which we value greatly. This has led to a highly collaborative relationship in which the end results exceed what we originally set out to achieve. Above all, the Ink Factory team has developed a level of trust in which we can rely on them to work independently and deliver great results in time for some of our most important events." – Steven Hooper from Autodesk
---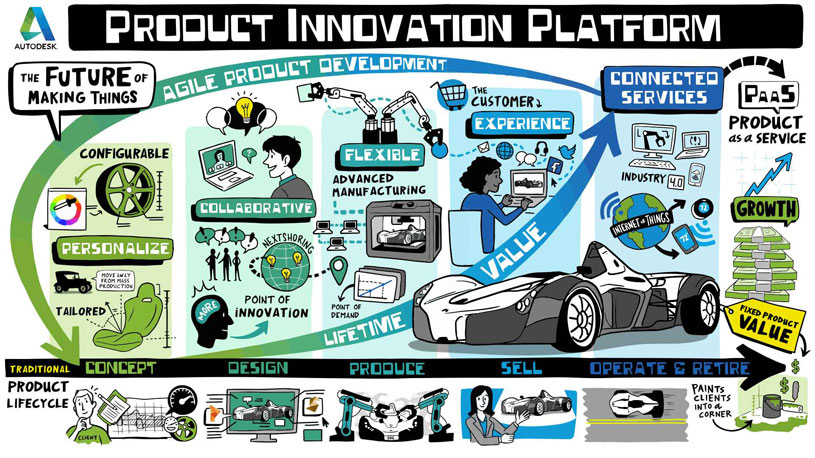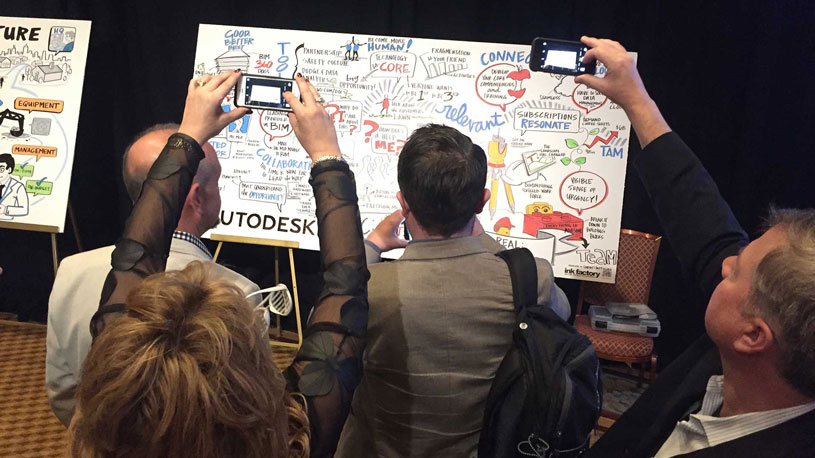 We help organizations problem solve and generate ideas
Visual note-taking, or graphic recording, has deep ties to management consulting and meeting facilitation – a field that's all about problem solving, idea generation, and iteration. In real-time, we are capturing all of the ideas in the room, organizing and connecting them, and emphasizing the most talked about ones through visuals. Our visual notes also serve as a tool for recalling and retaining information and ideas after the event to ensure the conversation continues.
We worked with Whole Foods Market during a community meeting to help generate ideas and gather community feedback prior to the opening of their Englewood location in our hometown of Chicago. Whole Foods Market wanted to hear from those who are directly involved in the community – whether residents, business leaders, or both. We made it possible for everyone's voice to be not only heard, but organized in a way which allowed Whole Foods Market to take use the information to make the new location a success.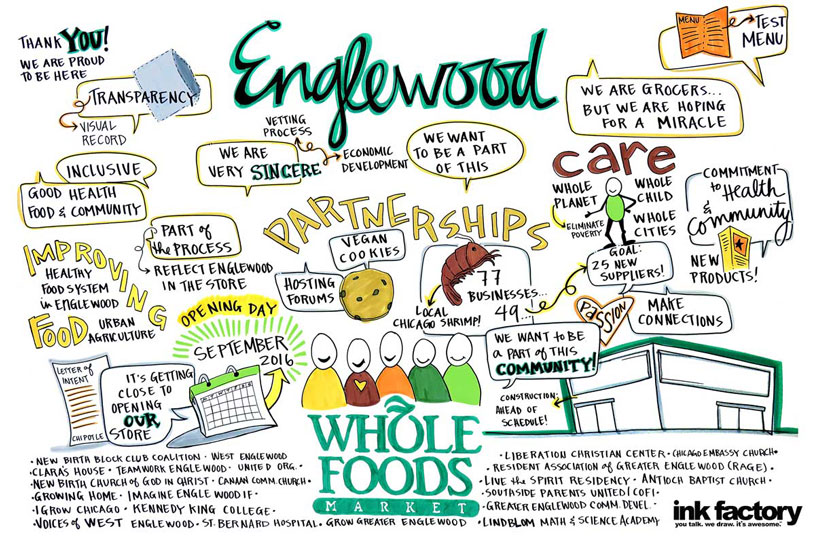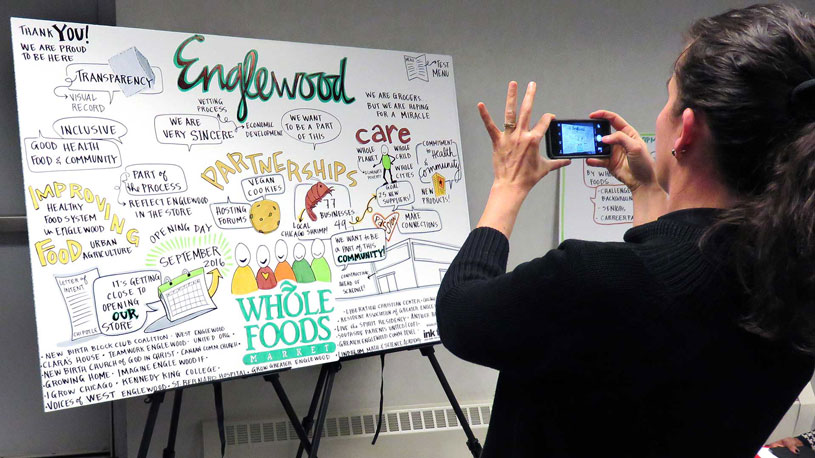 We tell visual stories and unite communities

Many of the events we support feature amazing speakers with amazing stories – stories that span generations, spark innovation, and call their audiences to action. Since the brain processes visuals and emotions in the same area, seeing those stories visualized can be an effective way to engage people and motivate them to take action.
We've worked with Chicago Theological Seminary for the past two years to tell the story of the modern civil rights movement, and unite their community under a common vision. They invite top thinkers and leaders, such as Reverend Jesse Jackson and Michelle Alexander, to speak to the community about the past, current, and future state of the movement – and we captured it all. Seeing their words visualized and made concrete provided a point of focus for conference attendees, as well as a healthy dose of inspiration.
Visual note-taking gives you all this, and much more. That's the reason we're excited to get up everyday and do what we do. Drawing for a living is a dream for many, but it's the positive effect we see in organizations and audiences that make our work so valuable.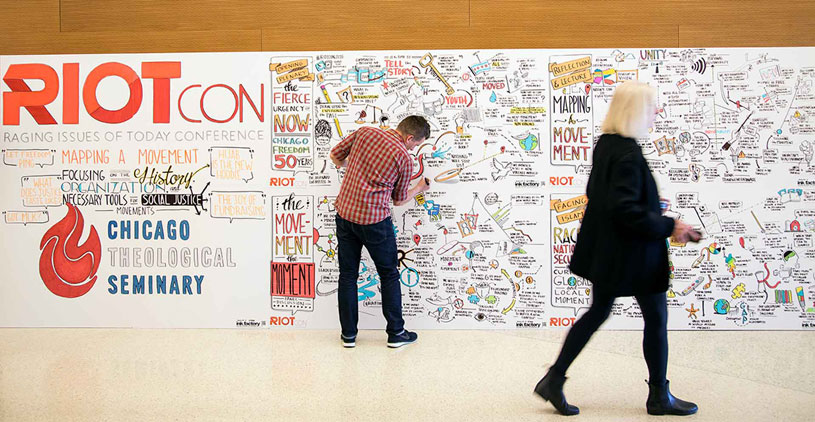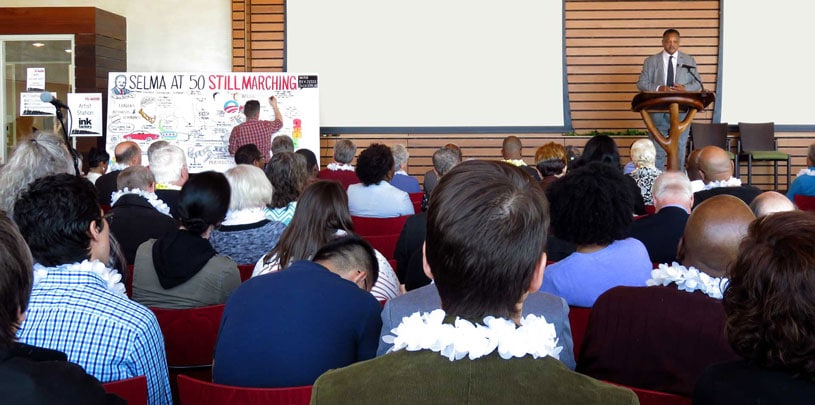 ---
Ink Factory is a team of artists that helps organizations communicate visually. With over 35 collective years of experience, the company is a leader in graphic recording—the art and science of translating conversations into real-time visuals to help people process and remember information. Companies like Bank of America, Autodesk, Adobe, Cushman & Wakefield, Walgreens, Whole Foods Market, Nike, and Leo Burnett turn to Ink Factory to create visual notes for their conferences, meetings and events.
How can visual note-taking give your meeting or conference more life? What ways are you connecting communities through the power of visuals? We'd love to know!