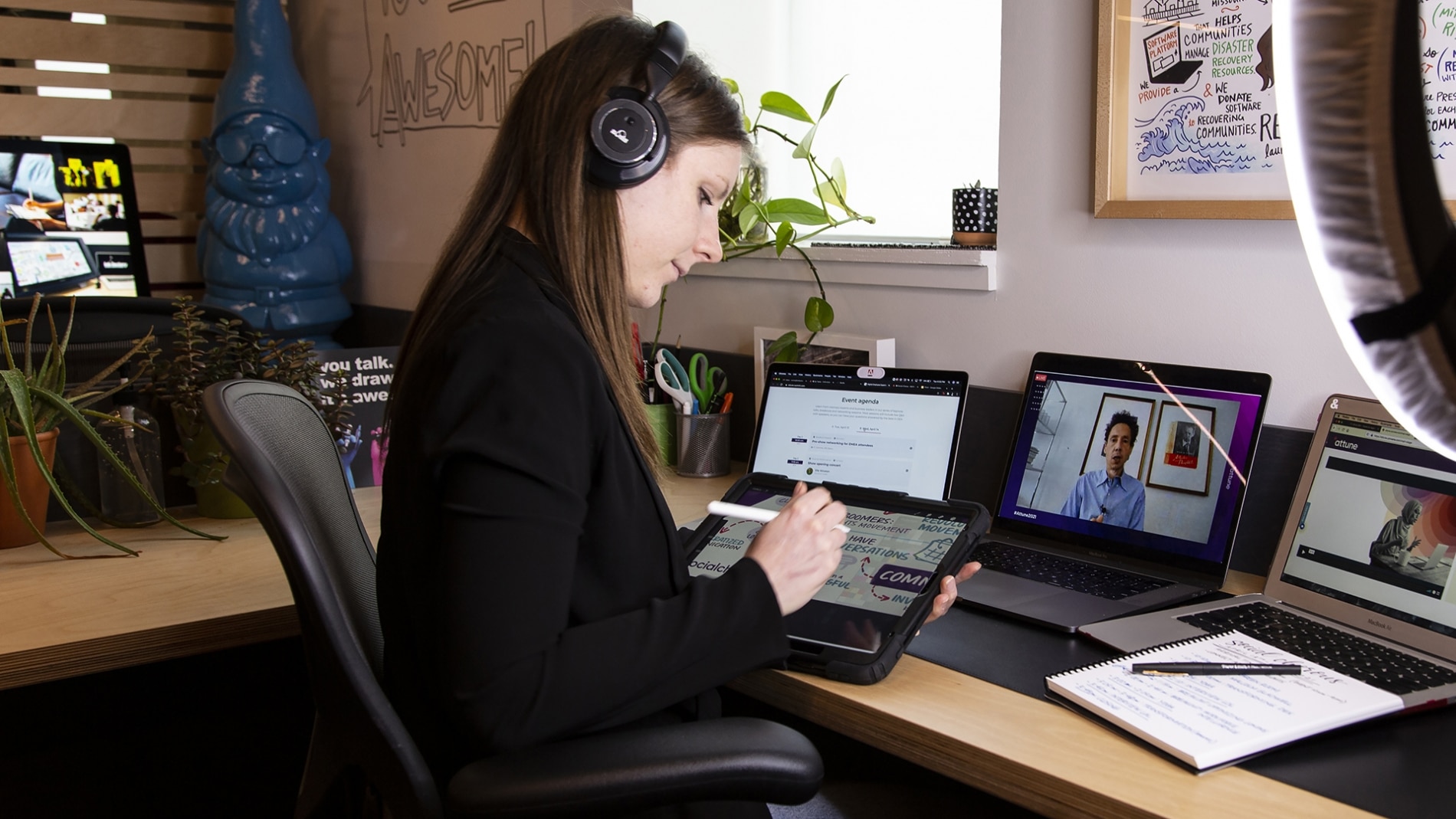 6 Tips for Virtual Burnout Relief – What we've learned working virtually
In the last 18 months, the team of artists at Ink Factory has supported more than 200 virtual events around the world. And, while we're starting to re-convene at our studio in Avondale, most of those months were spent working from our individual homes. Needless to say, we've seen and felt virtual burnout first-hand. And, while in-person events have picked up in recent months, we don't anticipate virtual events or work going away anytime soon. So, we huddled as a team and gathered our top 6 tips for virtual burnout relief. The best part? Many of these create big efficiencies and opportunities for creativity and collaboration.
We strive to have a healthy work-life balance for everyone at Ink Factory. This includes physical and mental health. Asking for help when team members need it, recurring 3 PM body movement sessions that range from yoga to a great dance track, to empowering anyone to work from home or in the studio when it's the right fit for them.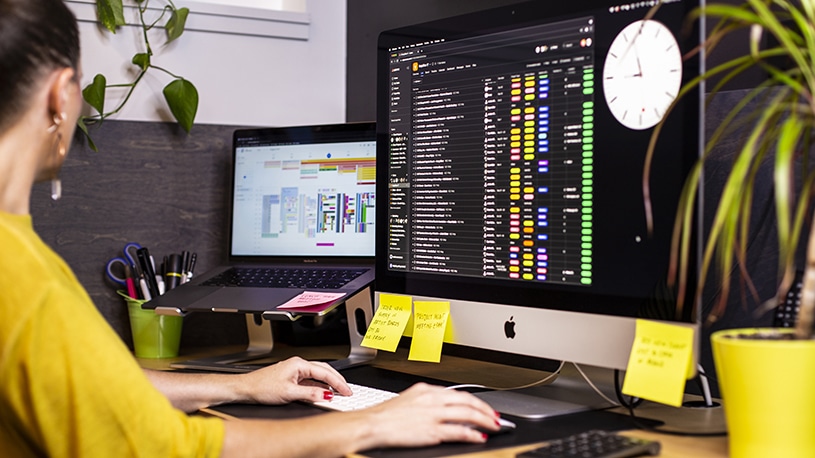 1. Jumpstart tomorrow 
Your morning routine can set you up for success: feeling prepared and being in a good mood can make all your virtual interactions more pleasant and your workflow more seamless. Even if your routine is just sipping coffee on the patio–a simple moment of enjoyment in your routine can make all the difference.
Your day doesn't start at the time you wake up. At the end of the previous day, set yourself up for success and increased productivity by double-checking the next day's agenda and task list. Do your meetings have agendas and the right people invited? Does anything need to be shifted around? Do you have too much on your to-do list? We use Asana as our project management tool – and it saves us so much time and helps mitigate those "dropped ball" moments.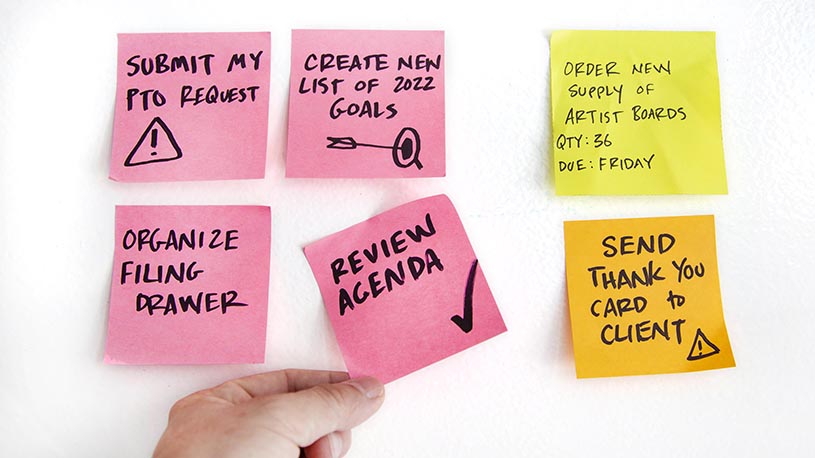 2. Work smarter with task management
Our day can get away from us if we don't understand and observe what is coming down the path for our workflow. Looking at tomorrow's tasks today will get your mind ready and help you prioritize your flow throughout the day (and not be surprised by pre-assigned tasks you may have forgotten about!)
Overwhelmed? Try taking your tasklist offline using a few post-it notes to write down the most important tasks you have to accomplish. Stick them on the wall from top to bottom in order of priority or difficulty. Removing the post-its as you complete each task is super satisfying, and having those "big fish" tasks on the wall as a visual reminder will keep you on track.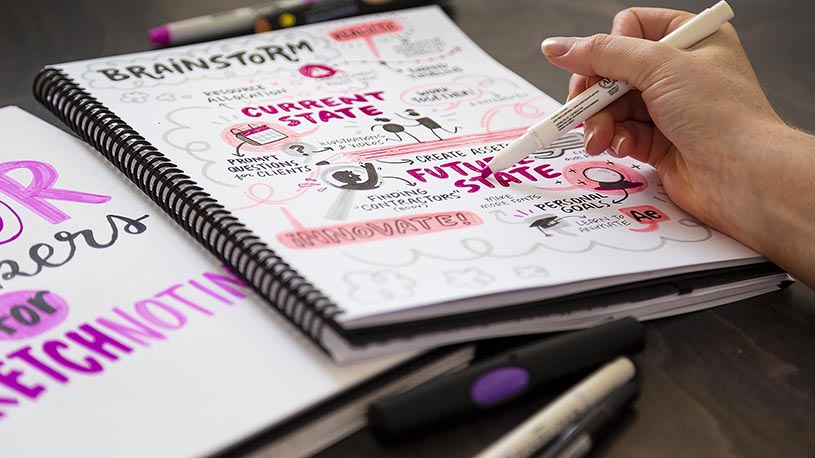 3. Get in time away from the screen
Writing on post-its, drawing in our sketchbooks, and ideating on a dry erase board are all ways our team likes to break out of the virtual bubble. Sometimes moving from the virtual space to the physical world can create a helpful shift in our thinking that sparks new ideas or helps us be more productive.

"Physical brainstorming – when I need to take some time to brainstorm and problem solve, I like to do that away from my computer in my sketchbook! It gives my brain a break from distractions and it's nice to write things down! Like journaling, but for work."
– Sarah Goone, Artist & Visual Note-taker

When we plan to have extended time away from the screen, we like to let our team members know how to reach us in case of urgent questions.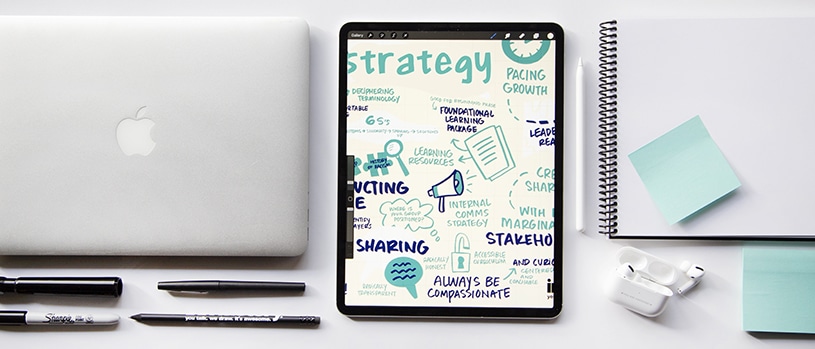 4. Eliminate virtual hurdles by showing up prepared
Our Project Manager, Grace, reminds us to sign into an online meeting or conference call 2-3 minutes before it starts. When we're not physically moving to a meeting room or call closet to settle in, it can be easy to get trapped in the email shuffle, switching tabs, and forget where you're supposed to be. We're all human and giving yourself a few minutes to stop, think, and be present for your next call or meeting (especially virtually) is a smart move!
Eliminating tech hurdles like bad audio or video can also reduce general frustration among your team members and save wasted time. We have a virtual meeting tech hub (a spare laptop with a bluetooth microphone and an external webcam) set up in our conference room that everyone on the team can use to host hybrid meetings.
For a seamless audio experience, Lindsay loves wireless bluetooth earbuds:

"The freedom of not being tethered to a device and the added ability to cancel out all the excess noise (dogs barking, partner making espresso, garbage trucks, untimely deliveries, etc) has been a critical addition to my virtual routine."
– Lindsay Wilson, Co-founder and COO of Ink Factory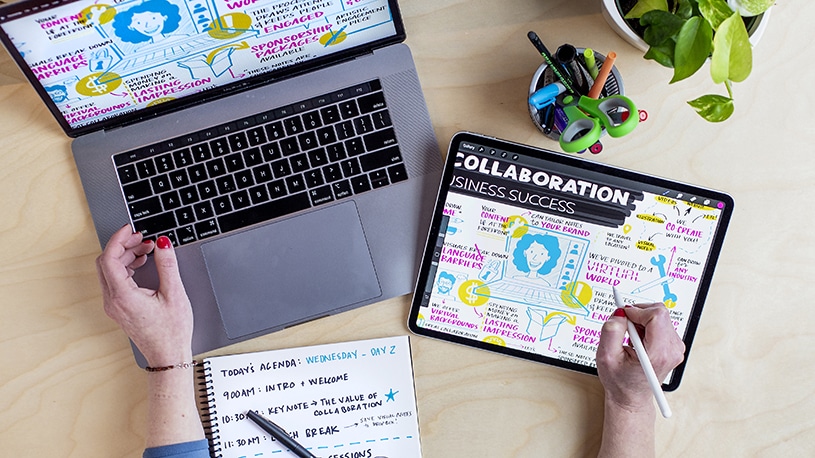 5. Create a space you can enjoy and relax in
Being physically set up to work efficiently and without distractions is just as important as your virtual workspace! A lot of us don't live in places that are optimized as a working environment, making virtual burnout even more likely.
Our co-founder and CEO, Dusty Folwarczny, likes to use blue-light blocking eyewear, a vitamin D lightbox, and even smudging her office to reset and refresh. All simple things that make a big impact on your daily routine.
At her home office, our Director of Operations, Teresa, has incorporated a standing desk and ergonomic keyboard to keep her body aligned and energized throughout the day. Being hunched over a laptop for hours can take its toll on your body and mind.
Making room for mini-breaks, in addition to normal meal breaks, is a great way to get your head away from the computer screen and refresh your mind. If you're at home, checking in on your plants is also a fun way to de-stress (and plants need love too!)
"Keeping my home office comfortable is key for working virtually. I invested in better quality coffee since now I drink my daily cup at home. My plant collection exploded last year–it helps to make my space more relaxing and zen."

– Alison Vellas, Senior Creative at Ink Factory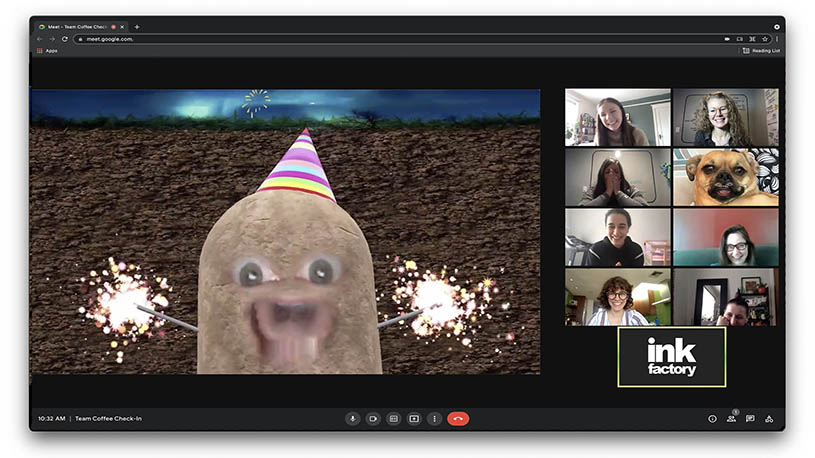 6. The ultimate cure to virtual burnout: Don't forget to connect and have FUN!
We are very lucky at Ink Factory to have developed and nurtured a work/life balance with our team. This is something we've tried to maintain since starting back in 2011. It's easy to get buried in the work zone and not take time to check out–especially during the workweek.

"I think having a dedicated culture team to set up virtual happy hours and brainstorm creative ways to stay connected is important! Making sure team members feel loved and included in a virtual environment has been especially important during a year where everyone is feeling scared and isolated."

– Emma Wimberley – Artist & Visual Note-taker
At Ink Factory, we LOVE our culture team. They brainstorm and plan fun one-off activities throughout the year. From birthdays and work anniversaries to potluck dinners and team outings, they really get the whole team together and have found super creative ways to pivot virtually. Playing group online games, making funny videos, and virtual happy hours are great bonding activities that can be just as fun as in-person events. We even did a virtual potluck (competition style) last year!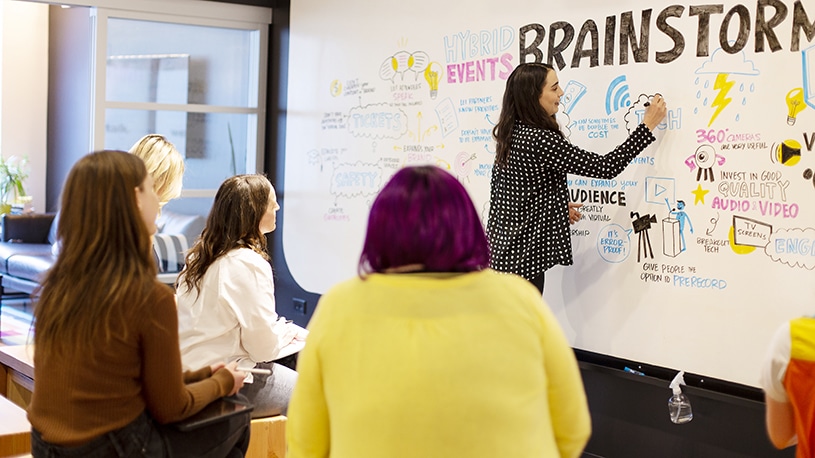 If you're suffering from virtual burnout, we hope you find these tips helpful! One thing our team has to remind each other: be kind to yourself when working virtually. Working in an isolated space can be rough, and it's important to do things for yourself that make it easier and more enjoyable!