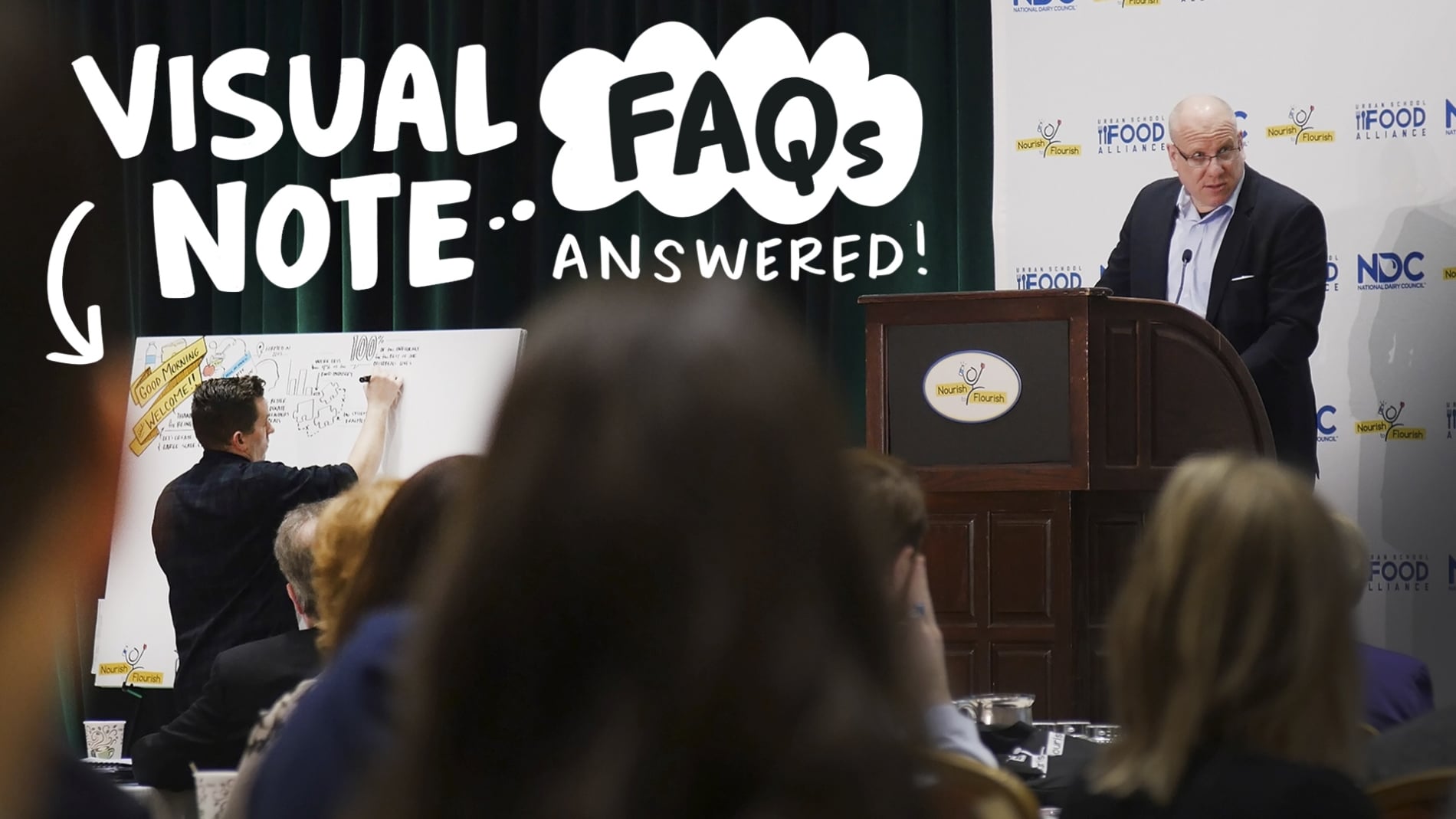 Top FAQs About Visual Notes Answered
At Ink Factory, we like to sum up our work with: You talk. We draw. It's awesome.
This probably makes a lot of sense if you've ever experienced an artist capturing visual notes. But if you haven't yet experienced visual notes, it can be tough to fully understand what they are, how they work, and when to utilize them.
We get it–and we're here to help. Below we break down visual notes and answer the questions we most often hear from clients.
Have a question we didn't cover? Drop us a line so we can connect. We love talking all things visual!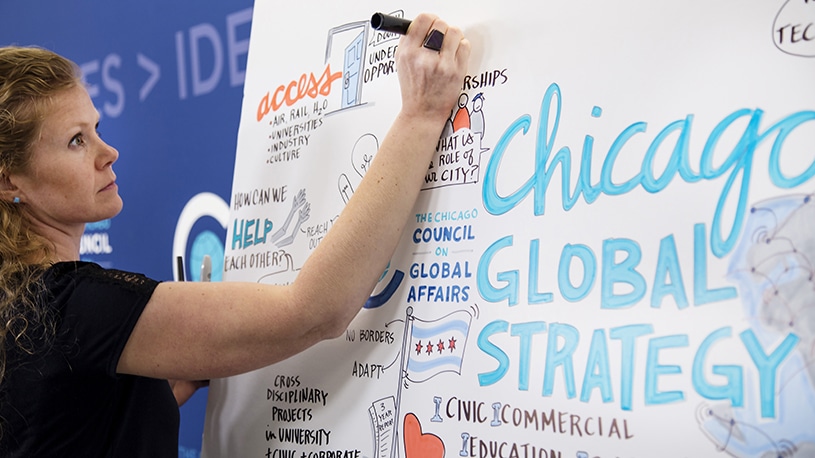 1. What are visual notes exactly?
Visual notes are drawings created in real-time using simple words and pictures to represent what is being said. Having a visual note-taker at a meeting or event means that while the group is talking, we're drawing. The result is a visual summarizing the key takeaways of your discussion.
Visual notes can be captured in-person or virtually, keeping audiences engaged no matter where they are. And, they're proven to help people retain and remember information.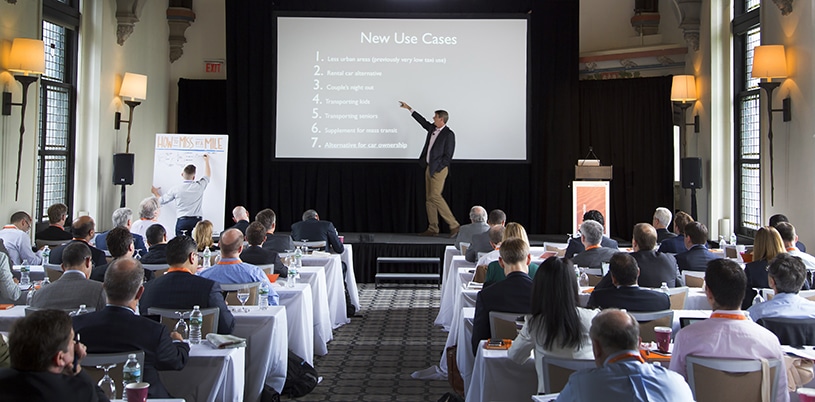 2. It sounds cool, but is it distracting for the audience?
We get this question a lot and the answer is: not at all! Visual notes add a layer of engagement to a meeting or event and helps participants understand the content better. We suggest the artist work at the front and off to the side of the stage or meeting area. This way, they can easily hear what's being said and your audience can see what's being drawn in real-time, helping them make the connection between the spoken and visual content. There's often some curiosity, so letting your audience know that an artist is capturing visual notes will help facilitate the experience.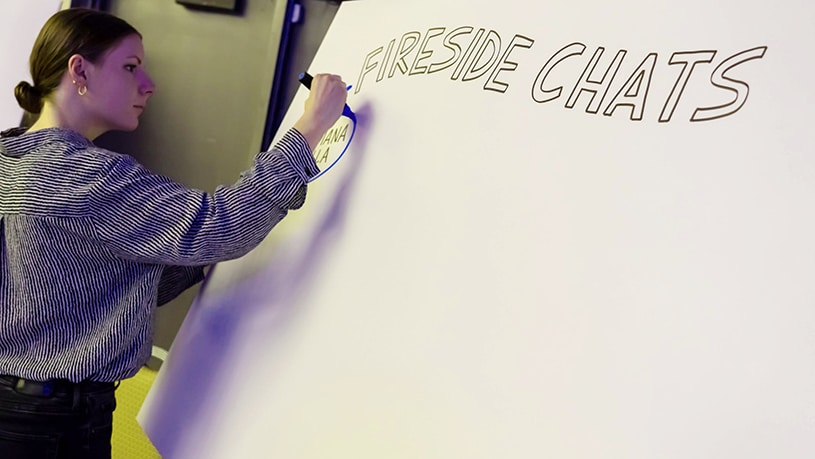 3. What does prep look like–for the artist and my team?
Clients are often surprised to learn that creating visual notes takes very little advanced preparation on the artist's part. (Making them easy to integrate at the last minute!) Ink Factory artists are skilled at listening, quickly synthesizing what they hear, and drawing the most important points in real-time. Artists are happy to review any materials you want to share in advance, but it's not necessary.
To prepare for your event, a call to review your agenda is essential so we can best plan logistics to set your artist up for success. Our admin team are rockstars at coordinating travel, hotel, material shipping, and many finer details that make visual note-taking a success.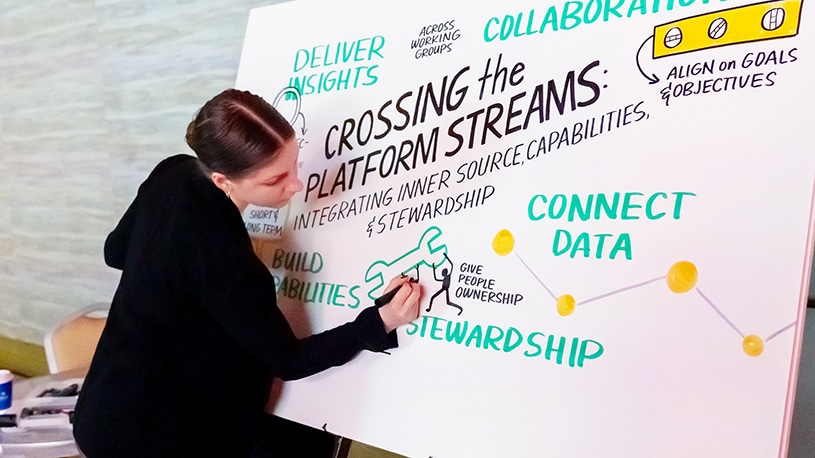 4. I work in a technical field/industry. Will the artist understand it?
Our artists don't need to be familiar with the industry or content in order to effectively capture visual notes. They're pros at listening to and navigating complex information to pull out important themes and messages. That said, it's always helpful to know in advance about any terms or acronyms that may be frequently used to ensure our artists accurately capture them.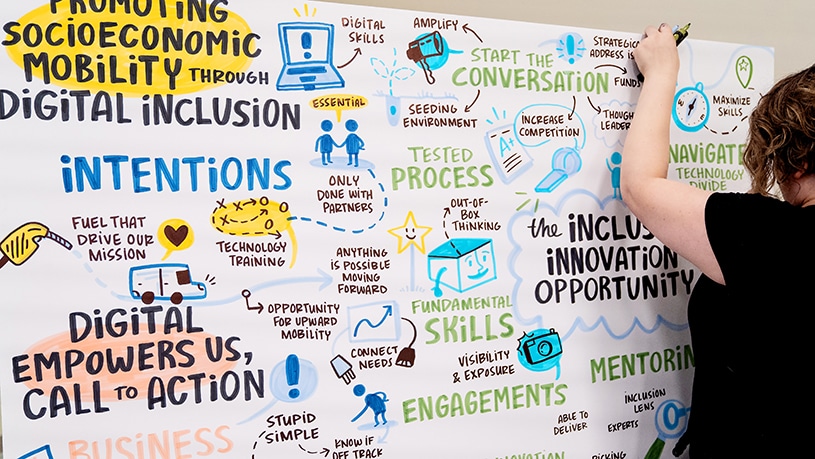 5. Our content isn't final yet. Does the artist need it in advance?
Nope! Ink Factory artists are trained in the skill of listening, so they will listen to the presentation, synthesize what they hear, then draw the salient points–all in real-time!
However, a final agenda with titles for each session is extremely helpful! If your agenda or titles change, it's imperative to let your project manager and artist know ASAP.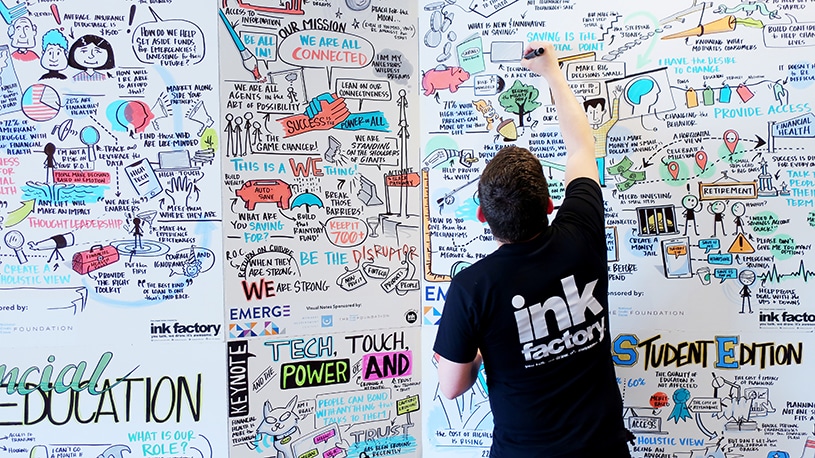 6. What's the ideal session length for visual notes?
Sessions or presentations that last at least 30 minutes are ideal, but hour-long sessions will yield visual notes with the richest imagery. Often, shorter sessions don't provide enough content to fill an entire board. If your event will include shorter sessions (think: 10, 15 or 20 minutes), we recommend combining sessions onto one board, using color and titles to delineate between sessions. We can review your agenda to help identify sessions that would pair well with visual notes.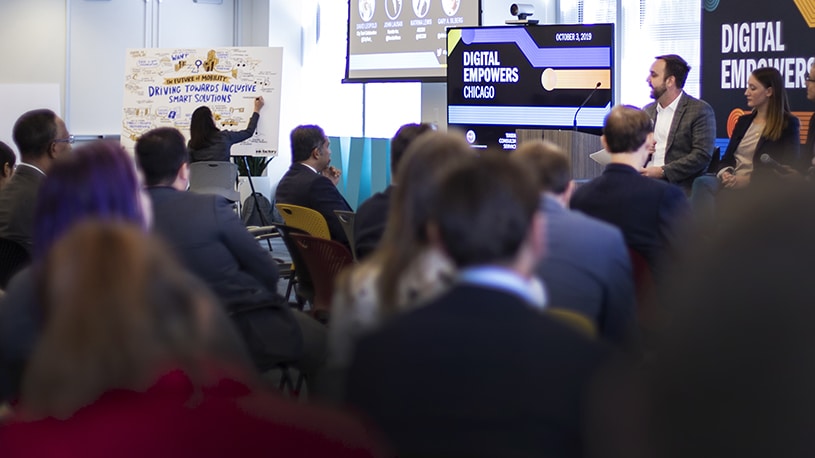 7. What's the ideal audience size for visual notes?
Meetings and events of all sizes are a fit for visual notes! We've captured visual notes for groups ranging in size from 2 to 2,000. The best part: visual notes are impactful at any audience size. They help align and focus attendees, increase engagement with the content, and make your messages more memorable.
In-person visual notes (drawn with markers) are great for smaller groups where everyone can see what the artist is drawing. For larger audiences with hundreds or thousands of people, digital visual notes can be projected at any size, on any number of screens, so everyone can keep up with what's being drawn.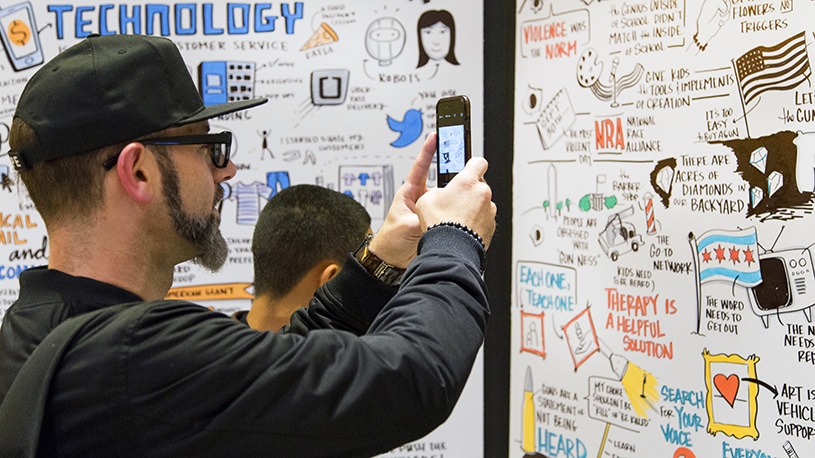 8. What happens after the artist captures visual notes?
If your visual notes are captured analog–meaning by hand using marker and artist boards–the physical visual notes are ready for you immediately following the event. We also photograph the boards and provide you with a hi-resolution digital copy for easy online sharing within 2 business days. If your visual notes are captured digitally, we'll provide you with a hi-resolution file within 1 business day following the event.
The benefits of visual notes extend well beyond your event so make sure you have a plan for how to use them afterward. We offer up some of our favorite post-event ideas here.
Wait, there's more! Subscribe to the Ink Factory newsletter to learn the latest on visual trends.
With a community of 4,000+ visual thinkers, you'll be in good company. Join us!