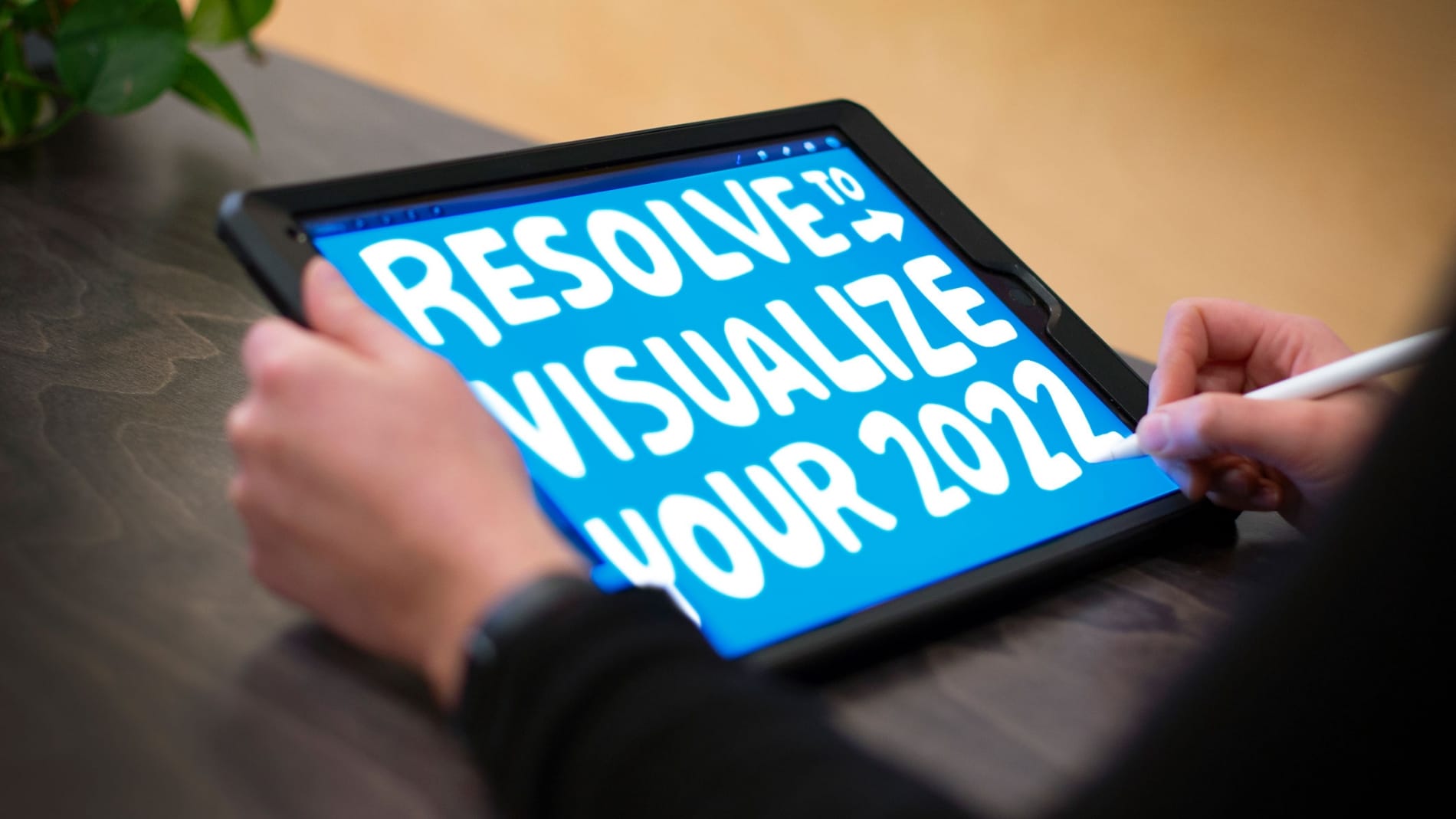 Visual Thinking Toolkit: Resolve to Be More Visual
Welcome to the new year! Phew, we made it.
Hopefully, the holidays gave you an opportunity to recharge. Perhaps you set new goals and intentions for the year. Or at least thought about what you hope to accomplish.
So, what is that special something you're seeking in 2022?
Maybe it's to find new creative outlets. To feel inspired. To overcome burnout at work. To make employees feel like they're part of something special. To hold team members accountable.
These are awesome goals. And they can all be achieved with support from a visual strategy. That's because our brains like images a lot more than written words. Images help us remember things, move us to action, and connect emotionally with people and ideas.
If any of the goals we shared are on your list, you're in the right place. Read on to see how visuals can help you achieve them. If you want more inspiration, download our 2022 Visual Thinking Toolkit to put these ideas into action.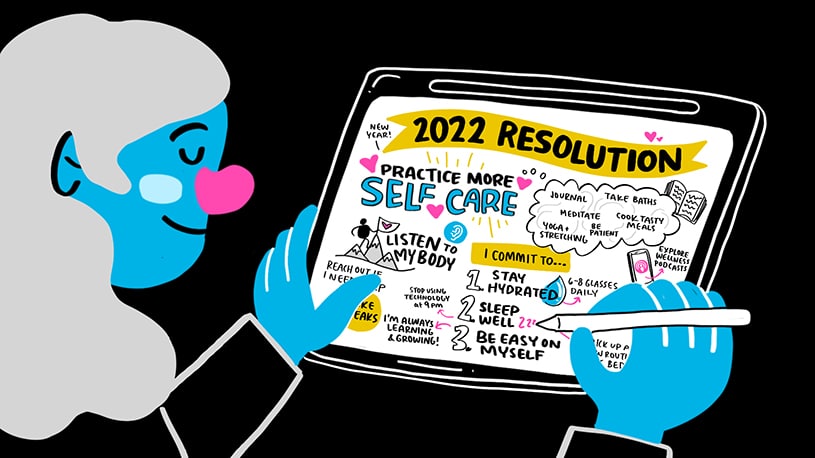 Keep annual goals top-of-mind with our visual thinking toolkit
A new year means new goals–for your organization as a whole, business units, and functional teams like marketing and sales. And while momentum around these goals may be at an all-time high right now, sustaining it throughout the year can be hard.
Nixing written goals for illustrated ones can help align everyone on your North Star for the year ahead. That's because when goals (or any important information) are presented visually, they're easier for people to remember and feel an emotional connection to.
Tip: Stretch your drawing muscles by visualizing your goals–or resolutions–for the year. Our 2022 Visual Thinking Toolkit includes worksheets for drawing both. Download it here.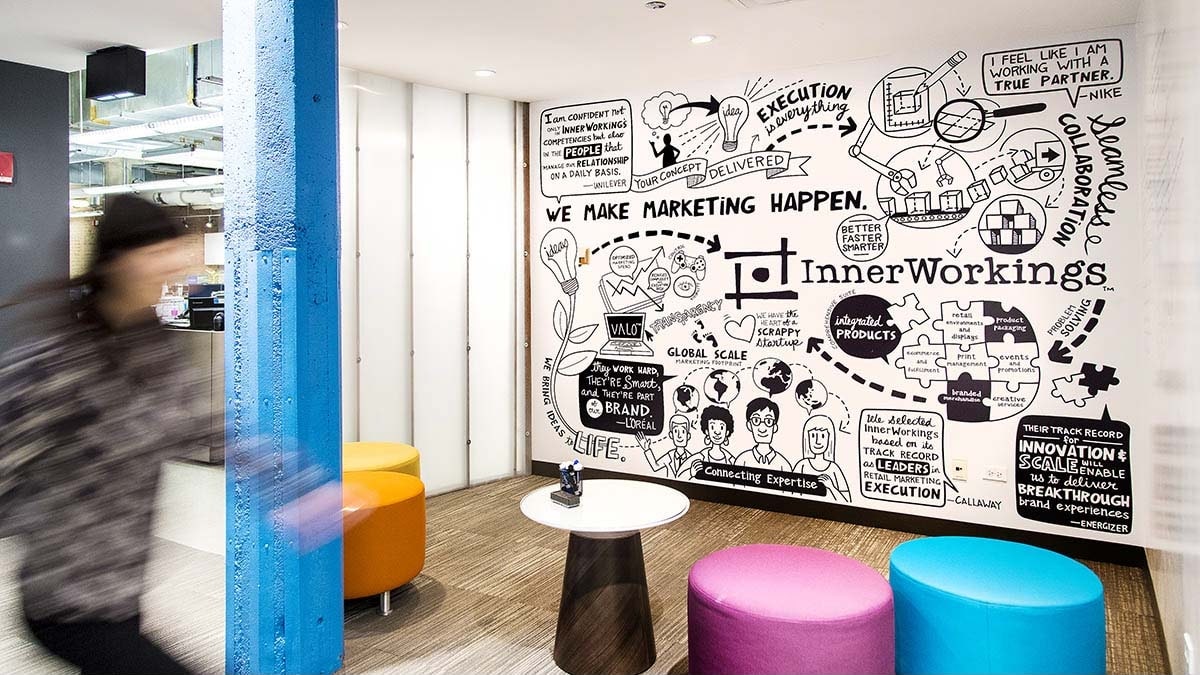 Rally around core values
Leaning into your company's core values can be an effective way to engage remote employees–especially new hires. But simply reciting or listing them in an employee handbook won't make your values memorable. Rather, they need to be visible and show up organically in everyday work moments. Visualizing your values can help you accomplish both.
At Ink Factory, we've helped lots of organizations draw their values to life. Our team of artists transform written values into illustrations, using a brand's aesthetic, personality and culture to inform the design.
There are endless ways to weave illustrated values into daily work life. We love how InnerWorkings installed a mural in their offer entryway (pictured above). You also can create computer background images or print them on hardbound notebooks.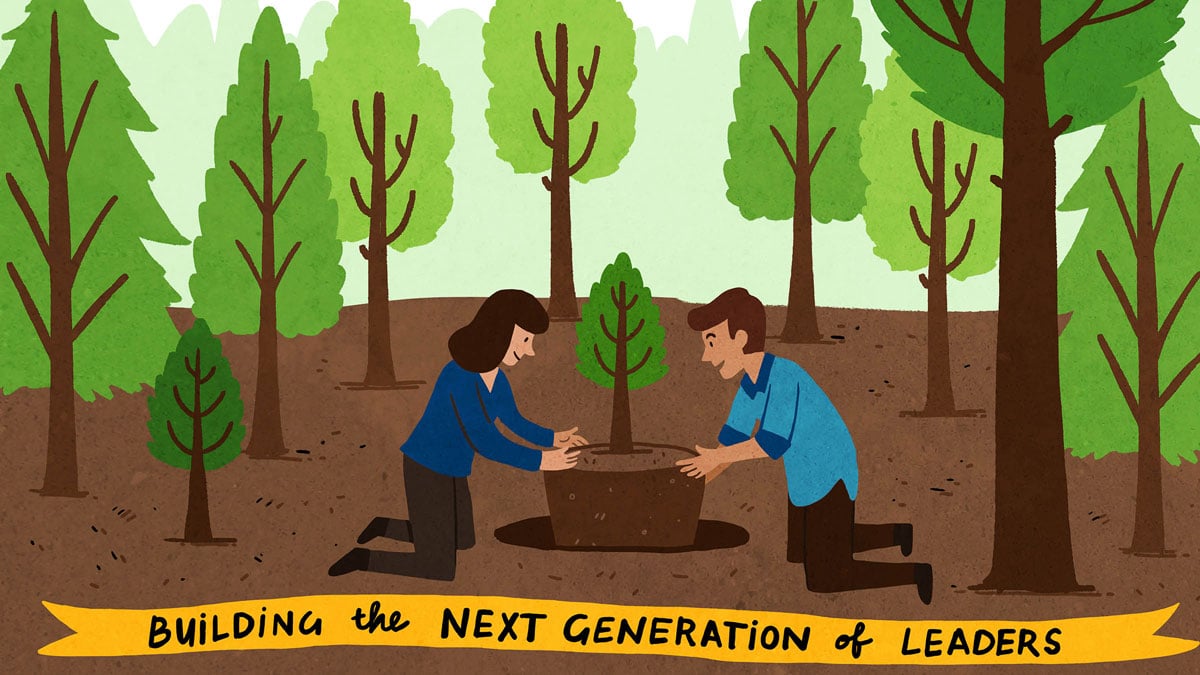 Celebrate your purpose, vision, and mission
Today, people are four to six times more likely to purchase, protect and champion purpose-driven businesses. Ensuring your company's purpose is visible and easily understood can go a long way in endearing stakeholders to your cause.
Like core values, illustrating your purpose instantly elevates the message and can help build emotional connections with employees and customers.
Consulting firm West Monroe Partners took it a step beyond an illustration, opting to bring their purpose to life with an animated video. "The video makes a big difference in how we communicate our purpose to our folks and does so in a meaningful way," shared Michele Catalano, director of talent and leadership development at West Monroe Partners.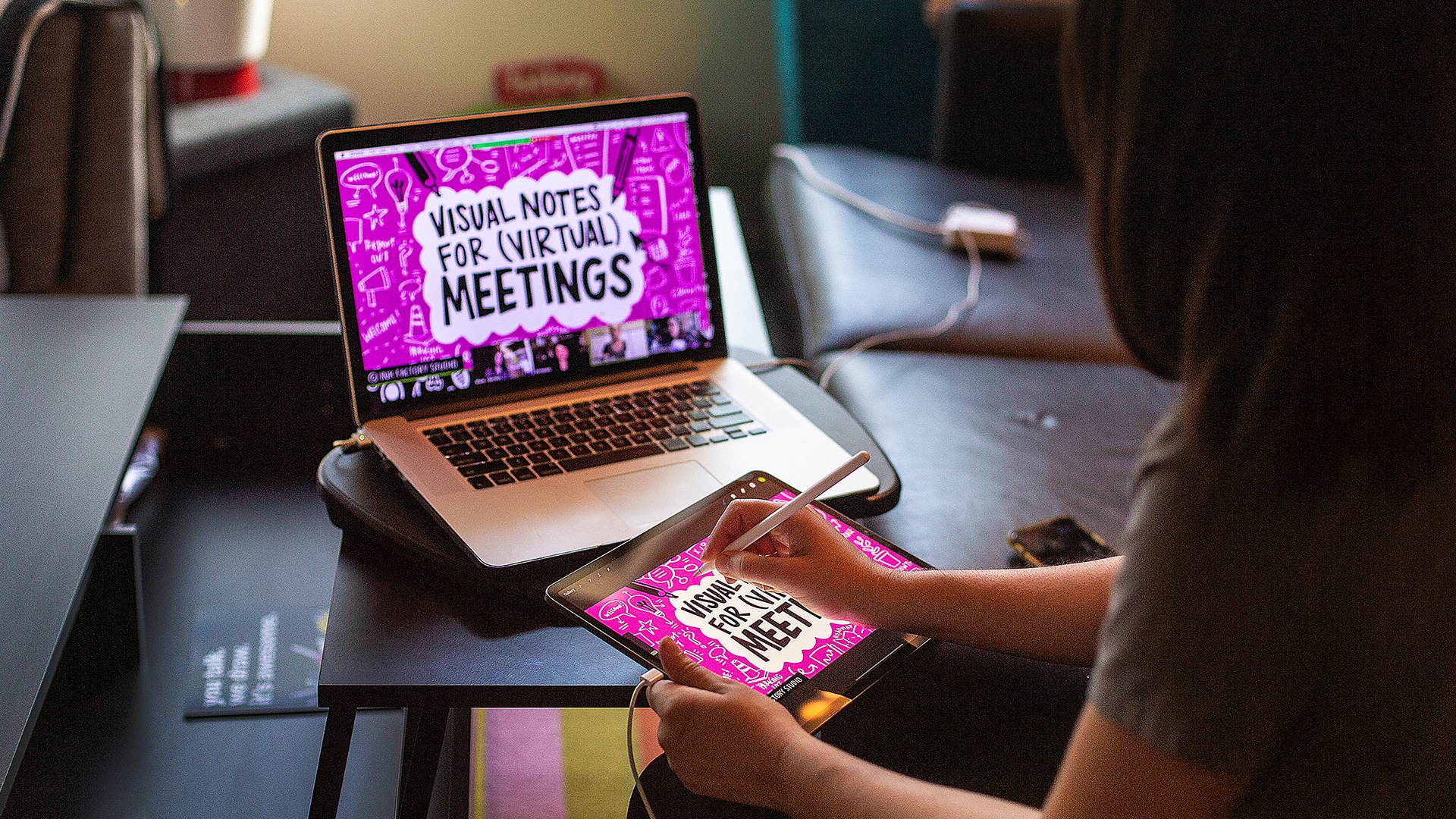 Infuse more creativity in the workday
Empower employees to express their creativity and build visual thinking skills with visual learning workshops. At Ink Factory, our Think Like Ink workshops can complement your existing professional development offerings and are ideal for creatives and non-drawers alike. Favorite topics include visualizing goals, to-do lists, and meeting agendas.
Or, host a custom artist-led workshop on a topic of your choice. For example, virtual teams can participate in a team-building workshop that fosters collaboration as they work together to visualize goals. No matter the topic, these sessions offer a much-appreciated creative break in the workday.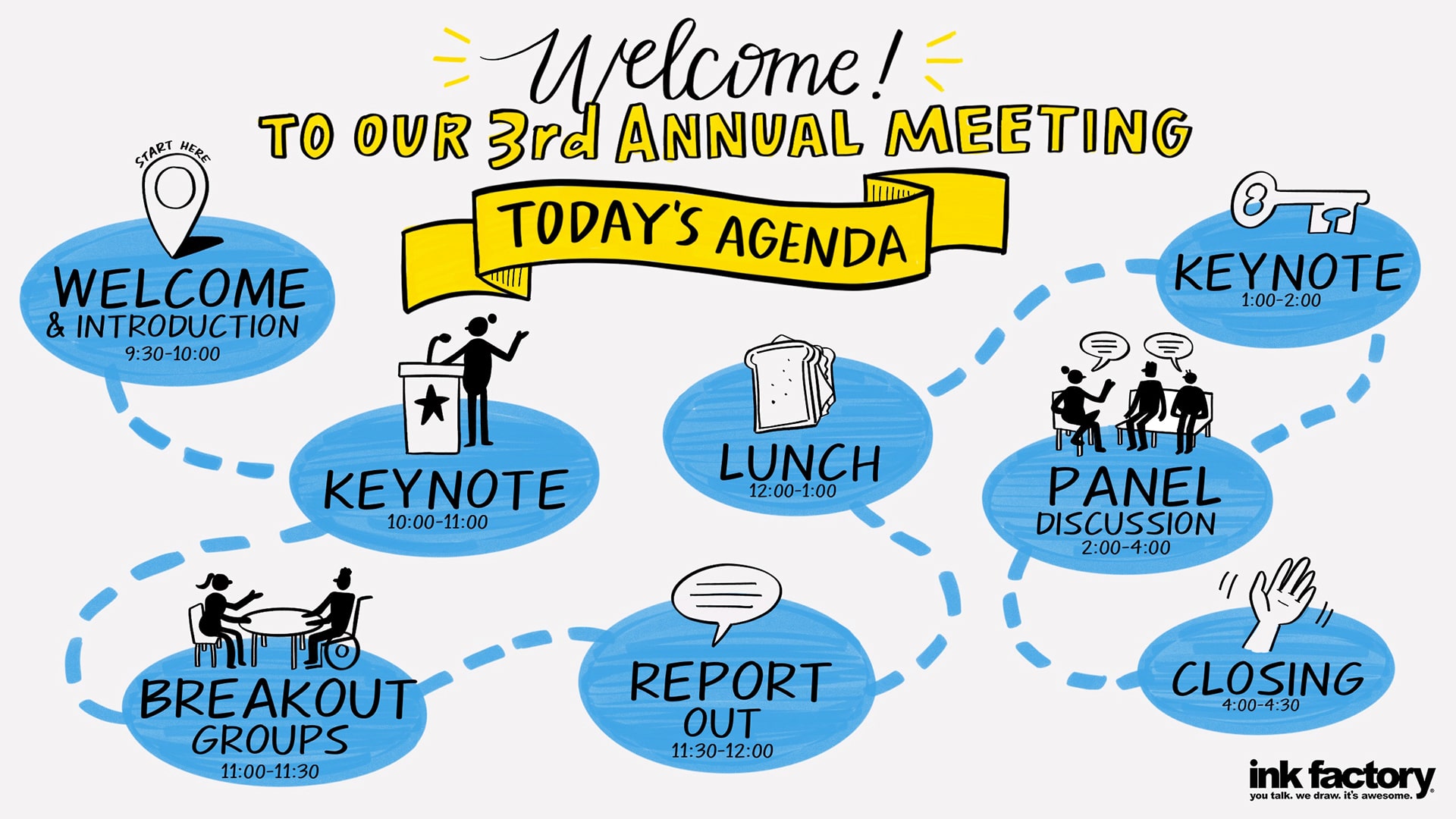 Make big-ticket meetings and events standout
Whatever tentpole gatherings your company hosts–from annual sales meetings to corporate retreats–resolve to make them more visual this year. It will be a welcome change for weary workers after nearly two years of meeting via video.
Visual notes are a simple yet effective way to do this. With visual notes, an artist captures a conversation through drawing, keeping key ideas and discussion points front and center. The artist can draw in-person at your event or remotely, making it a pandemic-friendly solution that can flex to fit your event format.
Tip: Start small by creating visual agendas for day-to-day meetings. Our 2022 Visual Thinking Toolkit includes a template that's perfect for drawers and non-drawers alike. Download it here.
These ideas are just the beginning–the year ahead is full of visual opportunities. To keep the creativity going, download our 2022 Visual Thinking Toolkit. It's filled with downloadable worksheets for visualizing everything from meeting agendas to brainstorms. And if you need help along the way, Ink Factory is here. Contact us anytime–we'd love to draw something awesome together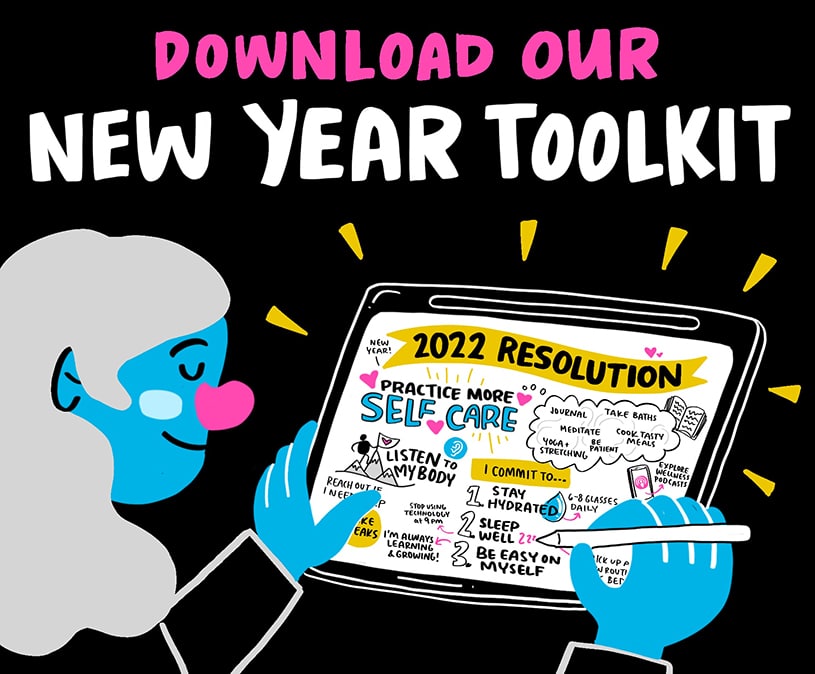 2022 Visual Thinking Toolkit (with Worksheets!)
Sign up for our newsletter to download our beginner's guide to using visuals at work to nurture creativity, engagement, and new ideas.