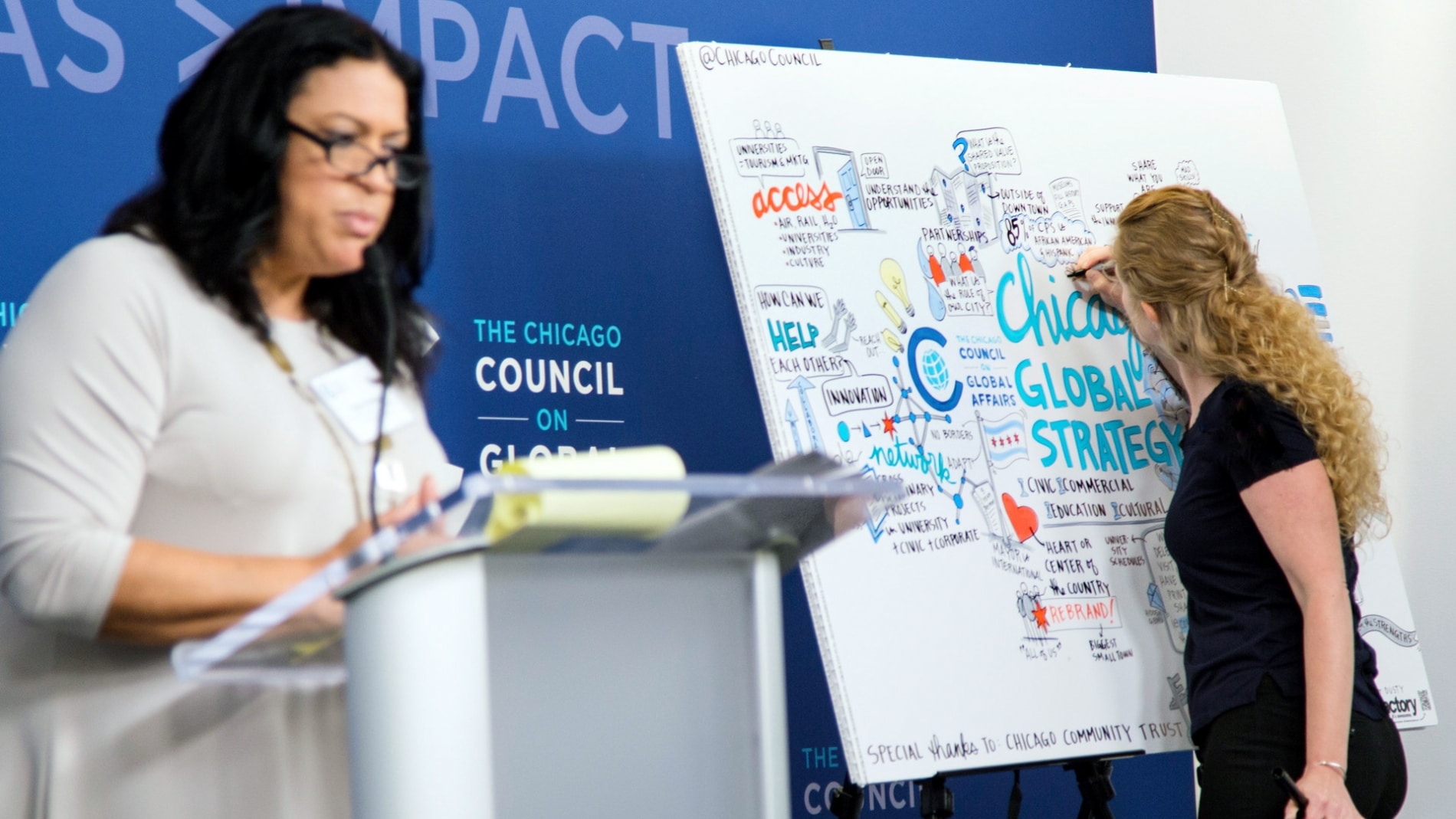 What is visual note-taking?
Curious event attendees approach our artists all the time while visual note-taking. "So, what is this CALLED?" they ask, while gesturing to our boards. What we call visual note-taking varies throughout our industry. Visual note-taking is also called graphic recording, sketchnoting, or visual scribing. Defining visual note-taking can be a little confusing when you've heard a different term used to describe it.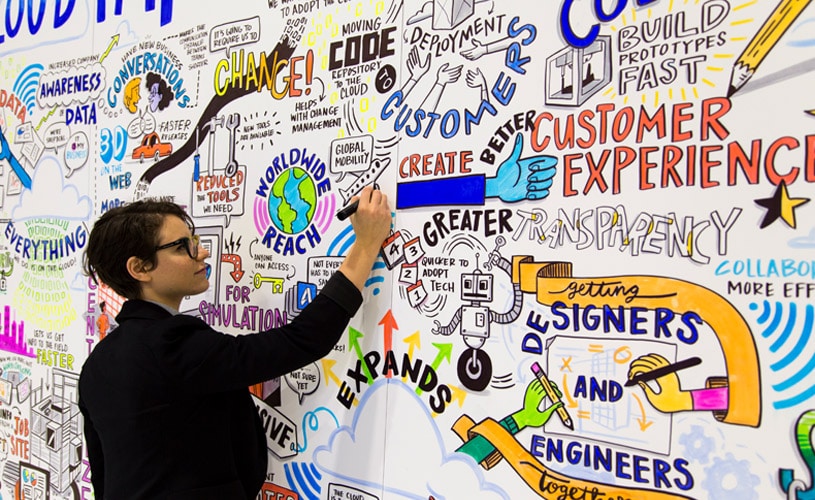 So what is visual note-taking?
Visual note-taking is the process of summarizing information into a combination of drawings and text in real-time. This live drawing is created by a graphic recorder, visual note-taker, or scribe. Visual note-taking, graphic recording, visual scribing–it's all the same! If you've ever seen visual note-taking take place live, you already know how engaging it is. This process is used anywhere information is being exchanged and shared, such as meetings, workshops, conferences, speeches, seminars, and more.
Ink Factory specializes in visual note-taking. Typically, the visual note-taker is a silent partner in the room. The artist is listening, synthesizing, and summarizing information visually. A related methodology to visual note-taking, graphic facilitation is the use of imagery to lead a session, conducted by a graphic facilitator.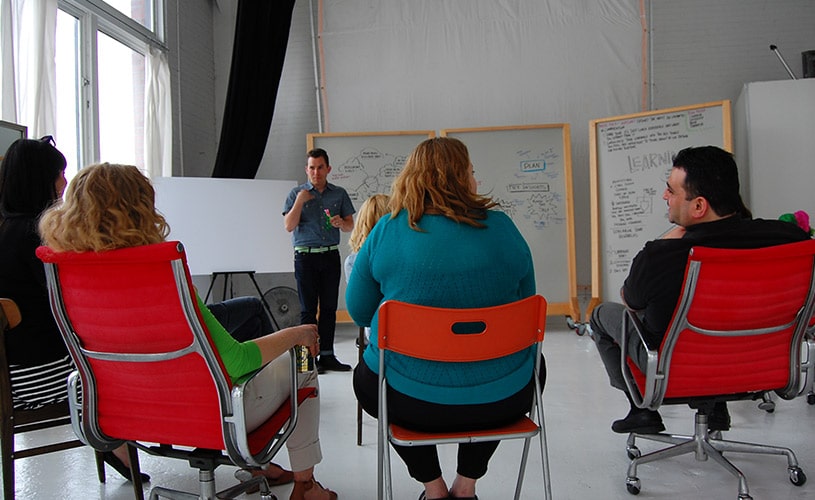 Graphic Recording or Facilitation?
Graphic facilitators take a slightly different approach to visual note-taking. They're in front of the room drawing and leading the discussion. This person takes the lead in planning the agenda, guiding the group through the meeting, and putting together summaries at the end of the meeting.
Because they both involve live drawing, graphic facilitation is sometimes mistaken for visual note-taking. Visuals generated by graphic facilitators generally are less embellished than visuals created by a visual note-taker, and put more of an emphasis on idea generation and organization. We think both are valuable, depending on the audience and situation.
At Ink Factory, we're a team of visual note-takers, so we support the lead facilitator rather than acting as facilitators.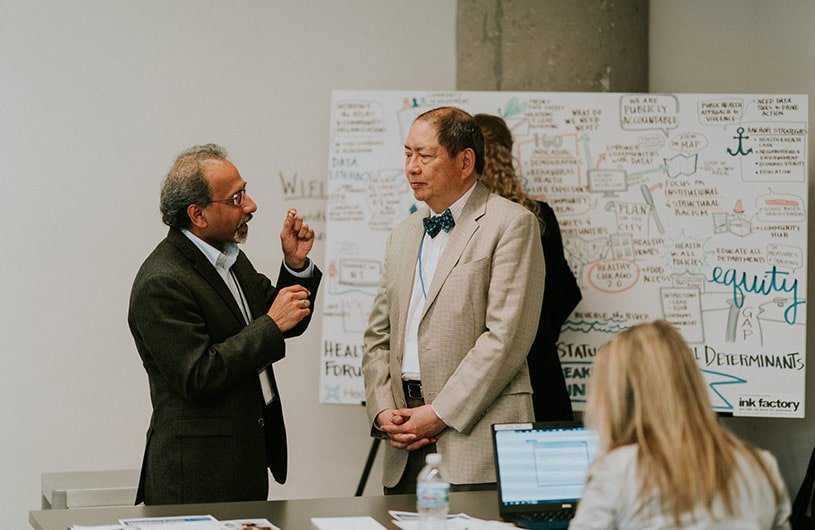 Visual note-taking in Meetings
As visual note-takers, we're frequent partners with meeting facilitators. Our work spans a variety of industries. Healthcare, education, and accounting, to name a few. Our job is to listen to meetings and summarize the key points of the conversation visually. We draw the key points in a way that keeps attendees awake and engaged so they can keep actively listening to what's being said.
Visual notes are a great alternative to typical meeting minutes or presentation slides. Instead of reading through a long, bulleted summary of the meeting, attendees can be sent a visual summary. Our brains process visuals 60,000 times faster than text, meaning audiences will better remember and understand content when visual notes are there to supplement their experience.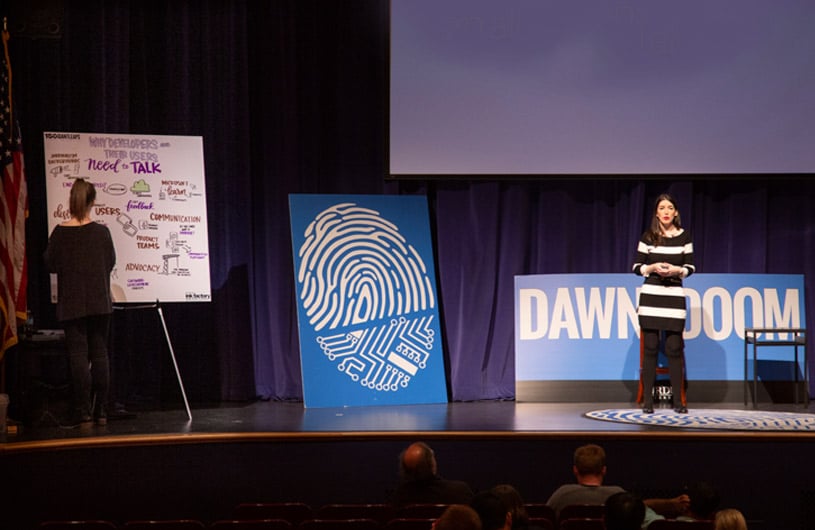 Visual Notes at Conferences
Meetings aren't the only arena for visual note-taking. Visual note-takers are also great partners for conferences. Visual notes are a great way to keep all of the information from muddling together in a conference with multiple speakers.
Missed one of the speakers at your last conference? No problem! Visual notes are a thorough and engaging summary of the speech and a great way to remind audiences of content long after an event ends.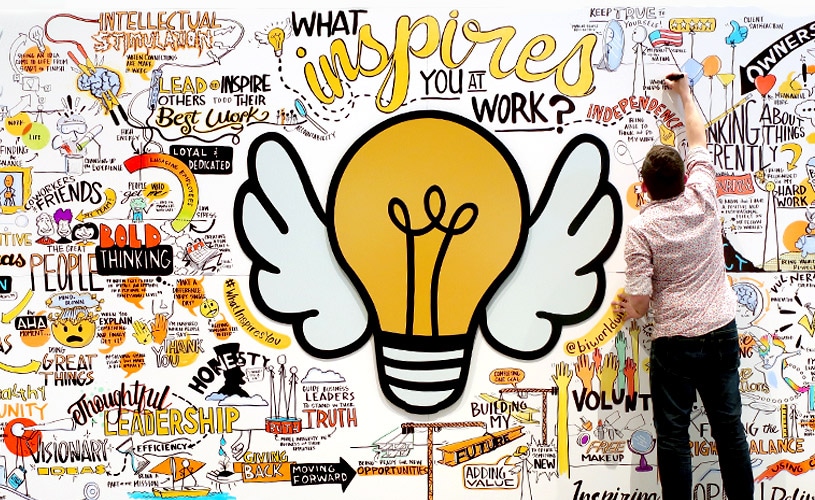 Incorporate audience interaction
 If you're looking to engage an audience, an engagement board is the best way to do it. We can create them anywhere, and often they happen at trade shows when a company is looking to make its booth stand out.
Typically, a question is asked of the event attendees. The answers to these questions are collected on a large board in a visual and engaging way. The process almost guarantees repeat visitors to the booth, because attendees want to come back to see how their answers were drawn on the board!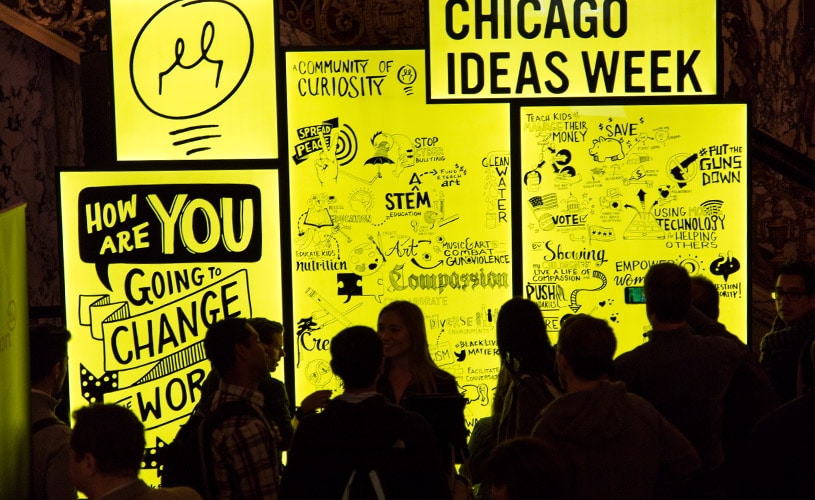 Using our visual language to represent ideas will help to transform the way you think, learn, and communicate across your organization. We'd love to chat about how you can have a visual note-taker at your next event, or use visuals internally at your organization to help achieve your goals.
Wait, there's more!
Subscribe to the Ink Factory newsletter for our latest content delivered right to your inbox.