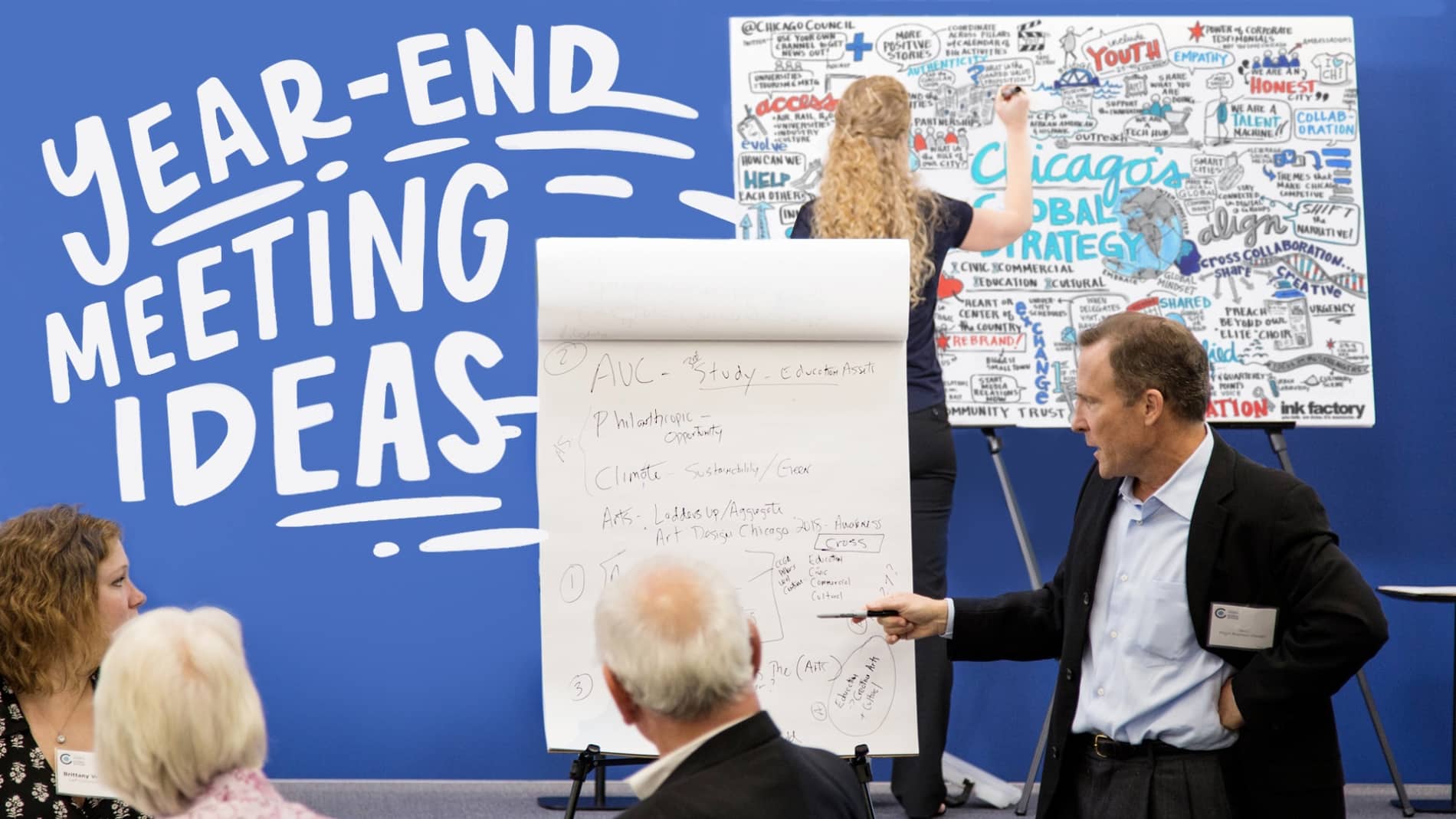 Year End Meeting Ideas: Give Them A Creative Boost With Visual Notes
This month, we're hearing from a lot of folks who are looking for last-minute, year-end meeting ideas. While the type and purpose of these events vary, there's a common thread: keep the group interested and engaged!
We get it. 'Tis the season for distractions and split attention spans. Luckily, visual notes can boost creativity and engagement whether you're hosting virtually, in person, or a hybrid meeting.
Better yet: it's quick and easy to add visual notes to an event.
Ready to take your December planning from average to awesome? Here are just a few year-end meeting ideas to make an impact in the final stretch of 2022.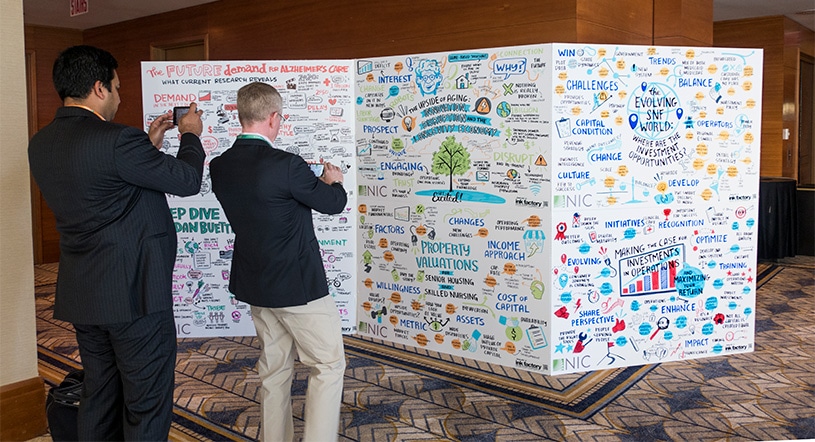 Welcome Attendees Back In Person
We're seeing a lot of annual year-end events return to in-person this year. If your event falls into this camp, visual notes will create the visual boost attendees are craving after endless hours of virtual meetings and video calls.
After shifting its flagship event to virtual the last two years, Financial Health Network's EMERGE returned for three days of in-person learning this fall. Ink Factory captured live visual notes of key sessions, which were displayed throughout the venue. Attendees stopped to snap pics and discuss the content.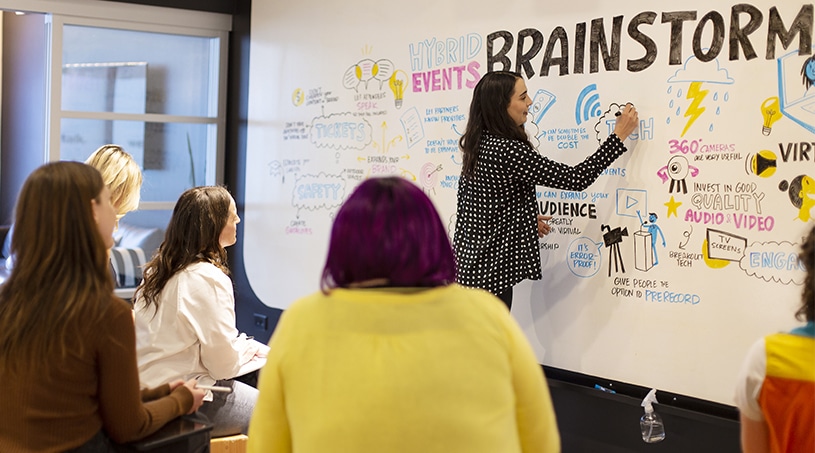 Spark Small-Group Sharing
If the objective of your small-group gathering is idea generation, then visual notes are a must-have. Live drawing these sessions helps the group hone in on big ideas and themes, and are a great way to keep the team focused and the ideas flowing.
We also like to challenge clients to skip PowerPoint slides in small-group settings. Instead, lean into visual notes to bring the material and conversation to life in real-time. It is definitely more organic and authentic. Plus, your group will appreciate receiving drawings–rather than boring slides–when the event wraps.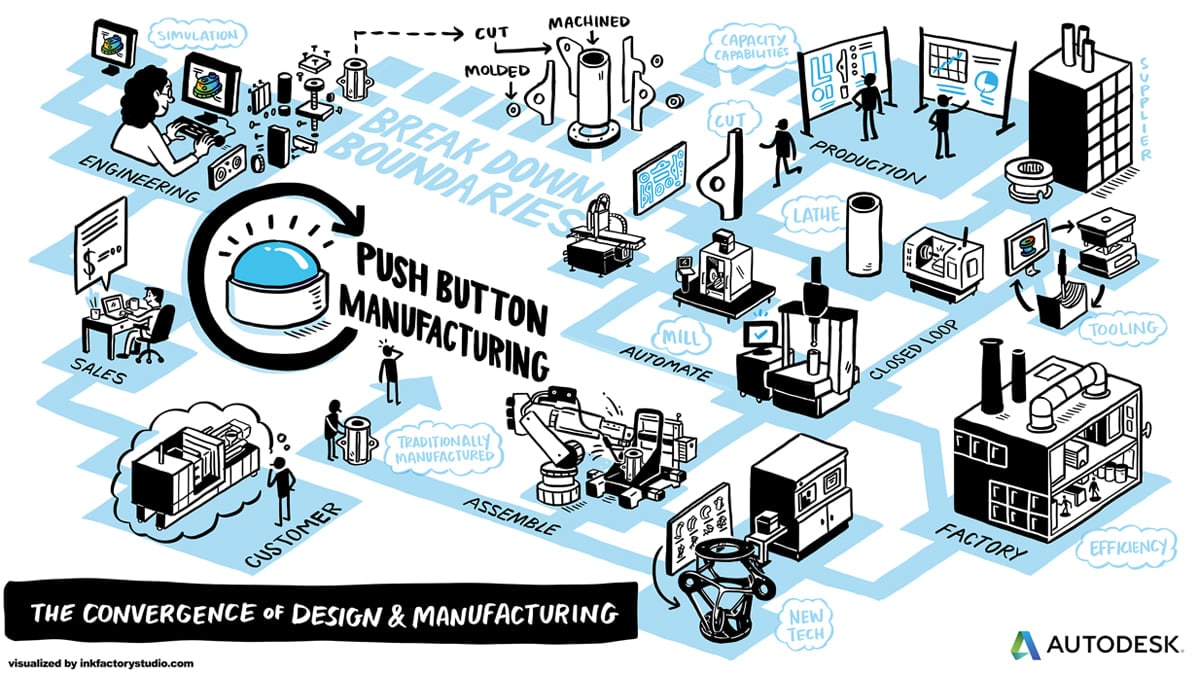 Simplify Dense or Complex Information
When you visualize complex ideas, it all makes sense a lot faster—and we remember it for longer—thanks to a phenomenon called the picture superiority effect. Here are a handful of settings where dense and data-rich information often appears. Adding visual notes can bring clarity and focus to the group.
Sales meetings
Learning and development sessions
Strategic planning sessions
Leadership offsites
Visioning exercises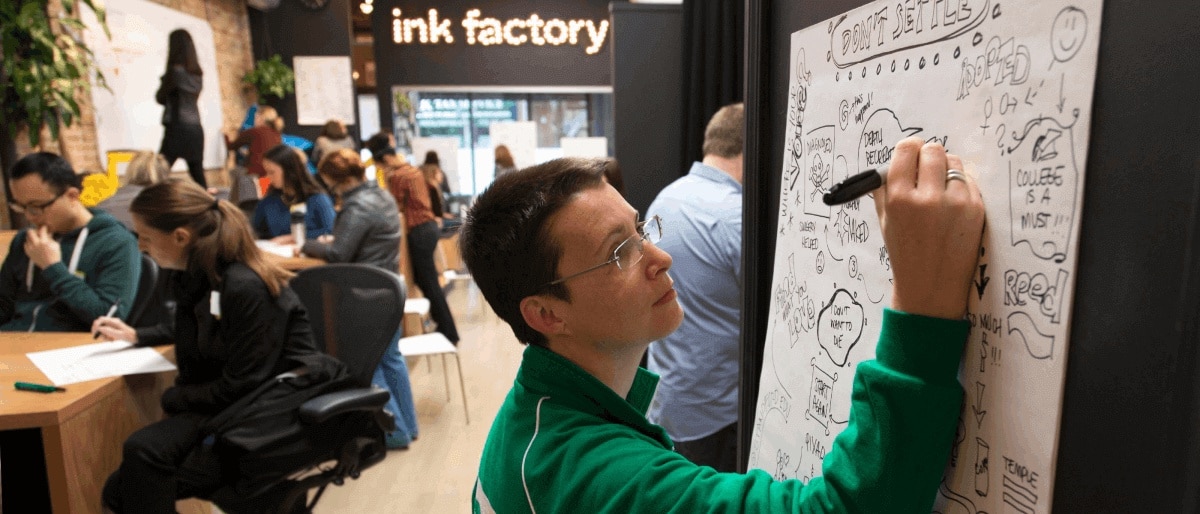 Host An Art Break
New research points to art as an effective way to hit reset and return to a meeting with less stress and a clearer head. The result: attendees will participate more intentionally and think more critically. Perfect for keeping year-end gatherings on track!
Get started by hosting an artist-led workshop that brings out attendees' inner creativity. From learning how to draw people to how to improve handwriting, our visual note-taking workshops swap smartphones and laptops for markers and paper. The best part is no drawing skills are required!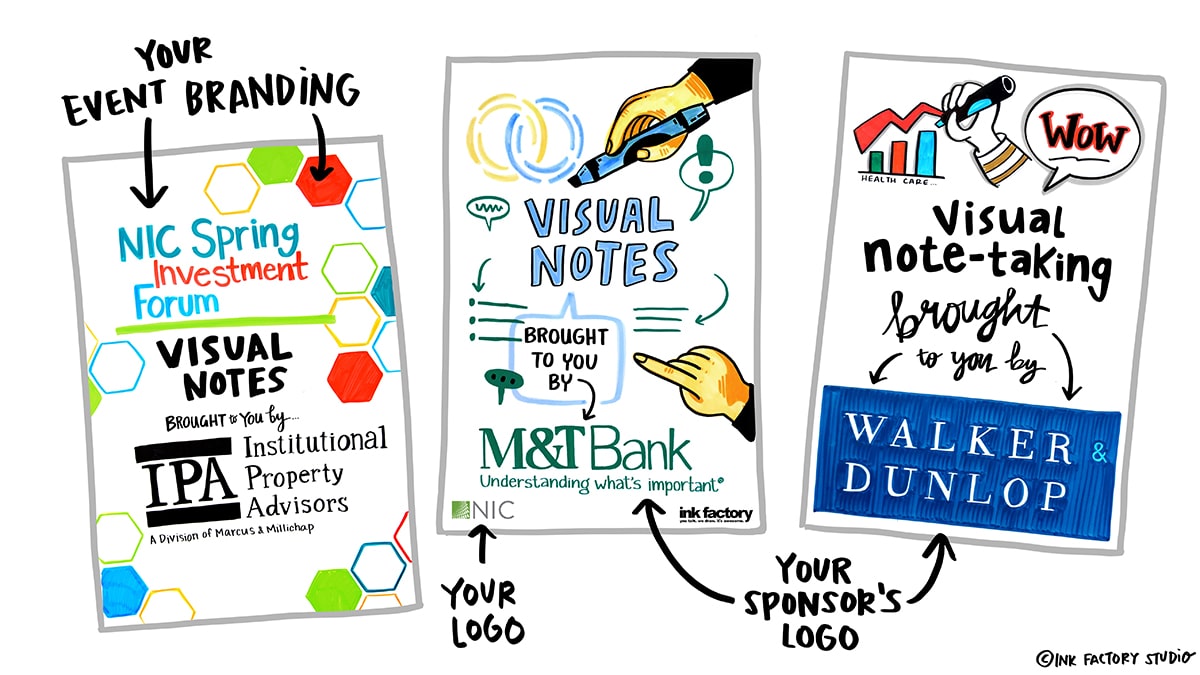 Spotlight Event Sponsors
Have we convinced you yet to add visual notes to your event? If so, don't forget to involve sponsors for added visibility. Sponsored visual notes–like the one above from Financial Health Network's EMERGE–feature the sponsor's logo and can be drawn using its color palette for an on-brand visual experience. Sponsor exposure can extend beyond the event if the notes are shared on social media, sent to attendees, or added to an on-demand content library.
This list is just the start! For more creative year-end meeting ideas, follow us on Instagram and TikTok.
Wait, there's more!
Drop your email address below to join our community of 4,000+ visual enthusiasts. You'll be the first to know when Ink Factory launches new content on visual thinking and communication