The Illinois Chapter of the American Academy of Pediatrics' mission is "to promote and advocate for optimal child, youth and family well-being, and access to quality healthcare while supporting our members."
Stephanie Atella, the immunizations director of the Illinois Chapter, and her team received a grant to support providers with integrating COVID-19 vaccines into primary care spaces. Meaning, moving away from community or mass vaccination efforts, and ensuring COVID-19 vaccines are available during routine checkups and other doctor's visits. Normalizing COVID-19 vaccines in these clinical spaces is key to ensuring there is wide access to these life-saving vaccines and Illinois AAP's mission.
We worked with the Illinois AAP team to create two illustrations–one dispelling common myths about the vaccine, and the second with the goal of spreading awareness about booster doses.
"The illustration by Ink Factory got the most engagements on our social channels by a landslide."
Stephanie Atella, Immunizations Director at Illinois AAP
Stephanie always shares the illustration as part of her outreach and presentations about the COVID-19 vaccine campaign for Illinois, and through that community members have reached out and asked for a copy of the visual to display in their own spaces.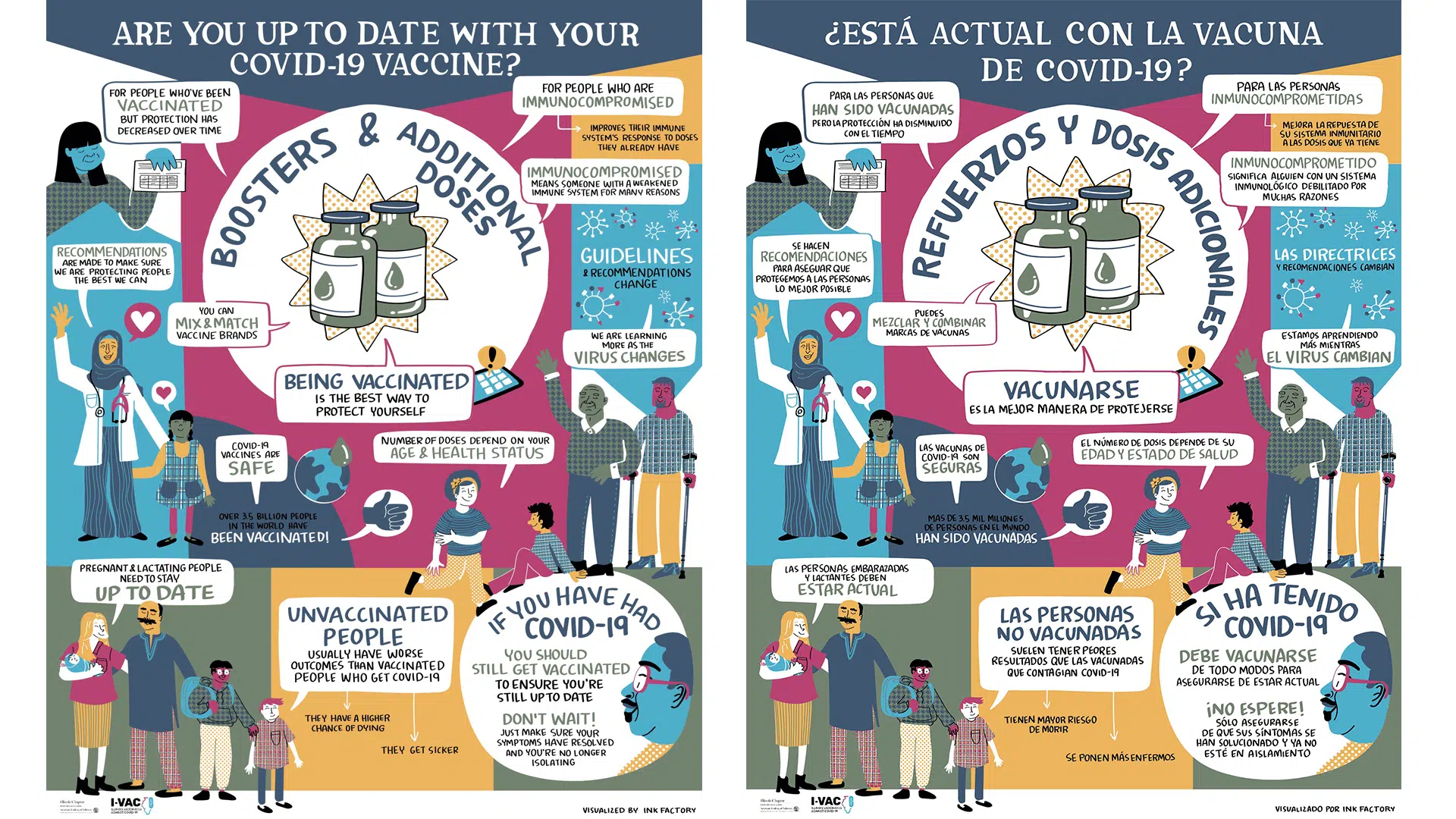 English and Spanish Versions
Illinois AAP needed to reach a Spanish-speaking audience to achieve their goal of combating misinformation. So, we created a second version of both illustrations in Spanish!

Creating a Flexible Image Library
When creating imagery for a larger campaign, we often suggest creating an image library in addition to an illustration. An image library is a collection of smaller images from a larger illustration that can be used in any way the client wants–often as graphic elements on websites, in newsletters, or in social posts. This kind of flexibility means that the client can have consistent imagery across their campaigns, even when they don't have everything planned out from the start of the project.
Learn more about Illinois AAP's efforts on their website.