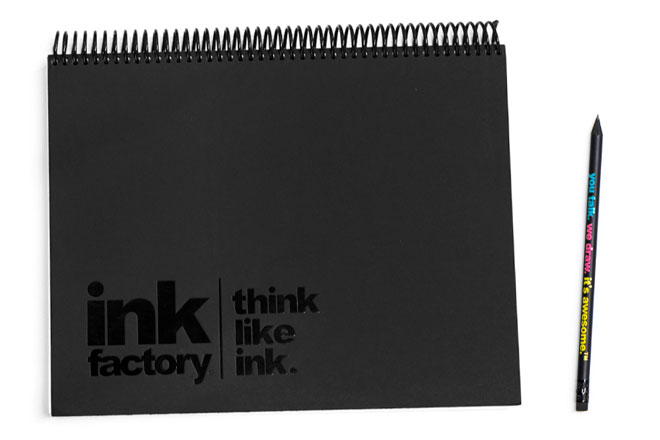 Think Like Ink ®
Graphic Recording Workshops
In our Think Like Ink workshops, a hands-on instructor from the Ink Factory team will teach you and your team to think like our artists–from the foundation of listening and synthesizing to drawing inspiring visuals. Our graphic recording training starts from the ground up. No drawing skills are necessary to take any of our workshops.
Designed for your needs
Please note: Due to the uncertainty surrounding the COVID-19 pandemic, we are only offering virtual custom workshops for the time being.
Flexible Group Size
We can teach workshops with personalized one-on-one feedback for smaller groups, and fun, engaging workshops for larger ones.
Globally Accessible
Thanks to our virtual capabilities, we can teach online workshops anywhere in the world.
A Tailored Agenda
We'll teach topics that are most relevant to your group, and we have three different options that can fit your budget and time restrictions.
Visual note-taking workshops are for all kinds of people
The universal language of visuals helps people think and communicate. Since 65% of people learn better visually, we create workshops that work for everyone–young, old, left-brained and right-brained.
We teach workshops at universities, large corporations, and non-profits. If you want to learn, we're ready to meet you where you are, no matter your skill level.
We offer add-ons for our your private training:

Ink Factory Sketchbooks
Our Ink Factory branded sketchbooks are designed to be perfect for drawing small scale visual notes. Two sizes are available.

 Supporting Artists
Get more personalized feedback and support during your session, and see visual note-taking by a professional happen in real-time.

Take-Home Toolkits
For participants to take home. Includes an Ink Factory branded pencil case, pencils, and markers selected to work with our sketchbook.
Private Workshop Options
One Hour Workshop
Our one-hour workshop introduces the tools you need to demystify putting pen to paper, marker to flipchart, or dry erase to your office whiteboard. This workshop challenges phrases like "I'm not creative" or "I can't even draw a straight line!" and provides all of your team members with the confidence to start communicating visually.
An instructor will teach you:
The rich history of the visual language
How to use different tools and materials
Easy ways to improve your handwriting
The basics of turning ideas into visuals
Three Hour Workshop
In three hours you'll dive into the tips and tricks of visual note-taking. We'll give you the building blocks to transcribe your words into the universal language of imagery, and make your drawings pop with the right composition, lettering, and color. You'll leave with a new skill in active listening and the ability to synthesize ideas into easily understood and better retained visuals, which strengthens your communication all-around!
Our three hour graphic recording training includes:
All the fundamentals from the one hour workshop
Plus
How to identify the elements of design in visual notes
Ink Factory's strategy for taking live visual notes
Full Day Workshop
Our full day workshop is a visual note-taking bootcamp in 6-8 hours. We run the gamut of skills our artists have practiced and perfected to take your visual note-taking to the next level. A longer day gives you more time practicing with each topic, or more flexibility to customize your agenda for a deep dive on any one area. You'll get all the benefits from each shorter workshop plus the time to "Make It Real." This is a jumping-off point for using the visual language in your day to day life!
This graphic recording training includes:
All the fundamentals from the one & three-hour workshops

Plus
How to start mastering visual note-taking techniques
How to develop your own visual library
"Ink Factory taught us about so many great strategies for taking visual notes, it was easy to come back and put the process to work."
Ann Dziadon, University of West Florida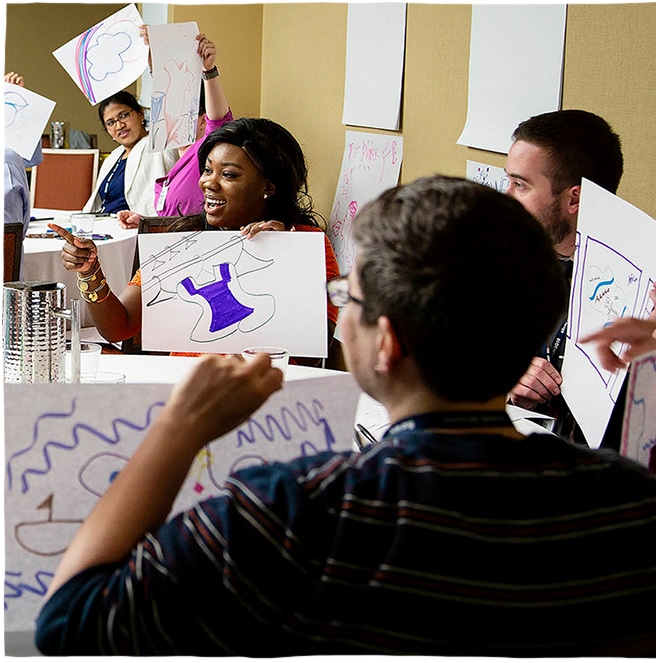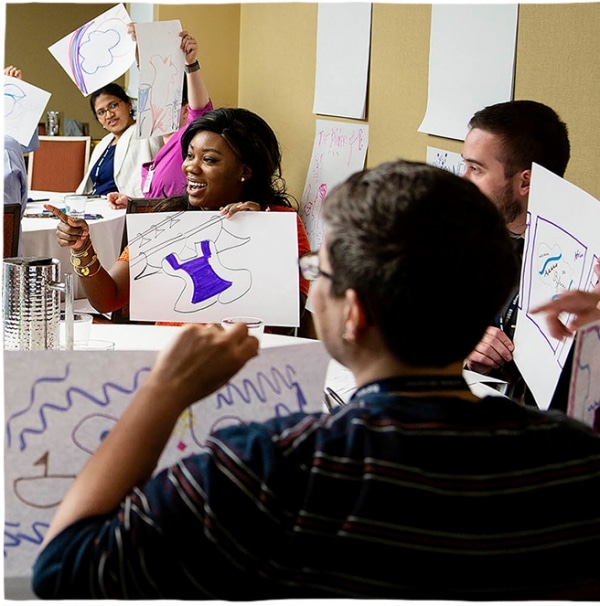 REGISTRATION OPEN NOW
Come to a graphic recording workshop!
Take a crash-course in visual thinking with a group of like-minded individuals.
Our visual note-taking workshops are an immersive experience into the world of visual thinking and communication. You'll leave our introductory workshops with all the fundamental tools you need to start taking visual notes in your everyday life.
$59-$499 | Virtual | Recordings Available